Apartment Construction is Coming Quickly in Houston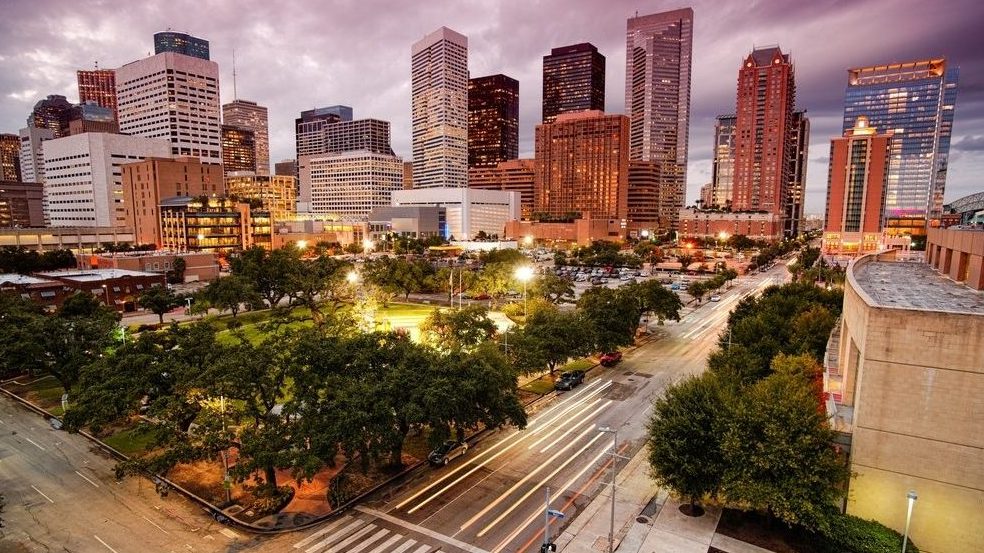 Houston's apartment construction volumes have rebounded from recent lows, a signal that the window of limited completion volumes is closing as developers regain confidence in the market.
A total of 17,661 apartments were underway at the end of 1st quarter 2019, which is about 10,500 more apartments than were underway just a year ago, and runs well ahead of historical norms. Recent permitting activity also suggests construction will only continue to climb over the next year.
These increasing construction volumes are hitting at a time when Houston has seen new apartment completions dry up following a massive multiyear building spree. Only 6,556 units completed in the 12 months ending March, the lowest annual completion total since early 2013. From 2014 through 2018, more than 82,000 new units were delivered to the market. Those years made up the bulk of Houston's new supply this cycle. Nearly 108,000 new apartments have been built since 2010, ranking Houston #2 in the nation, behind only Dallas, for new additions in the current cycle.
While work had already begun on nearly 17,700 apartments in 1st quarter, an additional 20,000 multifamily units – which includes apartments and condos – were approved to begin construction in the year-ending April 2019, the nation's second largest permitting volume that month. This was Houston's strongest annual permit tally since 3rd quarter 2015. By comparison, construction volumes ranged from roughly 20,000 units to 28,000 units leading up to the high-supply period of 2014 through 2018.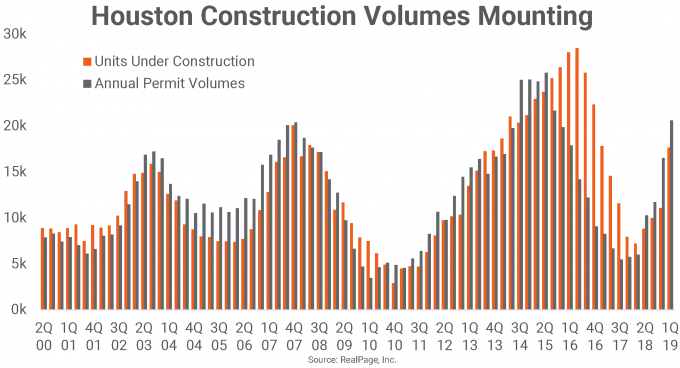 In Houston, permits are a good indication of future construction volumes, as almost every unit permitted begins construction. Additionally, because Houston has fewer regulations than many other markets, a permit translates to a start almost immediately, with few delays.
Driving the fluctuations in construction activity in recent years are a handful of submarkets, as developers took a breather in areas that garnered sizable completion volumes during the current cycle. Those areas include Houston's urban core submarkets of Downtown/Montrose/River Oaks and West University/Medical Center/Third Ward, nearby Greater Heights/Washington Avenue and Memorial and the affluent suburban areas of Katy, Spring/Tomball and The Woodlands.
All but Downtown/Montrose/River Oaks and Katy submarkets received fewer 600 units in the past year, volumes far lower than the 1,000 units to 2,000 units common in previous years. Downtown/Montrose/River Oaks received roughly 870 units and Katy received 760 units in the past 12 months.
Development is ramping back up in Downtown/Montrose/River Oaks, Greater Heights/Washington Avenue and Katy, each of which saw more than 2,000 units underway in early 2019.
The increase in construction comes despite Houston's market performance remaining soft as the market rebalances following the surge that came after Hurricane Harvey. The post-hurricane performance benefitted from residents displaced by the historic flooding in August 2017 turning to apartments for alternative housing, driving up occupancy and rents across the market. Now, those residents are transitioning back into more permanent housing, and as a result, apartment demand has dried up, occupancy has tumbled from recent highs and rent growth has essentially disappeared. In fact, Houston has ranked toward the bottom for these metrics among 50 largest U.S. apartment markets. This downturn can be seen across every product class and most submarkets in Houston.
With having received so much new product in recent years, and apartment performance metrics at a low point following Hurricane Harvey, Houston may not immediately appear a safe bet for investment. What is giving developers the confidence to move forward with so many projects?
Houston's History with Hurricanes
While Houston's apartment fundamentals are suffering on a national stage, this market has seen worse, as history shows.
Hurricanes tend to bump Houston's apartment market fundamentals directly after the disaster, due largely to displaced people seeking temporary housing, which limits availability of market-rate apartments. A few quarters later, when residents move back to their homes or find new permanent locations, the move-outs start. But the market's most recent setback has been relatively mild compared to post-hurricane downturns of the past. In fact, after peaking in early 2018, occupancy and rent change have basically just returned to what the market was seeing when Hurricane Harvey hit in 2017. That said, the performance in 2017 was somewhat limited as oil prices had just stabilized following the drop in mid-2015. Over the past year, Houston's economy has seen a remarkable turnaround.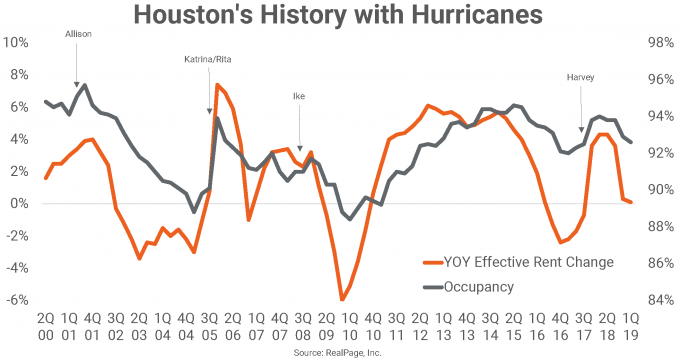 In comparison, when Hurricane Ike hit in 2008, Houston was already suffering in a nationwide recession. After the small bump in apartment market fundamentals, the post-hurricane beating took occupancy down 260 basis points (bps), and rent growth suffered by more than 800 bps. In addition, the market was still trying to recover from the previous downturn seen after Katrina and Rita hit in rapid succession in 2005. In those disasters, evacuees swamped the city from New Orleans and Galveston, and then settled into more permanent locations in the following quarters.
A Rebounding Economy
In addition to historical perspective, developer confidence is likely empowered by one of the nation's largest economies.
Houston's energy-based economy has created nearly 600,000 jobs since 2010, ranking the market as one of the nation's top job growth centers, just behind Dallas and New York City. In fact, while the economic base here stagnated in throughout much of 2016, job growth in Houston now is back at some of its best levels since the most recent energy sector boom of 2012 through 2014.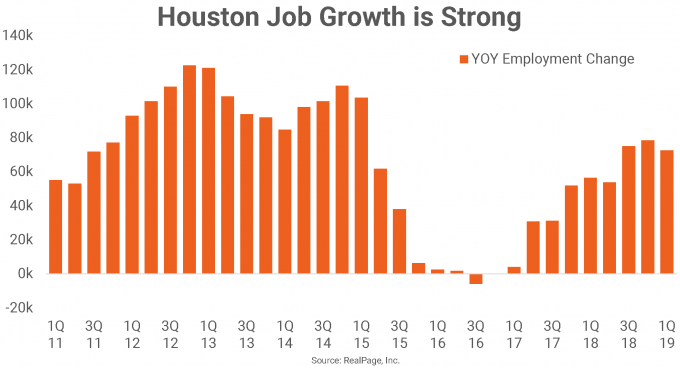 Looking forward, occupancy is expected to remain relatively stable, registering just under the 93% mark. Rent growth is scheduled to return to 1% by the beginning of 2020. While these fundamentals aren't expected to rank Houston among the nation's top performers, stability in such a tightly competitive marketplace points to the resilience of the Energy Capital of the World. As long as this market continues to churn out jobs and attract young professionals, Houston is likely to have no trouble justifying developer confidence in the market moving ahead.