Apartment Completions Set to Spike in 2020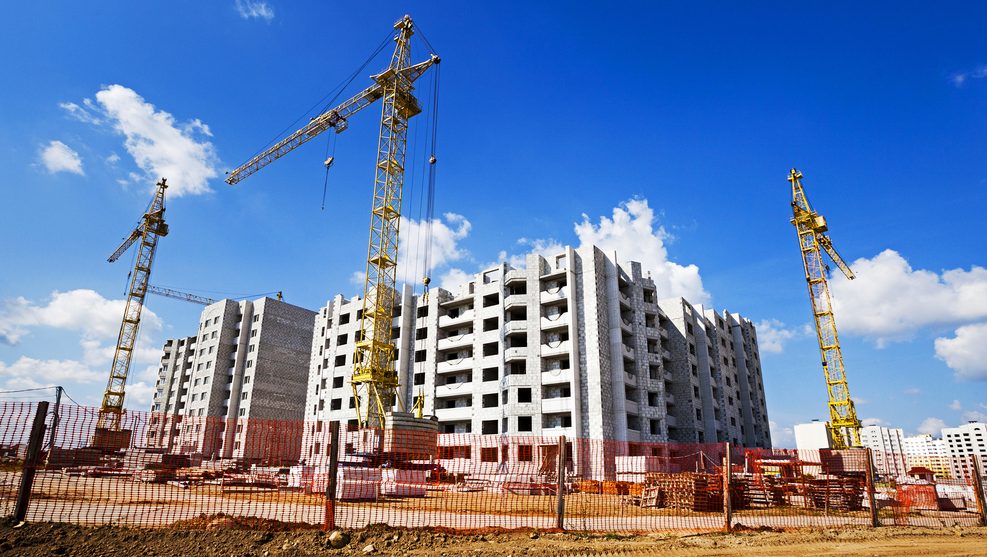 After five years of elevated delivery volumes, the U.S. apartment market is scheduled to see completions hit an all-time high in 2020.
The nation has seen crowning delivery volumes throughout much of the past five years. In the last 12 months, roughly 285,000 new apartments were completed across the nation's 150 largest apartment markets. Though that volume was at a three-year low, faded from a previous high point in 2017, deliveries remained sizable compared to long-term norms.
Moving forward, apartment completions are expected to reach historic peaks. More than 526,000 units are under construction across the U.S., and more than 359,000 of those units will deliver within the next 12 months.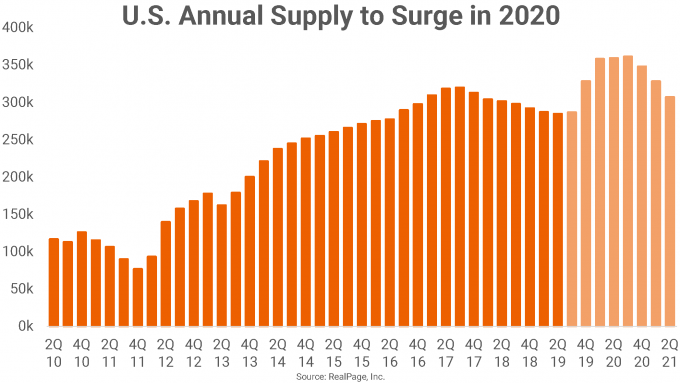 Some regions of the U.S. are expected to reach two-decade highs for units delivering next year. The West will see 102,700 units come online in the year-ending 2nd quarter 2020, while a little over 37,900 units will wrap up in the Northeast. The Midwest peak is expected to come a little earlier, with nearly 44,400 completing in the year-ending 1st quarter 2020.
While the South region is scheduled to see 175,600 units complete in the year-ending 2nd quarter 2020, this volume will come in a little below the recent peak of about 176,600 units delivered in the year-ending 3rd quarter 2017.
Of the nation's 50 largest apartment markets, 33 will see more new supply in the coming 12 months than was delivered over the previous year. Though some of those markets, such as Memphis and Virginia Beach, will see marginally more new supply by unit count, others will see a considerable difference. The number of markets seeing aggressive levels of new inventory has been increasing throughout this economic cycle.
Markets expected to log the most year-over-year increase in new supply include Houston, Oakland and Los Angeles, which are all scheduled to see completion volumes swell by more than 5,000 units in the coming year.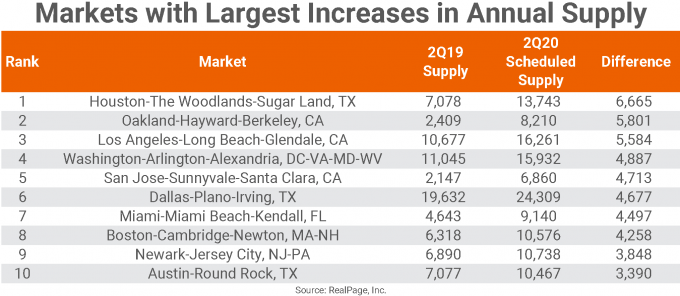 Houston deliveries are expected to nearly double in year-ending 2nd quarter 2020 with over 13,700 units set to complete, compared to about 7,100 units in the last 12 months. The market is still on uncertain rent growth footing after the effects of Hurricane Harvey but is showing promising signs of demand as one of the top markets for quarterly absorption in 2nd quarter 2019. Compared to the 1% inventory growth seen in the past year, Houston's existing base will grow by 2% in the upcoming year.
Oakland supply was late to the revelry, with deliveries remaining restrained until this year, when completions reached a two-decade peak of over 2,400 units in the year-ending 2nd quarter 2019. Though Oakland's apartment inventory grew by 1% in the past year, however, the base here is expected to grow by a much more substantial 3.9% in the next 12 months. After peaking at over 8,200 units in 2nd quarter 2020, annual supply is scheduled to remain above 7,000 units for several quarters.
After delivering nearly 10,700 units in the past year, Los Angeles will see about 50% more new units come online in the year-ending 2nd quarter 2020. Construction in downtown Los Angeles, which has been growing at unprecedented rates, will cool from an all-time high of about 4,400 units in 2nd quarter 2019, but will remain well above long-term norms. The more than 16,000 units set to come online in the next year will result in a 1.5% inventory growth, compared to a 0.9% increase in the past 12 months.
The number of units under construction in Washington, DC has never been this high. More than 29,000 units are underway in the nation's capital, and about 16,000 of those units are expected to complete in the next 12 months. The resulting inventory growth rate of 2.5% has only been seen in DC once before – in 2014. Geographically, construction is concentrated in urban DC.
Like Oakland, San Jose has scheduled deliveries for next year that more than triple completion volumes from the year-ending 2nd quarter 2019. Annual absorption in San Jose fell below annual supply recently, giving the market some catching up to do to absorb the nearly 7,000 units expected to deliver next year. Though San Jose's total inventory grew by 1.1% in the past year, that growth rate will increase to 4% in the next 12 months.
Two other markets outside the top 10 list – San Francisco and Detroit – are more than doubling construction volumes next year, with about 4,000 units and 2,000 units expected, respectively.
Several markets will see construction levels remain virtually unchanged in the next 12 months, including Atlanta, Nashville, San Diego, Seattle, Charlotte, Chicago and Anaheim.
Meanwhile, the steepest decreases in construction volumes next year are scheduled in New York-White Plains and Tampa. New York will see about 10,200 units come online in the year-ending 2nd quarter 2020, roughly 5,600 fewer units than last year. Tampa is scheduled to see 3,500 units deliver, about 2,000 fewer units than what came online in the past 12 months.