Annual Job Losses Lessen in Most Markets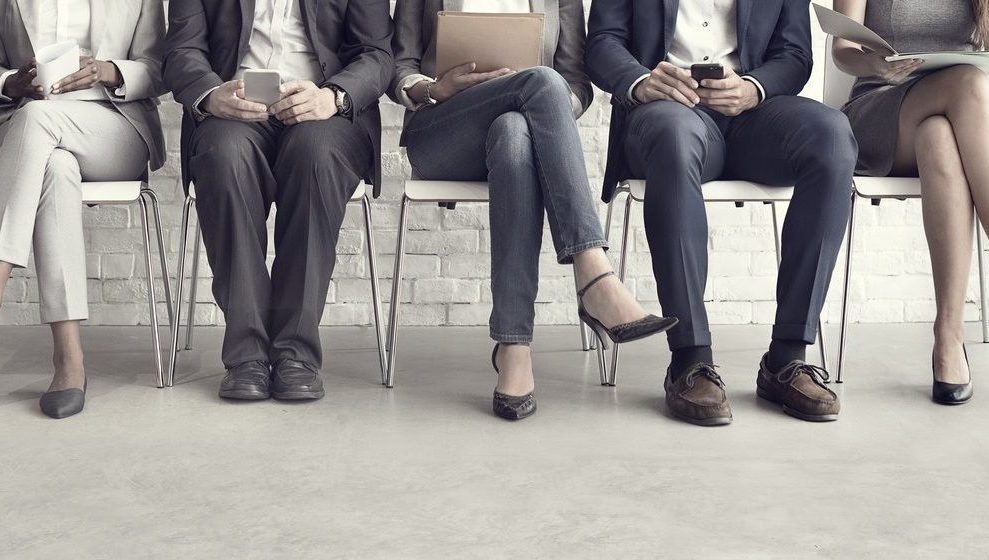 All but one of the nation's 150 largest markets reported job losses again in June, albeit at less severe rate than last month, according to the Bureau of Labor Statistics (BLS).
Despite national employment gains in May and June, the list of markets with the steepest job losses for the year-ending June remains nearly unchanged from May. Moderate improvement from last month's loss figures are encouraging, but the pandemic-induced economic shutdown in March and April indicates that a full recovery is still a long way off. Increasing coronavirus infection rates in changing hot spots around the country has several state and local governments contemplating reinstituting some form of lockdown.
Markets with the steepest annual job losses during the COVID-19 recession returns most of the same markets from last month. The nation's epicenter for COVID-19 from March through May – New York – again tops the list for the most job losses. June's annual figure of 1.15 million jobs lost is an improvement from the more than 1.40 million lost for the year-ending April, the BLS reports.
Los Angeles and Chicago were again bottom performers with about 460,000 job losses each, although Los Angeles improved slightly. Boston and Philadelphia retained in their positions from last month, with annual losses of about 400,000 and 300,00, respectively. Detroit and Washington, DC switched places this month as each lost about 270,000 jobs. Nassau County-Suffolk County, NY metro division returned to the list with 207,000 lost jobs, replacing Atlanta. Anaheim-Santa Ana-Irvine and Minneapolis-St. Paul rounded out June's list with annual losses of about 190,000 jobs each.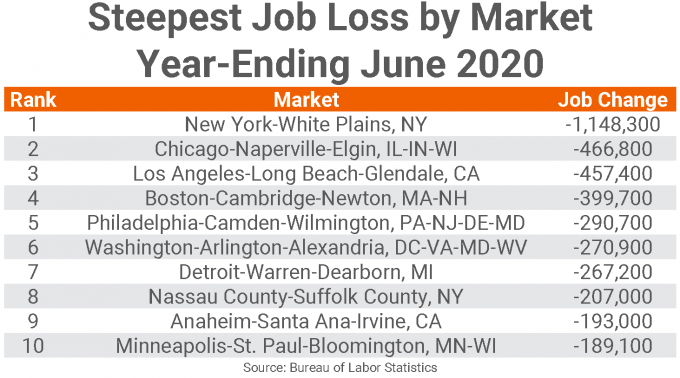 Twenty-eight of the RealPage 150 markets lost at least 100,000 jobs in June's report compared to 43 markets last month. Twenty-nine markets lost between 50,000 and 99,999 jobs, versus 23 last month. Combined, jobs lost in the 10 worst performing markets accounted for 29.4% of the total losses for the U.S.
The next 10 markets for job losses accounted for another 12% of total job losses. This list includes several metros with higher than normal concentrations of leisure and hospitality employment such as Las Vegas, Orlando, San Diego and San Francisco.
Job losses at the outset of the COVID-19 recession were primarily concentrated in those industries most susceptible to shutdowns – namely the leisure and hospitality and trade, transportation and utilities (retail trade) industries. Some of these jobs have returned as economies reopened, but the potential for a second round of lockdowns looms.
Individual markets around the country will experience differing rates of recovery based on their employment concentrations in the most vulnerable industries. Additionally, varying policies on lockdowns and requirements for phased reopenings, will affect how long it takes to fully recover.
New York, Boston, Newark and Las Vegas were the largest markets with the highest ratio of jobs cut in June 2020, the BLS reports.. In May, major markets reported up to 21% of their workforce losing jobs, but that ratio came down a bit in June to a maximum of 15.7% of jobs lost.
Aside from Honolulu, Las Vegas and Salinas, CA, markets with the highest ratio of job losses are concentrated along the Eastern seaboard.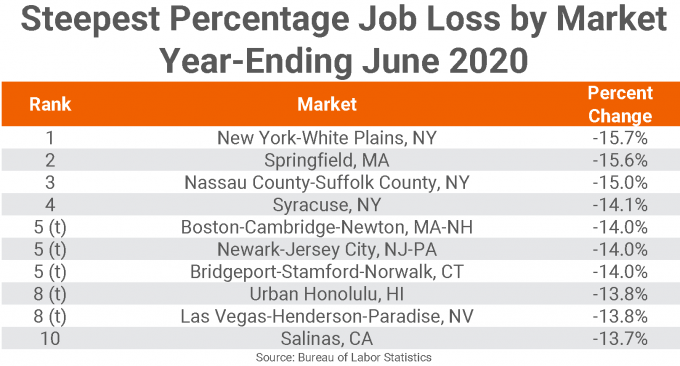 The markets with the lowest percentage job losses are primarily small college towns such as College Station, TX and Fayetteville, AR. Another college town – Provo, UT –was the only market of the top 150 that reported job growth for the year. Large markets with mildest job losses include Phoenix (-3.0%), Dallas (-3.5%) and Salt Lake City (-4.0%).