Annual Employment Change Turns Positive for Most Markets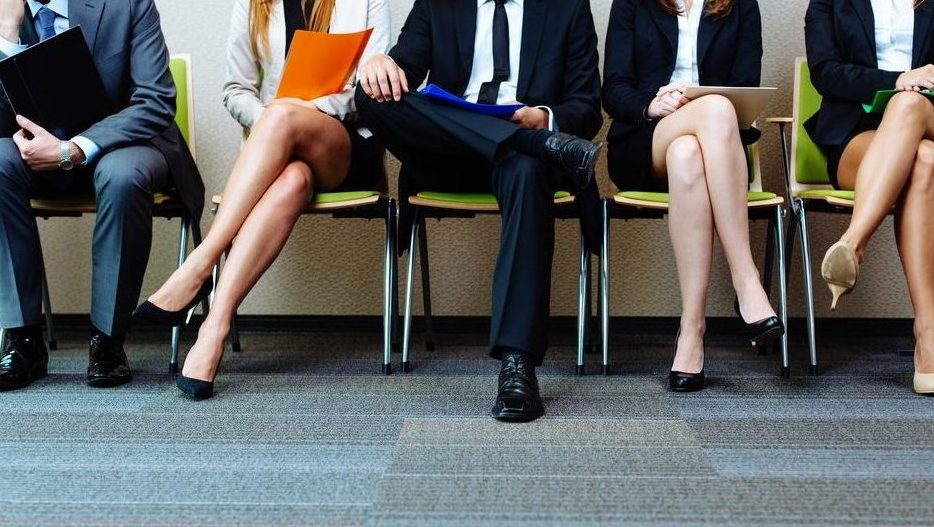 All the top 150 markets RealPage tracks reported solid job growth for the year-ending April 2021, with one exception: Midland/Odessa, TX.
Roughly 14.2 million jobs were recovered nationally in the past year, according to data released by the Bureau of Labor Statistics (BLS). Keep in mind that one year ago, the U.S. was in the deepest depths of the initial COVID-19 pandemic lockdown and economic freeze.
Some of the hardest hit markets recovered a significant amount of lost jobs in the past year. The top 10 job gain markets had a combined 3.1 million jobs return, 22% of the national total. New York employment improved by 664,400 jobs from the market's April 2020 employment level, while Detroit added back 378,800 jobs. Chicago, Philadelphia, Los Angeles, and Boston regained close to 300,000 jobs each.
Atlanta and Dallas had about 235,000 to 250,000 more people employed than last year and Washington, DC gained 207,500 workers. The New York area metro division of Nassau County-Suffolk County rounded out the top 10 with an improvement of 197,100 jobs.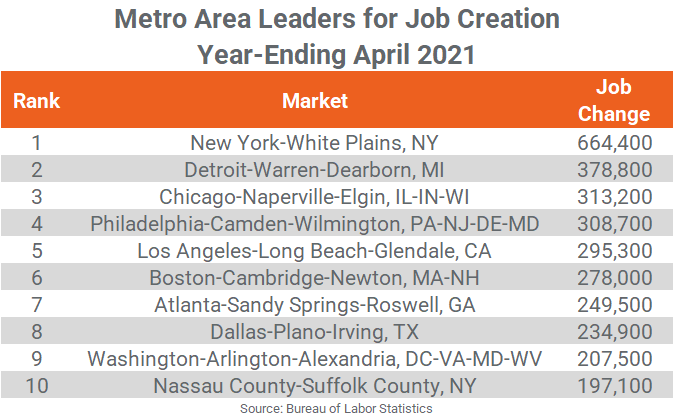 Despite gaining several hundred thousand jobs from the low point of employment from last April, almost every major market in the country is still below employment levels from February 2020, just prior to the lockdowns. New York and Los Angeles are both about 10% below pre-pandemic levels while the remaining top 10 jobs leaders are about 5% to 7% lower (Dallas is only 2.4% below February 2020 employment levels).
Salt Lake City is the only major market to have regained all jobs lost from the COVID-19 pandemic, but Austin, Jacksonville, San Antonio, and Kansas City are within 2% of their pre-pandemic employment levels. Markets that still have a long road to full recovery include: Midland/Odessa, Urban Honolulu, Orlando, Las Vegas, and New Orleans. Each are still 10% or more below February 2020 employment levels.
On a month-over-month basis, the seasonally adjusted national job gain figure of 266,000 jobs was disappointing, but several of the top 10 annual job increase leaders had solid monthly gains (unadjusted). New York and Chicago gained close to 60,000 jobs for the month, while Philadelphia, Washington, DC, Los Angeles, and Boston gained about 25,000 to 40,000 jobs in April.
These month-over-month comparisons of not seasonally adjusted labor data from the BLS can sometimes be misleading, but nonetheless give an idea of overall trends. In addition to the markets listed above, Anaheim, Minneapolis-St. Paul, and Houston had improvements of about 20,000 jobs or more compared to last month.
Including the top 10, a total of 32 markets had annual job gains of 100,000 or more compared to April 2020. Another 24 markets gained between 50,000 and 99,999 jobs. Only the small oil market of Midland/Odessa had an annual job loss from last April (-5,400 positions).
With these strong annual job gains, percentage change in employment was equally strong, with the top 10 gainers exceeding 17%, according to the BLS. Michigan and New York markets dominate the top 10 job growth list with Flint and Detroit as the top two at 30% and 25.2%, respectively. Grand Rapids/Muskegon/Holland, MI had a solid 19.1% growth in employment, tying with the growth rate in Nassau County-Suffolk County, NY. Meanwhile, Buffalo's employment level improved 18.7% from last April.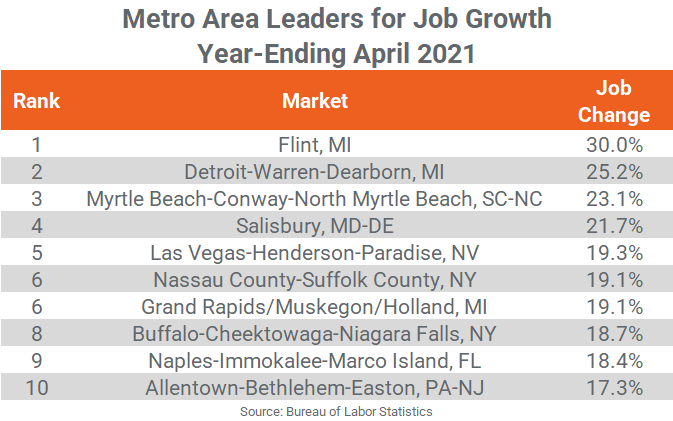 Other strong job growth markets include the tourist or retirement destinations of Myrtle Beach, SC (+23.1%), Las Vegas (+19.3%) and Naples, FL (+18.4%).
Aside from the annual percentage loss in Midland/Odessa, all of RealPage's top 150 markets had growth of 4% or more compared to last year. Seventy-six markets had double-digit growth of 10% or more, and four of those exceeded 20% growth (Salisbury, MD, Myrtle Beach, SC, Detroit, and Flint, MI).