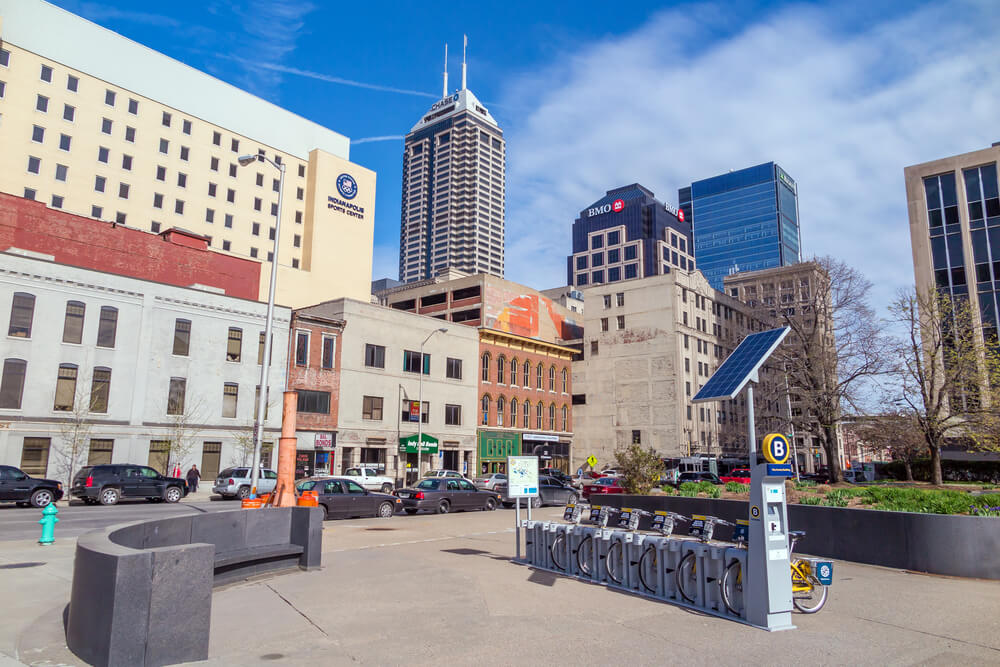 Appealing apartment market performances are seen in much of the Midwest right now. That's certainly the case in Indianapolis, where solid apartment demand and limited construction are yielding healthy occupancy and rent growth.
The metro's year-end 2020 occupancy rate stood at 95.1%, up 70 basis points (bps) on an annual basis. Effective asking rents climbed 3.7% in calendar 2020, after annual growth had been hovering near the 3% mark pre-pandemic.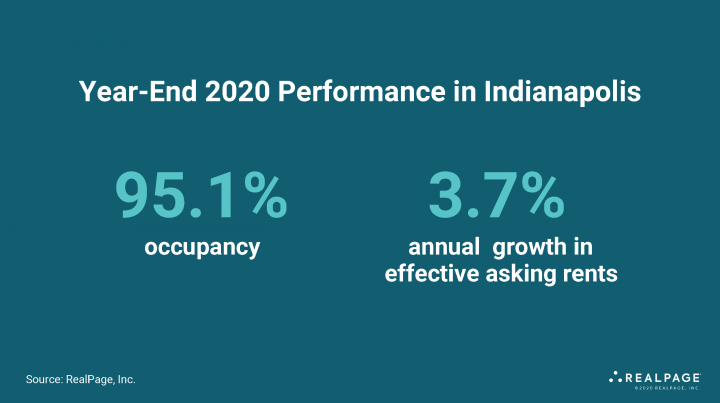 What's Shaping the Story?
Helping sustain demand for housing, the Indianapolis economy is experiencing a quick bounce back from last spring's big job cuts. Figures from November showed total employment only about 6,000 jobs off the early 2020 levels, after the local job count had been slashed by roughly 115,000 positions in March and April. Employment is hitting new highs in the best-paying job sectors, including professional services and finance.
Also important to the apartment demand story here, the Census Bureau reports that Indy is one of the country's leaders for young adult population, outperforming all but a few key Sun Belt areas.
Limited construction is another factor that's contributing to the Indianapolis occupancy and rent growth performances. Completions in 2020 were held to about 2,500 or so apartments (1.6% inventory growth), and just 2,900 units are under construction now. With relatively few properties moving through initial lease-up, Indianapolis is avoiding the downward pricing pressure from brand new projects offering big rent discounts in order to build an initial base of residents.
Check Out These Neighborhoods
A lively downtown (at least pre-pandemic) helps Indianapolis attract young adult renters. The area includes an interesting mix of historic properties and upscale newer developments built during the past decade or so. At RealPage, we like the submarket's long-term prospects. However, like in many urban cores across the country, performances have hit a bump in the road right now. As of late 2020, occupancy had faltered to roughly 90%, and effective asking rents for new leases were off nearly 7% on an annual basis.
Aside from downtown, the other always-active apartment construction market in metro Indianapolis is the upscale suburb of Carmel/Hamilton County. The submarket offers lots of job opportunities in corporate office park settings. Year-end 2020 occupancy was in great shape here at just a hair under 96%. Annual rent growth was solid too, topping 3%.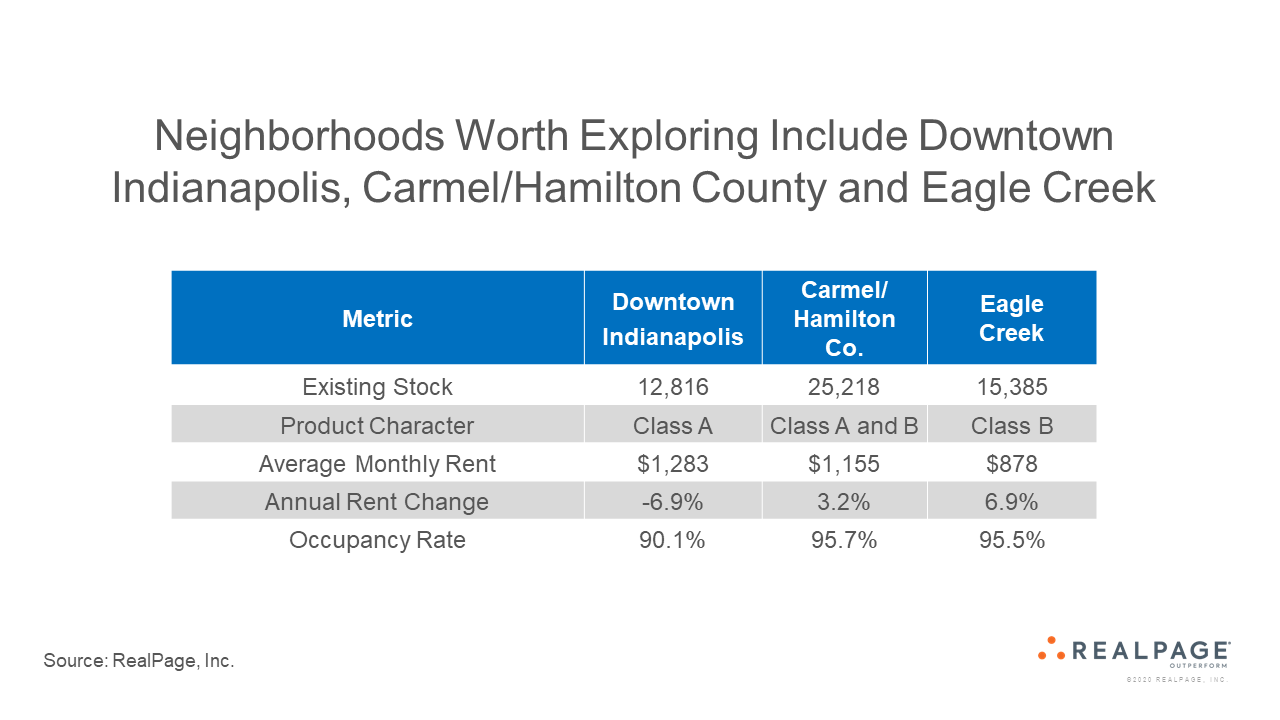 In many metros across the country, submarkets recording the best occupancy and rent growth during recent years have been moderately-priced neighborhoods with apartment stocks dominated by Class B product. A good example of this type of location in Indianapolis is the Eagle Creek area, located around the intersection of Interstate Highways 65 and 465 some 10 miles or so northwest of Indy's urban core. As of year-end 2020, occupancy in the Eagle Creek neighborhood stood at 95.5%, and effective asking rents were up nearly 7% year-over-year.
Downside Risks
While the Indianapolis apartment market has lots working in its favor right now, there also are challenges to consider.
One of the most significant negatives is simply that the metro generally isn't a favored market for most sources of institutional investment capital. Thus, it's important to think about exit strategy here, given the pool of potential buyers when it comes time to turn a property can be small.
On the operational front, it's worth pointing out that resident churn in top-tier product can be comparatively high. Influencing that performance, much of the populace can afford the metro's for-sale single-family product, something to think about especially when investing in a suburban setting like Carmel/Hamilton County. The National Association of Realtors reports the median single-family home price in metro Indianapolis at roughly $237,000.
Join RealPage analysts tomorrow as they discuss the Indianapolis apartment market's recent strength in the upcoming webcast Up Close and Local: New and Improved Markets.