After Months-Long Slump, Housing Permits Jump in July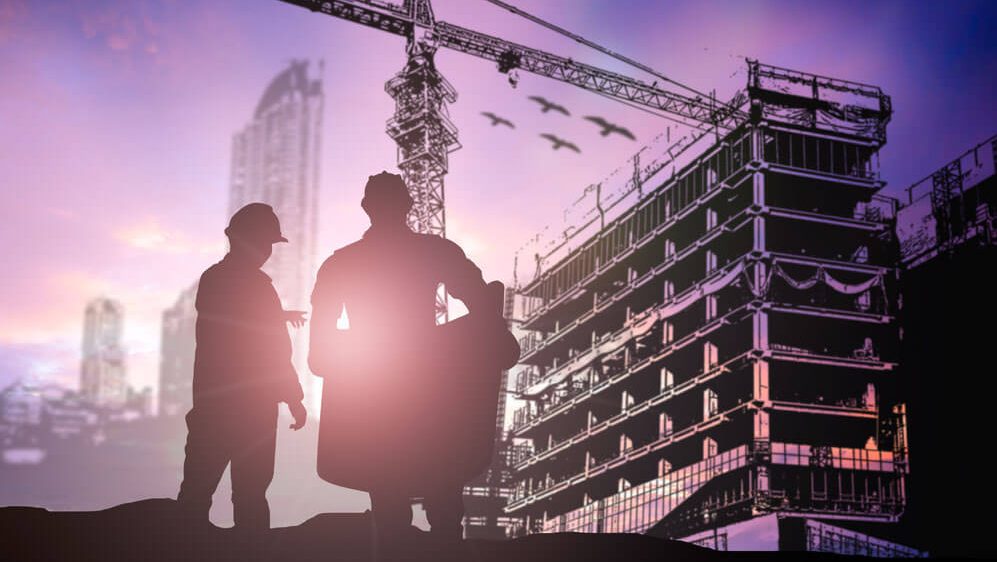 For the first time since the global pandemic began, annual multifamily permitting experienced a significant jump in July, suggesting that the initial interruption in permits in the previous three months has ended.
U.S. residential building permits and housing starts climbed in July on a seasonally adjusted annual rate (SAAR) compared to June as several factors stoked a housing rebound from the pandemic-induced recession. Total residential starts were up 22.6% from June. Total building permits were up 18.8% from last month.
Total starts and permits are now approaching pre-pandemic levels and are about 40% to 60% greater than the low seen in April 2020. On an annual basis, however, total starts recovered quicker – up 23.4% compared to July 2019 – while total permits are up only 9.4% from last year.
Multifamily permitting totaled 467,000 units in July, roughly even with the 12-month average, but 27% higher than the April low. The annual rate for multifamily starts jumped to 547,000 units in July, 56.7% more than the annual rate in June and 67.8% above the SAAR for July 2019. Starts are generally more volatile than permits.
Despite increasing concerns of flaring infection rates and renewed restrictions on businesses, developers continue to show optimism for an economic recovery with 220,000 more multifamily units started in July than the year before.

Very low mortgage rates, elevated personal savings and an increasing desire for suburban living are some of the factors boosting single-family housing demand in recent months. Single-family permits are leading the housing recovery with an increase of 83,000 units or 15.5% from last July, bringing the SAAR to 983,000 units. Single-family starts are 34,000 units or 7.4% ahead of last year's pace and exceeded the 12-month average of 940,000 units.
The low point for residential completions came in May of this year with 838,000 single-family units built, but annual levels have once again topped 900,000 units in July. Multifamily completions are more volatile, but also slowed in April and May during the pandemic lockdowns. July's annual completion rate for multifamily units registered at 364,000 units, up 9% year over year.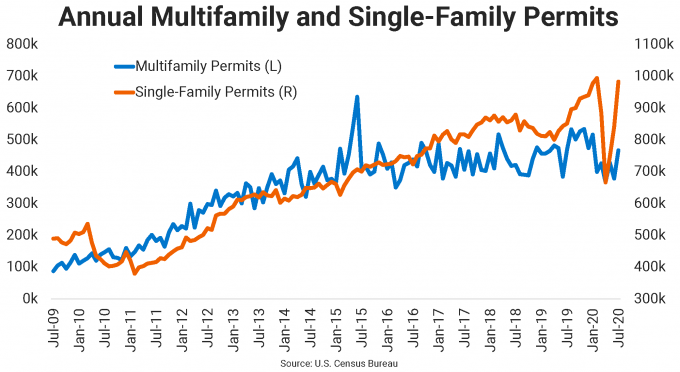 Regionally, annual multifamily permitting was down in the South (-13.2% to 183,000 units) and West (-7.4% to 135,000 units). The smaller Northeast region permitted 70,000 units in the year-ending July, up 8.1% over last July. The Midwest region permitted 80,000 multifamily units, 64.4% greater than the preceding 12 months. Compared to the previous month, three regions had moderate-to-strong increases in their annual rates of 22% to 55%, while the South was flat.
Multifamily starts were up sharply in all regions from last July, almost doubling in the large South region (+98.2%/300,000 units). The small Northeast region had an increase of 48,000 multifamily units started over July 2019, an increase of 143% to 81,000 units. The Midwest (+41.3%/67,000 units) and West (+5.8%/100,000 units) regions also gained ground. Compared to June, all four regions had similar gains in their annual rates for the month as they did for the year.
At the metro level, the list of the top permitting markets remained virtually unchanged from June, except for a newcomer: Nashville. New York, Houston, Austin and Dallas claimed the top spots. New York had a more than 25% jump in annual permitting, and Austin was up almost 60%. Houston and Dallas were essentially unchanged from last year.
Los Angeles and Phoenix each moved up one slot, with a modest increase in annual permits for LA (+12.7%) and a significant jump in Phoenix (+77.6%). Permits in Seattle decreased 11.9% in July. Minneapolis-St. Paul and Washington, DC retained their spots at #8 and #9, despite a gain of 12.9% in Minneapolis and a decrease of -28.7% in DC. Meanwhile, Nashville cracked the top 10 with an almost 45% increase in permitting, replacing Orlando at #10.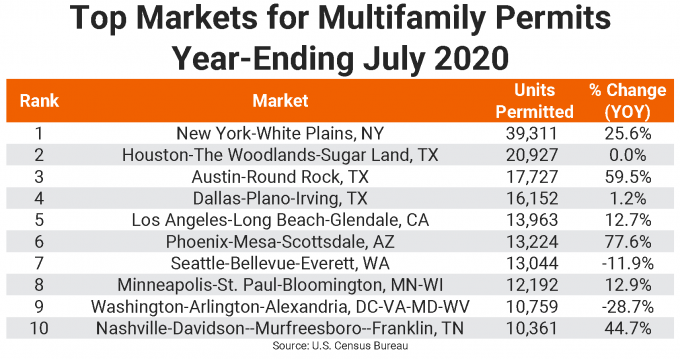 The strongest increases in multifamily permitting among the top 10 were in New York (+8,007 units), Austin (+6,612 units), Phoenix (+5,778 units) and Nashville (+3,199 units).
Other markets that saw significant year-over-year increases in annual multifamily permitting in the year-ending July include Sacramento (+2,150), Anaheim (+2,127), Columbus, OH (+1,939) and West Palm Beach (+1,814).
Only two of the top 10 markets experienced decreases in annual multifamily permitting from last year: Washington, DC (-4,328 units) and Seattle (-1,762).
Significant decreases in annual multifamily permitting occurred in Atlanta (-4,651), San Francisco (-3,557), Charlotte (-2,545), Jacksonville, FL (-2,479) and Denver (-2,022).
Compared to last month, three of the top 10 had fewer annual multifamily permits than in June, with Houston, Seattle and Washington, DC each decreasing about 7%. The remaining seven markets increased annual permitting from last month ranging from 0.6% (Los Angeles) to 9.9% (Nashville), averaging 3.9%.
The annual total of multifamily permits issued in the top 10 metros – 167,660 – was 14.0% greater than the 147,009 issued in the previous 12 months. The total number of permits issued in the top 10 metros was almost equal to the number of permits issued for the #11 through #42 ranked metros.
The list of top individual permitting places (cities, towns, boroughs, and unincorporated counties) generally include the principal city of some of the most active metro areas. The top 10 permitting place list includes all of the same 10 places as last month. The cities of Austin, Houston and Los Angeles continued to lead the list with more than 10,000 units each. Nashville shot past the borough of Brooklyn and Unincorporated Harris County to the #4 spot in July, and the remainder of the top permitting places returned in the same order as June.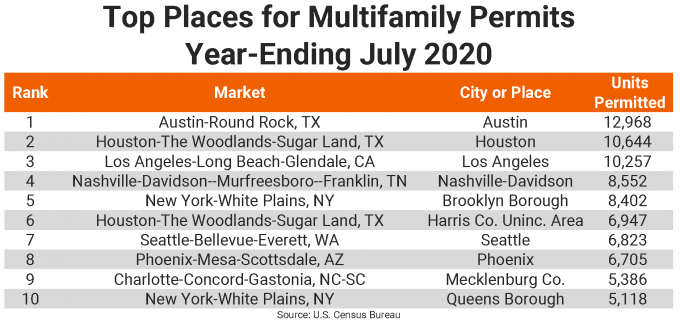 With the Nashville-Davidson-Murfreesboro-Franklin market joining the top 10 permitting list, only Mecklenburg County (Charlotte) is the only permit-issuing place to make the top 10 list whose metro area did not make the top 10 metro list.