10 Local Spots Expecting Big Growth in Apartment Inventory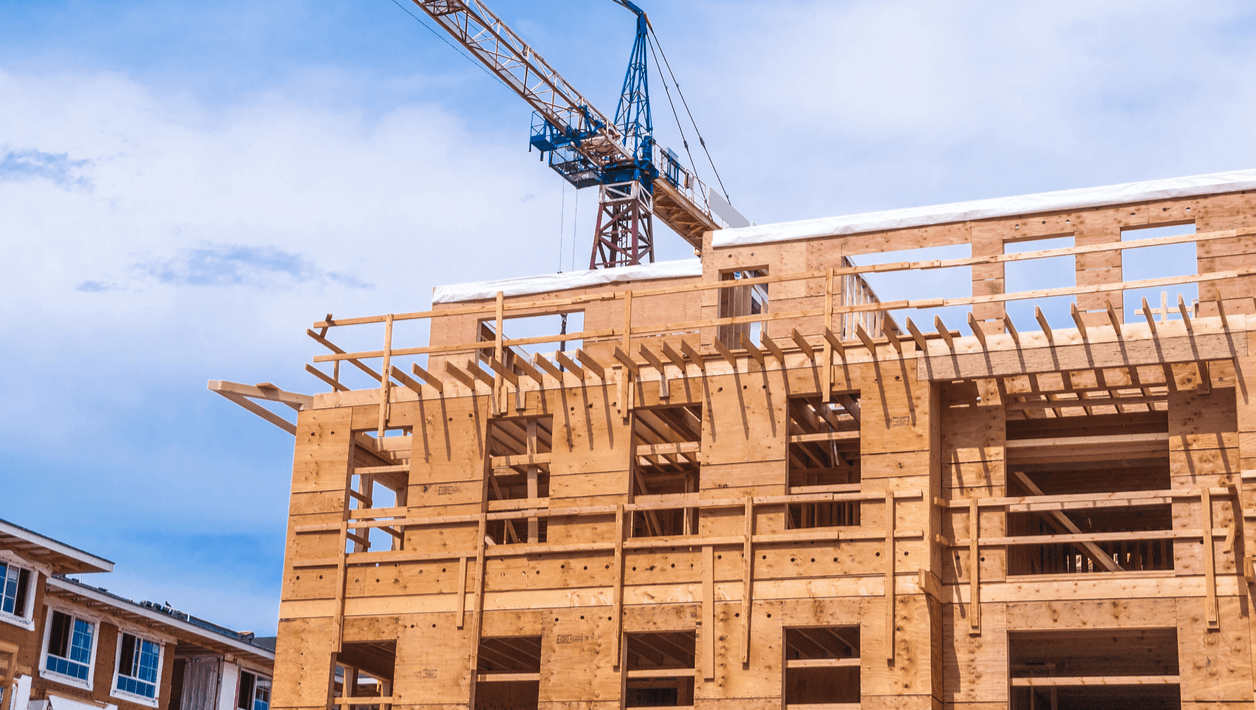 With the U.S. apartment market expected to see completion volumes continue to rise in the coming year, some submarkets are scheduled to record exceptional increases.
Among RealPage's more than 700 submarkets that make up the nation's 50 largest markets, 10 are expected to see inventory grow by more than 11% next year. By comparison, apartment completions scheduled over the next year represent a 2% inventory expansion nationwide.
Washington DC's Navy Yard/Capitol South area will see its apartment base swell by 28.4% in the year-ending 2nd quarter 2020, a rate well beyond any other submarket in the nation. Located just south of the U.S. Capitol building and the National Mall, this pricey waterfront submarket is an employment epicenter and has been a popular construction area in recent years. The existing apartment base here has expanded by nearly 80% just in the past five years, yet all of that product has been absorbed well. Occupancy is still essentially full at 95.5%, and rent growth remains ahead of the market average at 4.2%. With 3,966 units scheduled to complete, Navy Yard/Capitol South is also expected to be one of the top two submarkets in the nation in terms total units completing in the coming year. Only Oakland/Berkeley is expected to see more units built.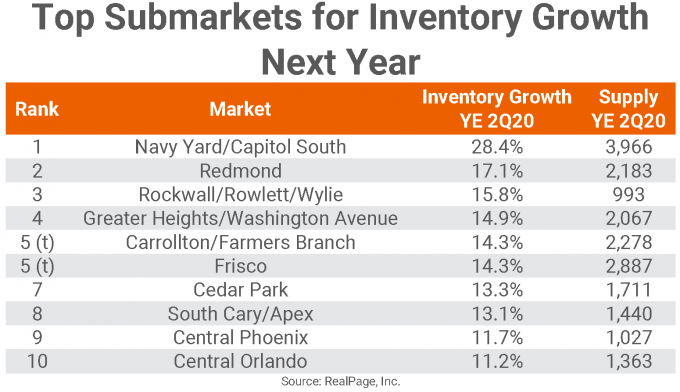 Seattle's Redmond area has seen construction activity pick up to elevated levels recently, and volumes should increase even further in the near term. A total of 2,183 units are scheduled to complete in the coming year, resulting in a sizable inventory increase of 17.1%. That is four times more than the submarket's decade average of 3.8%. Located 15 miles east of downtown, this upscale suburb is the home of Microsoft and Nintendo of America, and garners rents that are $200 to $300 less than downtown and the neighboring West Bellevue/Mercer Island submarket. As of 2nd quarter, Redmond's occupancy was the best in Seattle at 96.7%, but annual rent change was well behind the market average – and the submarket's long-term norm – at 1.5%.
Taking five of the remaining eight spots on the list of top 10 inventory change neighborhoods for the coming year were areas of Texas. Three of those are northern Dallas suburbs.
Though only 993 units are set to complete next year in the northeastern up-and-coming suburb of Rockwall/Rowlett/Wylie, these additions will grow the relatively small inventory base here by 15.8%. Annual deliveries rarely reach above the 500-unit mark in Rockwall/Rowlett/Wylie, but completions started picking up in the second half of 2018. Completions are likely to continue to impact performance in this middle-market Dallas suburb. Prior to the supply ramp-up, occupancy hovered around 97% through much of 2011 through 2016, when operators here pushed rents at unprecedented levels, with annual rent growth peaking at 8.6% in 2016. However, occupancy took a quick, steep dive under the weight of new supply, bottoming at 92.5% in early 2019. As of 2nd quarter, occupancy was back up at 95.3%, but at the sacrifice of rental rates. Price adjustments have been made and rent growth has altogether disappeared recently.
Scheduled supply will swell inventory in Carrollton/Farmers Branch, another middle-market suburb on Dallas' north side, by 14.3% in the next 12 months. This submarket logged negligible supply for much of the past decade but saw completion volumes start to pick up in 2015. In the past year, deliveries were at a 20-year high at over 1,600 units. At 2,278 units, scheduled supply for the coming year is well above that peak. This northern suburb was 95.6% occupied in mid-2019, a rate that came in well above the Metroplex average. While rent change in Carrollton/Farmer's Branch has weekend notably over the past four years, total price increases during the current economic cycle have been some of the strongest in the Dallas/Fort Worth area. Since the end of 2009, rental rates here have gone up 41.7%.
Tying with nearby Carrollton/Farmers Branch, the upscale suburb of Frisco will see its existing base increase by 14.3%, with 2,900 units set to complete in the year-ending 2nd quarter 2020. This northern submarket, located at the end of the Dallas North Tollway, has seen its office market grow substantially in recent years, with the $1.5 billion Star complex and the $1.5 billion Frisco Station development, supporting increased apartment construction activity. While the demand potential is strong, apartment occupancy here was one of the lowest rates in the Metroplex, at 94.4%. Frisco saw occupancy take a dive at the end of 2015, after registering around the 96% mark for four years. Rent growth here has also been subdued. In fact, this submarket saw one of the mildest growth performances in North Texas in the year-ending 2nd quarter 2019.
Other Texas submarkets expected to see their inventory base climb by nationally strong levels in the coming year are Houston's urban core area of Greater Heights/Washington Avenue and Austin's northwestern suburb of Cedar Park.
Other top-growing submarkets include Raleigh's South Cary/Apex, Phoenix's Central Phoenix area and Orlando's Central Orlando.