10 College Town Apartment Markets Worth a Look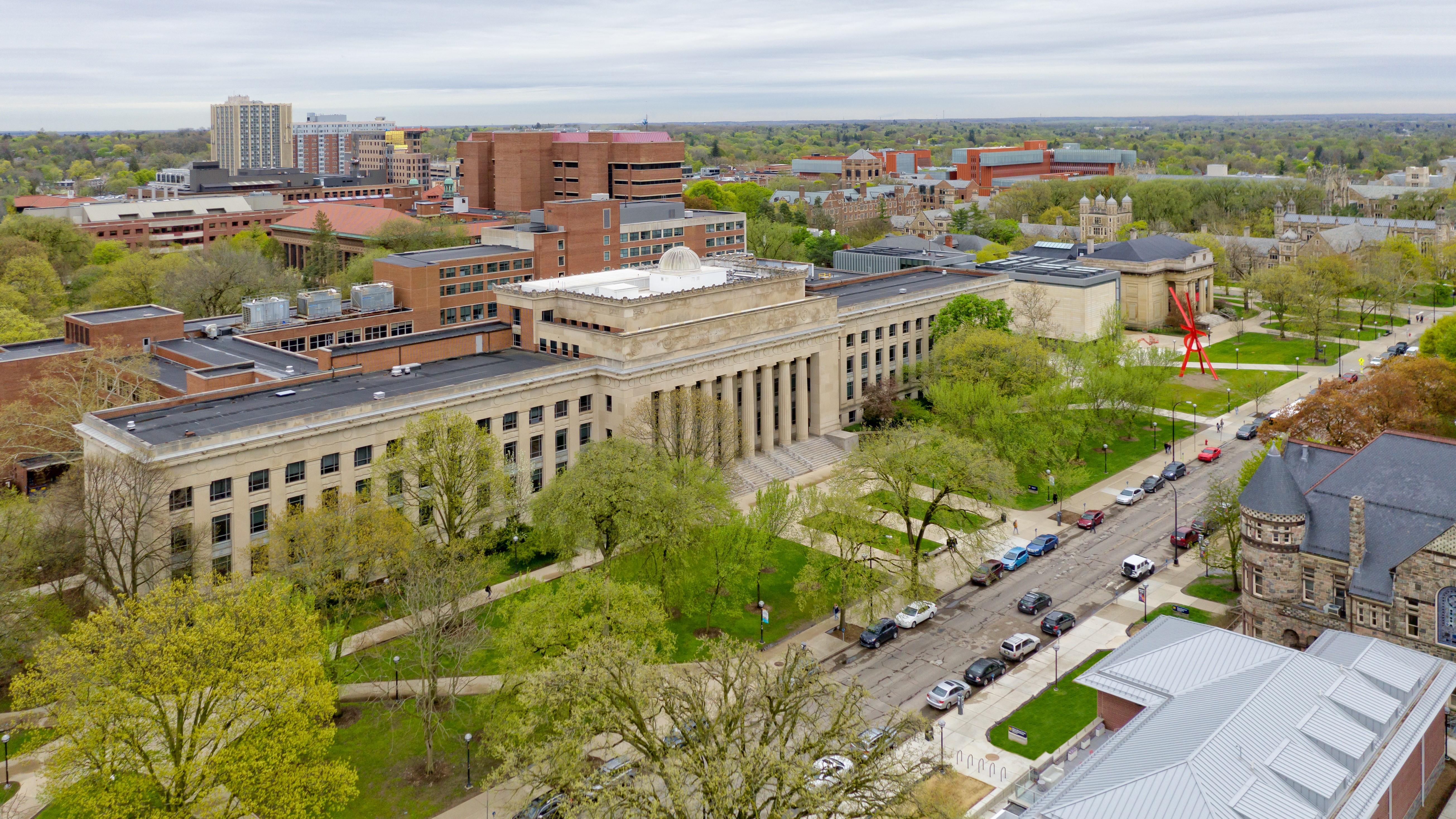 College town markets tend to be solid apartment investment choices. That's a conclusion that RealPage analysts reach every time we do a dive into the performances seen across the nation's smaller metros.
Influencing that perspective, college town economies tend to be comparatively appealing. Some who go to school in these locations end up staying put after graduation, so education levels generally are better than in other spots of similar size. These educated populations support job creation, especially in segments of the economy that pay fairly well.
College markets that also are key regional healthcare centers get especially high marks in our analysis.
Quality of life also is a plus for college towns. Cultural options abound in many of these locations. They're simply places where many people want to live.
Does 2020 Change the Narrative?
This year will be tough for many college towns. Fewer students will pour into these locations, opting instead for distance learning from spots that are perhaps hundreds or thousands of miles away. Some won't attend school in any form. As a result, colleges face budget challenges, businesses won't have the customers that they depend on and municipal tax revenues will suffer.
If you think that what's happening right now fundamentally changes the college experience moving forward, the apartment sector in college markets probably isn't the right investment choice for you.
At RealPage, however, we think these college markets are attractive options over the long term.
Noting that we're not rating opportunities for student housing specifically, here are 10 college markets where we think big-picture fundamentals for conventional apartment product look promising.
Ann Arbor, MI
We're presenting these markets in alphabetical order, so that approach puts Ann Arbor first on the list. However, if we were ranking by overall appeal, you could make a case that Ann Arbor still would be #1.
One distinguishing characteristic for this market is that there's virtually no risk of enrollment challenges at the University of Michigan, given the school only accepts 23% of those who apply to attend. That's by far the lowest acceptance rate for any of the schools examined on this list.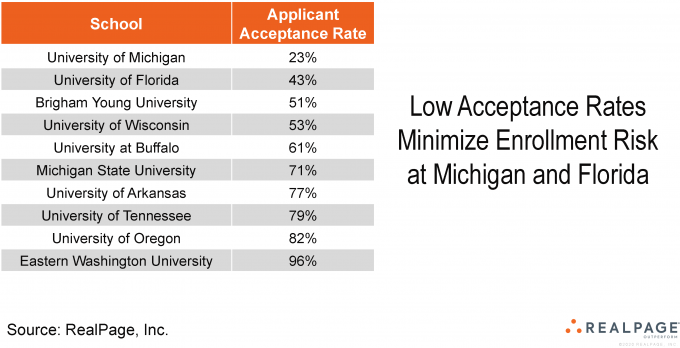 Ann Arbor has a base of roughly 38,000 conventional apartments. The market's five-year average occupancy rate is 97.1%, with annual average rent growth coming in at 4.1%. Today's occupancy figure matches the past norm. While annual rent growth is only half the typical level, any market with positive change ranks as an outperformer these days.
Conventional properties serve quite a few students here. While enrollment tops 47,000 students at the University of Michigan, there are only about 18,000 beds in the dorms or in purpose-built student housing properties located off campus.
Buffalo, NY
Here's a likely under-the-radar choice for you – Buffalo. The 63,000 or so conventional apartments here record a solid five-year average occupancy rate of 95.5% and have registered annual rent growth averaging 2.3%. Today's occupancy figure of 97% is above the past norm, and annual rent growth remains in line with the earlier average.
With enrollment at the University at Buffalo totaling about 32,000 students, the market isn't quite as college focused as some of the other locations on our list. However, look for meaningful spillover of students into conventional apartment product. Only a third or so of the students can be accommodated in dorms or in properties that are specifically student housing developments.
Eugene, OR
Most of the flagship schools in the West region of the country are in sizable metros. One of the exceptions is the University of Oregon, located in Eugene. A downside risk here is that Eugene is perhaps too much of a college town. Outside of the school itself, sizable employers tend to be limited to local government, healthcare providers and the retailers that support the area's populace.
Still, it's hard to ignore how incredibly well the apartment base of about 26,000 conventional apartments has performed in recent years. Five-year average annual rent growth of 6% is the strongest in any market examined, and today's year-over-year rent bump is reasonably decent at 2.2%. Typical occupancy over the past five years is just above 96%, while today's occupancy rate is only a hair under the 96% mark.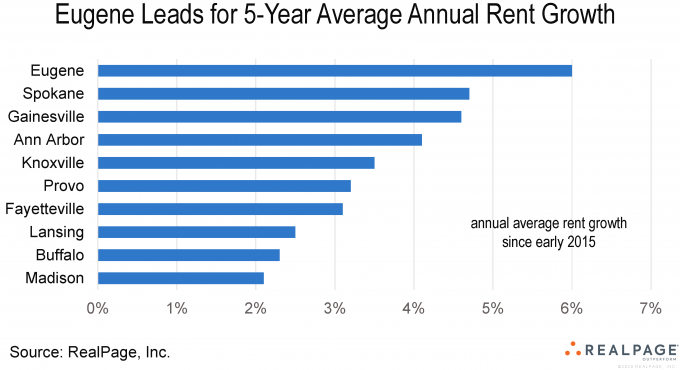 Dorms and purpose-built student housing properties can accommodate about 53% of the University of Oregon's 25,000 students.
Fayetteville, AR
In contrast to the limited number of locations that RealPage thinks of as college towns along the West Coast, there are lots of them in the Southeast. However, apartment investment opportunity at quite a few of these locations is limited, as student housing developers have overbuilt some schools in the region to the point that conventional apartment properties struggle too.
One of the better-performing small markets across the Southeast is Fayetteville, home of the University of Arkansas. Viewed over the past five years, the local occupancy rate for an inventory of about 35,000 conventional apartments averages 98%, highest among all the markets on this list. Typical annual rent growth registers at 3.1%. Today's performances are a little under those five-year norms. Occupancy is at 96.6%, and rents are up a mild 0.7% year-over-year.
Compared to other markets on the list, Fayetteville is the spot to watch for some downside risk due to conventional apartment construction activity. Product on the way here totals about 1,800 units, and those additions will grow the stock by a notable 5.2% in the near term.
Enrollment at the University of Arkansas comes in at roughly 28,000 students, while dorms and purpose-built student housing properties offer some 15,000 beds.
Gainesville, FL
Staying in the Southeast, Gainesville's base of conventional apartments totals almost 28,000 units. Occupancy has averaged 96.6% over the past five years, with typical annual rent growth in that time coming in at 4.6%. While today's occupancy rate remains in line with the past norm, annual rent growth has slowed, now registering at 1.4%.
Enrollment at the University of Florida is huge – roughly 53,000 students. Note that the school has a fairly low acceptance rate of 43%, so there's no big-picture danger of a decline in enrollment. There's space in the dorms and in student housing properties to accommodate about 31,000 people.
One note of caution here is that student housing developers are really active in Gainesville. The University of Florida's stock of purpose-built student housing beds is already the fifth largest in the country, and there never seems to be much of a break in construction activity. At some point, this flow of new supply could have a negative impact on the performances of conventional properties.
Knoxville, TN
Our final favored college market in the Southeast region is Knoxville, home of the University of Tennessee. Among the positives for this location, total market size of about 51,000 conventional units is bigger than the inventories in most locations examined. Also, the composition of the local economy is comparatively appealing, partly because of the high-end jobs found at the Oak Ridge nuclear power plant and research facility.
Knoxville's five-year average apartment occupancy rate is 95.9%, and today's occupancy is a bit above that past norm. Typical annual rent growth for the past five years is 3.5%, and today's year-over-year bump is nearly that sturdy at 2.7%.
Dorms and purpose-built student housing in Knoxville can accommodate some 17,000 of the University of Tennessee's 29,000 or so students.
Lansing, MI
While Lansing performance stats can't quite match the story seen in Ann Arbor, the local numbers are reasonably compelling. With a base of about 42,000 conventional apartments found in the market, occupancy here has averaged 96% over the past five years, and today's rate is a little better than that at 96.5%. Current annual rent growth is at 0.8%, off from the five-year average rate of 2.5%.
Enrollment at Michigan State totals right at 50,000 students. Just over half of them can be accommodated in the 26,000 or so beds offered in dorms and the stock of purpose-built student housing properties.
Madison, WI
The biggest location on our list of preferred college town markets is Madison, where the stock of conventional apartments reaches 71,000 units. The comparatively large size of this location decreases its downside risk. So does the stabilizing economic force of government operations, since Madison is the state capital of Wisconsin.
Among the markets examined, Madison posts today's strongest occupancy rate, 98.1%. That's a hair over the five-year norm of 97.6%. Current annual rent growth of 2% is in line with the five-year average of 2.2%.
A comparatively high share of students at the University of Wisconsin live in conventional apartment product. Dorms and purpose-built student housing properties provide only 13,000 beds, accommodating just 29% of the enrollment count that reaches 44,000 students.
Provo, UT
At roughly 23,000 units, Provo's conventional apartment count is the smallest across the markets discussed. That small market size inherently increases the volatility of performance results, so we're going to keep this one on the list of potentially appealing investment options even though annual rent change has dipped into negative territory for the moment. Rents are off 0.9% year-over-year, compared to five-year annual growth averaging 3.2%. Today's occupancy of 95.9% slightly tops the five-year norm.
Brigham Young University in Provo has an enrollment of roughly 35,000 students. There's space for some 15,000 of them in the school's dorms and purpose-built student housing properties.
Spokane, WA
While Spokane is perhaps less of a true college town than some of the other locations discussed, about 20,000 students go to school at either Eastern Washington University (not quite 13,000 students) or Gonzaga University (a little more than 7,000 students). Enrollment decline here is a bigger risk than at other locations discussed, since Eastern Washington has an applicant acceptance rate of 96%.
Nearly all of Spokane's students who don't live in dorms are residents of conventional apartments. Fewer than 1,000 beds are offered in purpose-built student housing properties.
Within Spokane's base of about 41,000 conventional apartments, five-year occupancy averages right at 97%, and today's occupancy rate mirrors that figure. Current annual rent growth is really solid at 3.4%, although that number is off from the five-year norm of 4.7%.