Modern Message Announces New Integration with J Turner Research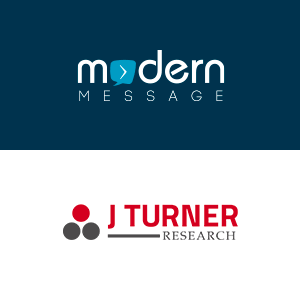 Modern Message customers will now be able to access ORA™ score data inside an entirely new Community Rewards Dashboard Experience
Modern Message is proud to announce its latest integration with J Turner Research as a way to enhance the customer's dashboard experience by displaying month-over-month trends in ORA™ (Online Reputation Assessment) data. This integration will allow our customers to have the most accurate and all-inclusive way to monitor the impact that resident engagement has on their online reputation.

J Turner Research exclusively serves the Multifamily industry with customer insights through a fully-integrated online reputation management platform that empowers management companies to drive revenue.
The company has pioneered a unique statistical model to quantify online reputation. This model measures a property's online reputation using multiple review sites and establishes a single ORA™ score on a scale of 0-100. The ORA™ score is based on the monthly online reputation monitoring of more than 92,000 properties nationwide, across 19+ review sites and ILS (Internet Listing Services). It serves as the industry standard to compare a company's individual properties and portfolios nationally, regionally, and with competition.
"We are extremely excited about the ORA™ partnership with Modern Message. Our research proves that for residents and prospects, the online reputation of the property and management company is vitally important. Modern Message and J Turner Research are singularly focused on enabling companies to advance their online reputation. With ORA™ scores being accessible on the Modern Message dashboard, more and more companies can easily assess the impact of their customer service efforts on their reputation and set goals for further improvement," said Joseph Batdorf, J Turner Research President.
"We continuously learn and form new ways of enhancing the user experience of our customers and this integration aligns with our goals of improving resident engagement and resident intelligence. Centralizing ORA™ data is a tremendous enhancement to our services," said Darcey A. Forbes, Modern Message Chief Sales Officer.
Properties with a higher ORA™ score indicate enhanced resident satisfaction which can increase renewals and further improve online reputation. This new integration will allow participating Modern Message communities to monitor their ORA™ score directly on our Community Rewards dashboard. Mutual customers can also reply to reviews inside the J Turner dashboard which will feed directly to Modern Message in real time.

There continues to be a strong correlation between online reputation and resident satisfaction. Modern Message has developed a proven system that engages resident base which can drive more value to the apartment community. With an established engagement strategy, residents are encouraged to share their experience online which can yield greater loyalty, positive sentiment, and ultimately new ratings and reviews. According to J Tuner, Community Rewards generated 24% of all Multifamily Reviews in Q2 of 2018 with an average sentiment score of 4.26 stars by consistently asking for feedback through the program.

Sentiment Tracking
About J Turner Research
J Turner Research is the leading full circle online reputation management firm that empowers clients with data to drive revenue. With our unique 360-degree process, we enable companies to enhance resident satisfaction, increase closing ratios, and improve online reputation. Our Online Reputation Assessment™ (ORA™) score serves as the industry standard for measuring a property's online reputation. For more information, please visit https://www.jturnerresearch.com.
Have a question about our products or services?