ActiveBuilding App Redesigned to Deliver Better Performance, Easier Access to Common Features
Redesign continues the ActiveBuilding app evolution announced at RealWorld 2022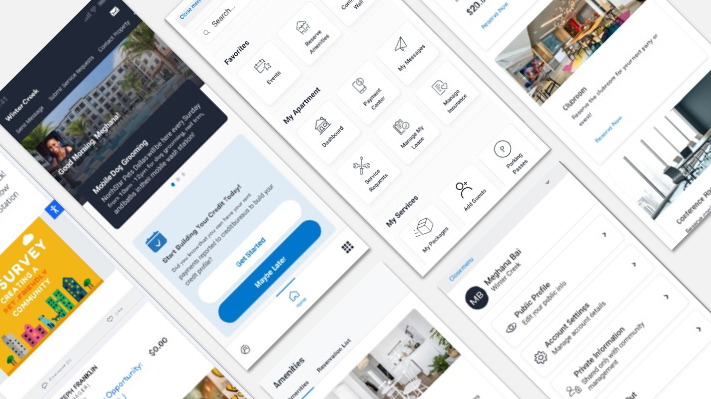 RealPage announced today the first in a series of ActiveBuilding app updates designed to improve residents' overall experience, including easier login, navigation, app performance and access to the features residents use the most. The updates were introduced at RealWorld in July by John Hinckley, SVP Leasing & Living for RealPage.
"Our user research was loud and clear – more than ever, residents' time is limited, so they want to get things done faster, in every way. So we've done some substantial remodeling that streamlines app navigation, grouping common information and functions in a more logical way."

Everything's a Tap Away
Everything is snappier in the next-generation ActiveBuilding, from app performance to resident navigation.
A new quick link bar at the top of home puts your residents' most common actions front and center, from paying rent to submitting service requests and sending messages.
And a new bottom menu bar gives residents reachable access to profile, home and a new, customizable main menu where we've moved My Apartment, Community and My Services.

Easier for Residents on the Move
Residents are always moving, creating persistent demands on your teams. Next-Generation ActiveBuilding empowers residents to access information they need, thus reducing dependency on the onsite staff. A new property selector helps residents moving from one unit to another within your portfolio to view and manage information from the same login credentials.

Points for Rent Payments, Ready for Rewards
RealPage introduced "Points for Payments" in late October, a new feature that allows residents to earn points from Community Rewards for paying rent on-line in ActiveBuilding, in a fully automated process. The result has been higher online payments adoption and an average 10% higher adoption rate for their rewards program.
"On their own, Points for Payments and this month's other updates will clearly help improve residents' day-to-day experience, but we're just getting started. These updates are an important step toward next month's launch of embedded rewards into a resident experience that truly engages and builds loyalty in a single app," Hinckley said.
Residents at participating communities will begin receiving updates to the ActiveBuilding app in mid-November, with embedded Rewards expected by the end of 2022.
​
Have a question about our products or services?