With Self-Guided Virtual Apartment Tours, It's All in the Follow-Up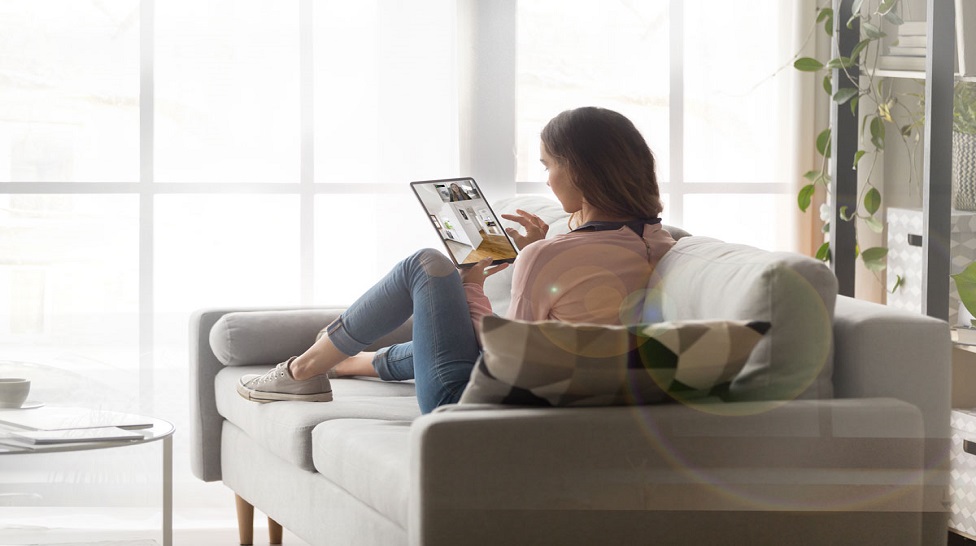 When you can take a 3D tour through a prospective apartment home without leaving your chair – and you can do it anytime 24/7/365 – it's awfully tempting not to bother with an on-site walkthrough. And more and more renters are making this decision. In fact, according to the latest data, half of adult internet users in the U.S. have taken a virtual tour, and they are 130% more likely to lease if they can tour online. A 2020 survey conducted by Zumper and Matterport, a leader in 3D capture and spatial data, documented that over 70% of renters said they'd happily rent an apartment without actually seeing it if they could take a 3D virtual tour.
Today, RealPage's touring solution offers high-quality 3D walkthroughs with floor plans, interactive site maps, professional photography and the ability to virtually stage any multifamily rental unit. Live tour guides can be made available to answer questions, present pricing and encourage prospects to start the application process.
It's a great convenience not only for renters, but for apartment staff as well. After all, answering and returning calls about on-site visits and scheduling and then leading the tours is time-consuming; and too often, good prospects fall through the cracks.
But there's a potential downside: on-site property tours offer the chance to close the sale – an opportunity that diminishes in the case of virtual tours when they are not followed up quickly and intelligently.
Those critical hours after the apartment tour
Frequently, even after a successful virtual rental tour, the prospect moves on to check out other properties. And in too many cases, properties have no record of the tour or prospect information. This means there's no chance to follow up to answer questions and close the sale before the customer is enticed by other properties and offers.
Even if the prospect has filled out a guest card or contact information, there's frequently no follow-up during those critical hours after the tour ends. So it's vital that the virtual tour solution tie directly into your CRM system so your leasing agents can strike while the iron is hot.
In a recent interview, Kelly Tang, president of IEC Property Services, told us that the personal element is critical to turning virtual tours into leases. He said this involves not only the opportunity to interact with an agent during the tour if desired, but also an immediate, customized follow-up.
"There will be those who elect self-guided tours for whatever reasons," he told us. "Sometimes they'd just rather be left alone and not talk to anyone. But even in this case, it really pays to be in some way standing by to answer questions if they choose to ask them. As though you're standing under the balcony while they tour saying 'let me know if I can help you with anything.' Also, it shows a level of attention, caring and professionalism that imparts the sense that they will receive this level of personal attention after they move in should they choose to become a resident."
Tang went on to reinforce the importance of what happens after the tour. In essence, when the tour ends, the selling begins.
Feeding into your multifamily CRM
RealPage's CRM solution employs AI and guest cards to streamline follow-up with every prospect who tours online, whether self-guided or toured by a leasing agent.
While the tour is fresh on their minds, prospects immediately receive a digital brochure via email, customized based on the interests indicated in the course of the tour. The property receives a guest card documenting these interests to facilitate an effective, persuasive follow-up.
RealPage's chatbot, Paige, centralizes all information so the leasing agent can review the prospect's experience before getting in touch. Paige also can parse chat transcripts and create personalized marketing touch points, which can then be emailed to the customer.
For example, say the prospect has asked about the gym and shared office space, and this information is highlighted in the automated communication she receives after the tour. This personalization is not only impressive from a customer service standpoint; it also effectively hits her marketing hot buttons.
Selecting the right prospect for follow-up
Kelly Tang said that one advantage of a multi-faceted sales process is that you can play to your leasing staff's strengths.
For example, someone who is great face-to-face with people can give the in-person property tours. Another who is handy with assembling marketing emails can concentrate on those. And perhaps someone who's a bit on the geeky side can stay on top of the metrics used to continually refine the sales effort for maximum cost-effectiveness.
In any case, it's important to view all phases of the sales process, from the initial visit to the website all the way through a signature on the lease, as equally important – and not to leave a gap that leads can fall through. Too often these days, this is the follow-ups to virtual tours. A platform such as RealPage's that ties into your CRM is the perfect way to close the gap.
RealPage's apartment touring solution delivers a best-in-class experience for prospects, from start to finish, while boosting leasing conversion rates.
Have a question about our products or services?