Volunteerism is at the Heart of RealPageGIVES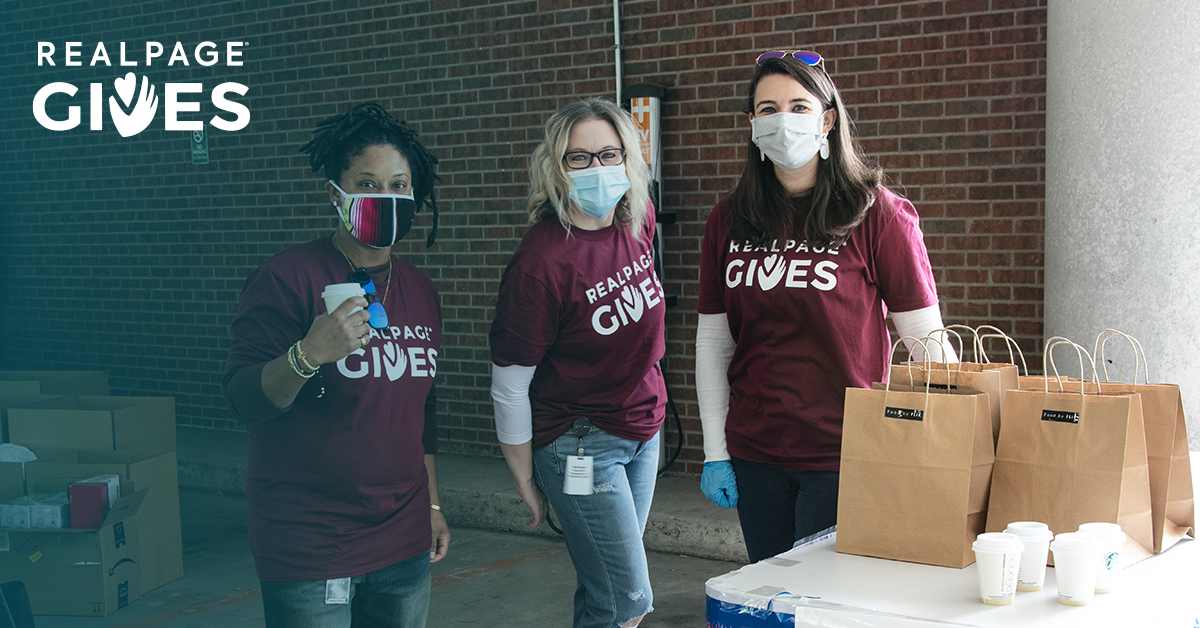 Volunteerism is at the heart of our corporate citizenship effort known as RealPageGIVES.
This April, we celebrate Volunteer Appreciation Month for our teammates' commitment to giving back to our global communities throughout our history as an organization and – more recently – during the COVID-19 pandemic. In RealPageGIVES:
G is for GIVING of our time, talent and financial resources.
I is for INSPIRING others to reach their full potential
V is for Volunteering to impact our global communities.
E is for EMPOWERING others to develop themselves.
S is for SERVING others with purpose and passion.
Over the past year, non-profit organizations had to make huge shifts in how they conducted business, served their recipients, and utilized volunteers - which revolutionized volunteerism.
"When the World Health Organization declared we were officially facing a pandemic on March 11, 2020, it was impossible to truly know what lie ahead of us – as individuals, as a community, and as frontline workers, dedicated to responding in times of crisis," said Katharine Weaver, Major Gifts Officer, North Texas Food Bank (NTFB).
"One year later, we know both the devastation caused from the COVID-19 health and economic crisis and the incredible compassion and generosity that emerged to help our neighbors facing hunger and other challenges. We remember this anniversary with thoughtful reflection, as well as hope.
"NTFB will continue to be on the frontlines ensuring those in need have nutritious food and working with our Partner Agencies to increase access to additional services that will help our neighbors regain self-sufficiency. We are so grateful to have RealPage as a partner and as trusted advocates in the fight against hunger."
During the pandemic year, RealPage volunteers gave $87,206.28 globally to 30 different 501c(3) organizations to support the fight against hunger, as well as supporting charities that serve the most vulnerable of our neighbors – the homeless.
Those with no place to call home relied heavily on charitable organizations for medical assistance, personal protection kits, food, showering facilities, and assistance with reunification where possible.
"The generosity extended from RealPage helped sustain OurCalling through this difficult season and allowed for us to continue serving our most vulnerable neighbors," said Patrick Palmer of OurCalling, a Dallas-based organization that serves the growing homeless population.
Volunteers raised enough money during the pandemic to provide OurCalling with a $50,000 grant. Employees' generosity helps this non-profit organization meet the survival needs of those living on the streets while providing hope for reintegration into society. "On behalf of our homeless community, thank you," said Palmer.
RealPageGIVES commits to giving back to the communities where our teammates live and work. We celebrate and appreciate our volunteers as we continue to serve virtually and anticipate in-person service in the future.
Until then, RealPage will continue to support education, food and housing organizations and any 501c(3) that our volunteers are passionate about. It's part of the RealPage Promise.
To learn more about our volunteer efforts, visit https://www.realpage.com/careers/culture/philanthropy/.
Have a question about our products or services?