Video Virtual Apartment Tours Software Delivering Big Benefits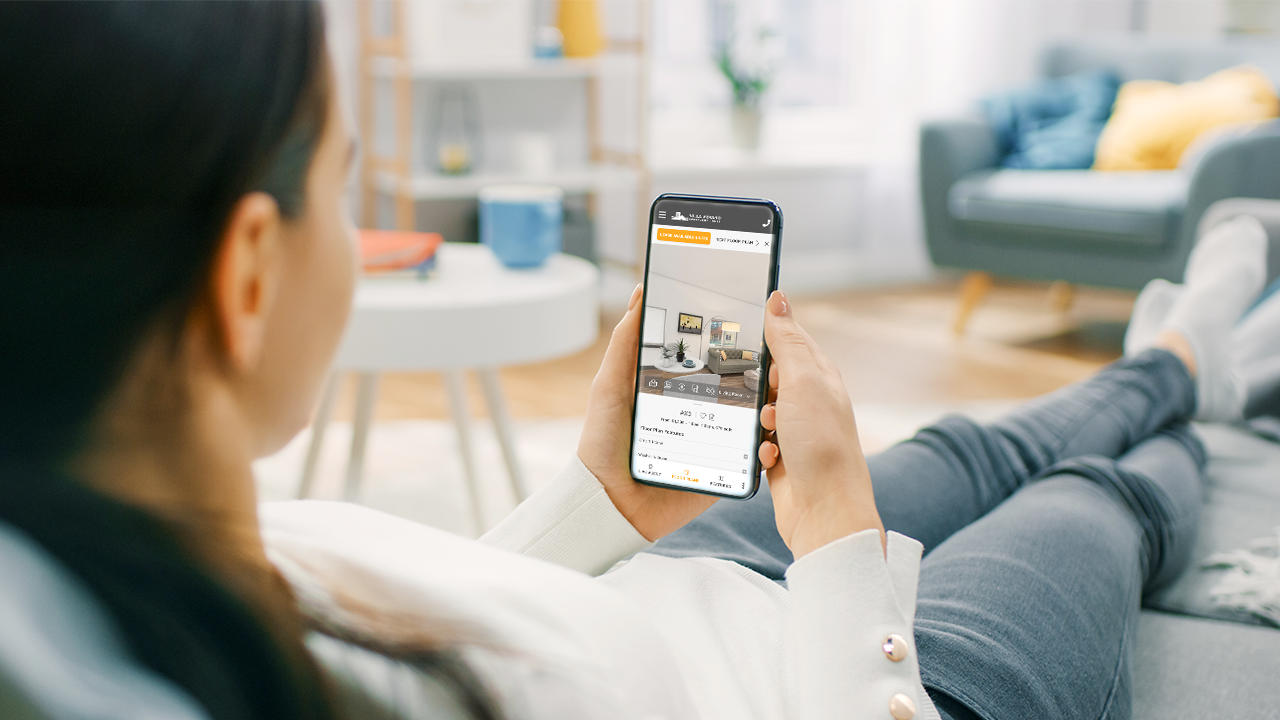 On-property tours have always been the lifeblood of the multifamily industry. But virtual rental tours are gaining in popularity, making dedicated virtual tour software essential. For property management companies, virtual tools are helping them recapture the high-touch service the industry is known for while operating in our touchless COVID-19 world. That's one reason for the software's success. But there's another: The customer is changing.
A more virtual, customer-centric industry
"The customer wants to be served up information faster," says Kortney Balas, Vice President of Information Management at JVM Realty Corporation. "They want us to be able to meet them where and when they want to be met. They're used to making decisions faster. They're used to trying to fit life in where they can, because their schedules are much tighter today. Also, they are more comfortable with choosing an apartment virtually as opposed to going on-site. They feel as though the technology that's currently available to them allows them to make those same kinds of decisions without seeing the site and physically experiencing the property."
Continues Balas, "In our industry, we used to hold the reins when it came to giving appointments and tours. Now those roles have swapped out and we are allowing more customers to dictate how and where we meet with them. Virtual tours technology helps us meet their needs."
New video virtual apartment tours software changes the game
Existing technology has included live chats using off-the-shelf platforms like Zoom®, FaceTime®, Google® Hangouts, etc. They allow face-to-face communication and enable the leasing agent to direct a customer to visuals on the web. These are often static pictures, however. Today, a significantly more advanced virtual leasing software solution, RealPage® Video Tours, delivers a much richer, more engaging journey for prospects to find their home, all at the prospect's convenience. And unlike a generic video conferencing tool, it puts all the property information and visuals the agent needs at their fingertips, so they aren't digging for it during the tour.
Video Tours enable prospects to schedule and experience a one-on-one video tour with a property leasing agent using a platform that is purpose-built for multifamily. Leveraging rich digital content and property images, the agent presents a comprehensive, interactive property tour showing apartment floorplans, community amenities, optional 3D video tours, pricing and availability information. Once the prospect is ready to rent, the agent can immediately send a link to enable the leasing process completely online. And the solution allows a property to boost leasing agent productivity by tracking and recording all the agent's virtual tour activity.
Video Tours is integrated with a suite of RealPage virtual leasing products within the company's touring platform. Prospects can schedule tours whenever, wherever through the RealPage Self-Scheduling Calendar on the property's website. Once connected, leasing agents can build the experience with Matterport® Tours, 3D walkthroughs and 2D/3D floorplans. Matterport Tours is a high-definition photography tour that includes up to 20 views within a single interior amenity or unit. Residents can explore 2D and 3D floor plans with sample furniture layouts and appliance options customized by the property to match every detail in its real-life apartments. Additionally, there is the 3D Walk Through, a computer animated, interactive, virtual apartment tour created from a property's 2D/3D floor plans. Three views are included: kitchen, living room and bedroom. This product allows viewers to control their tour from "inside" the unit.
RealPage Video Tours simplifies the virtual leasing process by eliminating the need to conduct interviews on multiple virtual communications channels, each with its own rules and quirks. That's one reason JVM Property Management decided to beta test the software.
Says Balas, "When you're dabbling in all of these other virtual platforms such as Zoom, Google Hangouts and Skype, you have to be an expert in each channel because you have to know how to create the meeting, how to get it over to the customer and how everybody can log in. You're providing all kinds of pseudo-tech support, which is difficult for teams who haven't been using all this technology beforehand. That was huge. Now our teams are not having to learn all of these different virtual channels and help their customers through them. They can become the expert of one virtual channel that gives the same experience and lives right on our website."
An amazing story hints at the future
Video Tours clearly is benefitting JVM's leasing agents. The next big question: how is it performing with prospects?
Balas tells a story about a leasing associate who was helping a busy mom make an appointment. It looked as if the prospect was not going to come in because of her schedule. The leasing associate offered her a virtual tour using the Video Tours solution. While they were on the tour, another apartment community called the prospect to ask if she was going to be coming to her appointment at their community. She responded, "I'm already at an appointment with another community. And I really like it, and I'm not coming to my appointment over at your community."
"She actually ended up renting at our community," says Balas enthusiastically. "We truly believe that if she had not been able to do that virtual appointment, she may have gone to the other community first and not visited ours. We were able to meet her in her living room at the time that was convenient to her. And we rented that apartment right there. This is a busy person who wasn't able to make her appointment and come in. I think the best part of that whole situation is the fact that another apartment community called while she was on her virtual tour. And she was able to say, no, you know what, I'm touring right now. I'm good."
The story gives a glimpse of a possible future in which virtual tour software boosts the number of tours a community conducts overall. The beta test data is only coming in now. But Balas is upbeat about the software's potential.
Says Balas, "I think that there will be a bump in tours. Take the example of the busy mom. She couldn't make her appointment, which means we may have lost her. But, because we were able to offer a virtual tour, she was able to have an appointment and rent. That week, we might have had four on-site tours and she would have been our fifth. Because she made that virtual appointment, we would have had just those four tours. Which means our calendar opened up for another prospect to come in and be our fifth on-site tour. I do believe it could increase our volume because you're able to work within the confines of someone's schedule much more readily."
For more information on RealPage Video Tours, please click here.
Have a question about our products or services?