Predicting the future. Taking risks. Expanding your business in a market that's growing faster than you are. These are all challenges that you – the multifamily property management professional – must face. The biggest relief is that you're not alone. Attending multifamily conferences can give you the tools, the inspiration and the contacts you need to pick yourself up, dust yourself off and gain a fresh new lease on the rental housing life.
Here are Property Management Insider's picks of America's best multifamily conferences:
If you're a multifamily professional living even remotely near the Dallas area, put the Crittenden's Multifamily Conference on top of your to-do list. Its reputation has grown year after year for its accurate forecasts and bulletproof financial advice.
Why should I go?
You work in Texas markets — or you just like management strategy sessions and sweet tea.
Who will I meet?
The conference draws in crowd of major company executives every year. Go to network with the major players you can enjoy sweet tea with. Maybe it's the Texas hospitality, but here your peers feel like family.
What can I take home?
You will absorb in-depth educational market research and get a winning game plan from the experts. Annual testimonials report that the contacts you make here will prove invaluable.
Jam-packed with more than 9,000 attendees each year, the National Apartment Association Apartmentalize Conference shines. The general session speaker lineup glitters with Google executives, television hosts, multi-million dollar entrepreneurs and celebrities like Alec Baldwin, "Good morning America" co-anchor Robin Roberts and the Chief Marketing Officer of the NFL.
Why should I go?
This may sound cliché, but it's a total blast. Entertainment abounds at this conference with DJ greets at the door, a digital caricature artist and a life-sized game lounge. They may even choose you to as a winner in the Excellence Awards, which is quite frankly the Oscars of apartment housing industry recognition.
Who will I meet?
Executives, executives, executives. Register for the executive exchange networking breakfast, ask questions at the intimate panel discussions and chill in backstage lounges where you can rub shoulders with industry professionals in a laid back setting.
What can I take home?
Besides all the glitz and glamour, the fact remains that the NAA has the biggest turnout in apartment housing for one reason – they have the most members. At 72,000 members and 8.8 million apartment units worldwide, NAA will expand your perspective and introduce you to your peers from around the globe.
National Multifamily Housing Council is famous for their cutting edge research, and with technology shedding its skin faster than ever, the OpTech conference does a pretty sweet job teaching property managers how to change with it. Embracing adaptation, innovation and experimentation, the OpTech conference steers industry executives into the future and shows them how to navigate it.
Why should I go?
For starters, they have the best expo in town. Over 100 top suppliers set up shop in the exhibit hall and partner with multifamily professionals to change the way they do business. Future-thinking and nerd friendly, this is the Tron of rental housing conferences.
Who will I meet?
The NMHC is based in Washington, DC and partnered with the National Apartment Association to advocate for you. NMHC directors who have shaken hands with past presidents and heads of state will soon be shaking hands with you.
What can I take home?
OpTech's sessions will remove any apprehensions you may have about the future of the housing industry and give you meticulously researched projections of what to expect. You'll be able to dive into the future rather than dip one toe in the water. Join 1,000 other senior leaders to catch the vision from these movers and shakers.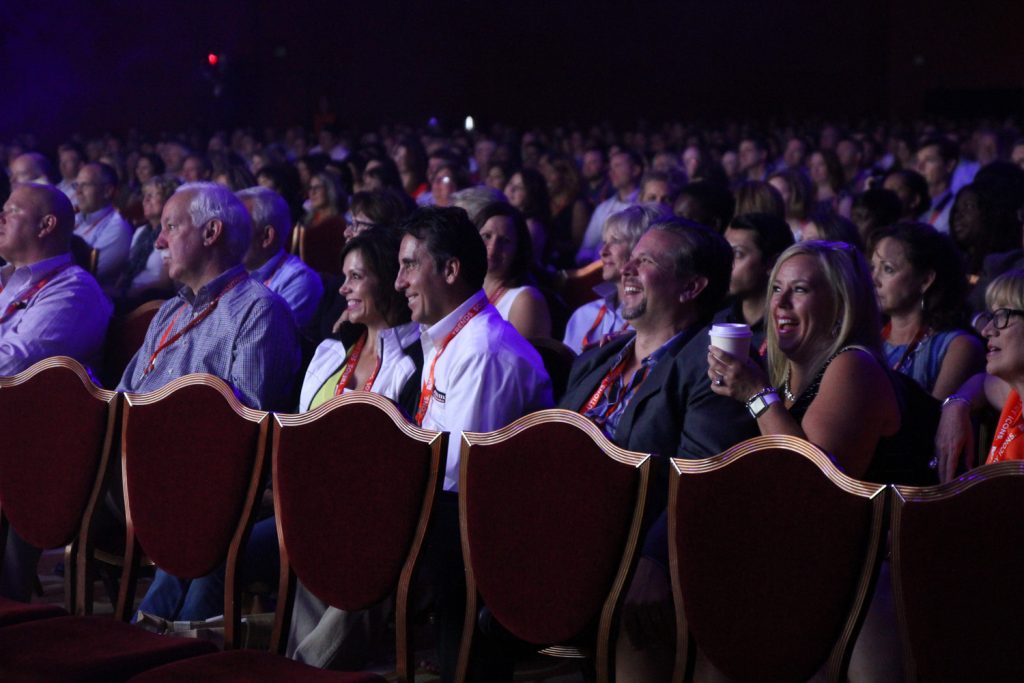 The jewel of the apartment housing industry's tech conferences, RealPage is sweeping up the software competition the way Google absorbed the internet and there's no end in sight. The RealWorld conference draws over 1,200 attendees who hunger for business expansion, deeper industry knowledge and practical hands-on training.
Why should I go?
The leaders at this conference stay abreast of razor sharp technology and show you how to use it. Here, you can take intensive crash courses that will put you leagues ahead of the competition the way cell phones put pagers to shame.
Who will I meet?
Over 1,000 like-minded industry professionals gather together for the event, and they're the ones who will pull you up higher and push you onto greater things. Plus, they get software. If you're not a digital native, you'll have lots to talk about.
What can I take home?
This conference is particularly great for education and networking. You'll learn so much from both sessions and industry peers, you'll be surprised you don't get a diploma. The conference offers a rush of new information; for the ambitious property manager who is willing to venture out of their comfort zone and seize the best opportunities on the market, it's absolutely vital.
Have a question about our products or services?