Resident Portals Overcome Social Distancing at Multifamily Communities
Great resident engagement is the secret to keeping your community connected and keeping your business moving ahead.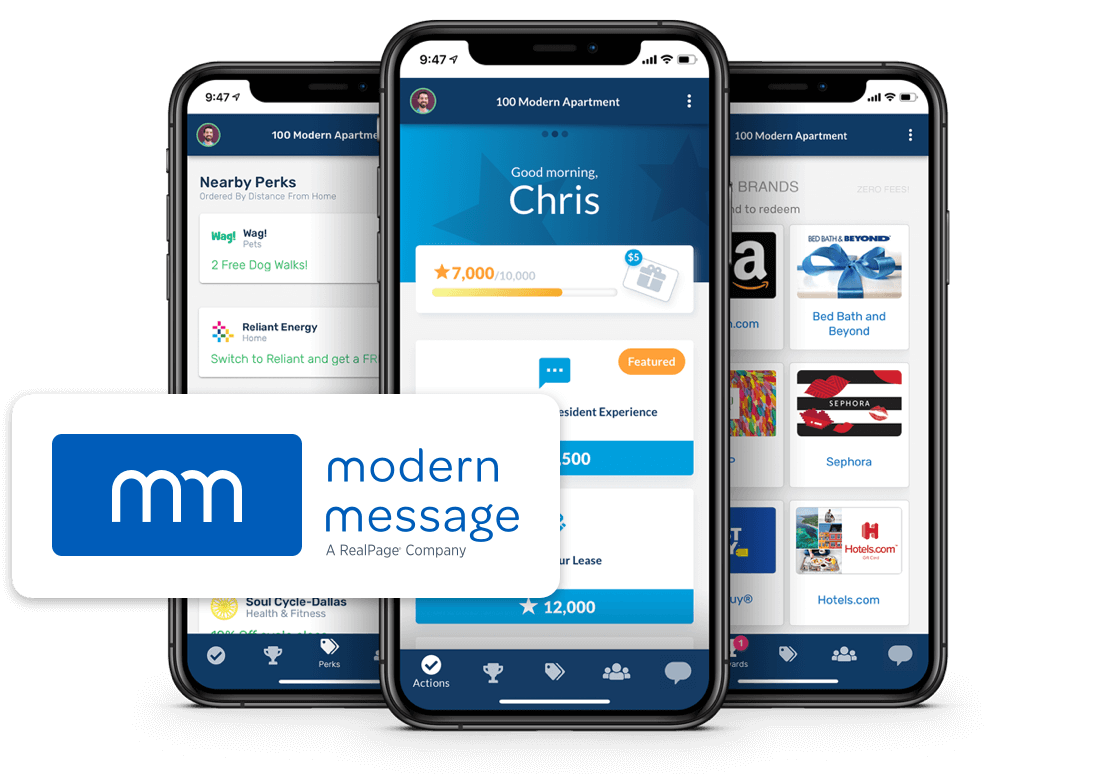 How do you mitigate the damage to the community spirit that results from social distancing at multifamily communities? Great resident engagement is the secret to keeping your community connected and keeping your business moving ahead. Improved retention, reputation, and community togetherness are some of the big benefits possible. In a recent webcast, several multifamily experts shared stories of how RealPage's Modern Message solution boosted social engagement in the face of physical distancing.
Click here to watch a free RealPage webcast, COVID-19: Impact on Resident Engagement, and discover proven ways to connect with your community.
Modern Message and Community Rewards
Recently acquired by RealPage, Modern Message delivers a resident engagement and loyalty platform called Community Rewards. The solution helps office staff motivate isolated residents to participate in online contests, polls, reviews, community building, cooking classes, and more. Participating residents earn points that can be exchanged for rewards at over 100 different venues including Amazon, Target, and Best Buy.
"COVID-19 has created social roadblocks in communities," says John Hinckley, CEO, and founder of Modern Message and RealPage VP Ops/Admin. "We can't be physically in the same room with residents. And people are craving connection right now. We just have to get creative to reconnect. Community Rewards provides that tool. Communities can capture the attention of their residents, organize community events, organize the resident base, and create new opportunities to engage."
Community benefits
"The benefits of doing this are huge," continues Hinckley. "The more residents feel connected to other residents and staff, the more likely they are to stay and renew. Community reputation also increases when you boost resident engagement. Reputation lives on resident reviews. And, you may not have known this, but in April and May Google had temporarily paused the ability to write a review because businesses were closed due to COVID. Many communities' reputations suffered from miss opportunities as a result. But Modern Message did not cut off the ability to write reviews on our platform. And in April versus March, April actually had a higher average star rating for reviews submitted than March did. And we're seeing that a lot of residents are just actually sharing experiences about how great the onsite staff is and how supported they feel, and how much they appreciate their community. And, not surprisingly, increased lease demand follows."
Drucker + Falk and "the power of connection
Steve Ostipow, Director of Marketing for Drucker + Falk has a story to tell about the power of connection. The company drives resident engagement with Modern Message and Community Rewards in three major ways: resident-staff engagement, information sharing, and event advertising.
"The Community Rewards dashboard is our key engagement tool," notes Steve. "We highlight our staff members and let residents know they're still there to help. It's a reminder that there are people behind the business. We spread the word about events like our local philanthropic efforts, which help our residents feel engaged with the community at large. Same for little events, like food truck schedules—which come with a friendly reminder to practice social distancing. We do the same for services, too, like our at-home fitness on-demand program. Advertising those events with Modern Message and offering participation rewards has brought significant results. We see more residents engaging with our staff online than they ever did before. One property using Community Rewards recently experienced a 645% increase in page views on their website and a 180% increase in engagement."
Rewarding stories
John Hinckley has his own stories to share about how RealPage clients have used Community Rewards to beat social distancing. "As a first example, Fairfield Residential Inwood Station created an extremely popular home cooking campaign. Residents received reward points for sharing a recipe with their community. They could upload a photo of their favorite meal and attach the recipe, too. That helped build resident relationships. Another great example—Knights Circle in Orlando Florida managed by Asset Living polled their residents and said, 'Hey, we want to bring you guys a Chick-fil-A sandwich. Answer this poll saying I want a sandwich. And we'll drop it off at your doorstep.' It was one of the highest-engaging campaigns we saw in April. Another one—Puerto Del Mar in Corpus Christi ran a Slice, Slice, Baby campaign. Everybody who responded got a pizza delivered to their door. Truly creative!"
At first glance, it would appear that the challenges imposed by social distancing at multifamily communities due to COVID-19 would far outweigh any opportunities one could possibly imagine. But it's just not true. The big surprise is that, in a number of cases, using Modern Message and Community Rewards has actually led to less social distancing and more social interactions in communities than they had experienced BEFORE coronavirus! That's a little sunshine in cloudy times, which is always welcome.
Click here to watch a free RealPage webcast, COVID-19: Impact on Resident Engagement,
and discover proven ways to connect with your community.
Have a question about our products or services?