Resident Home Sharing vs. Furnished Apartment Rentals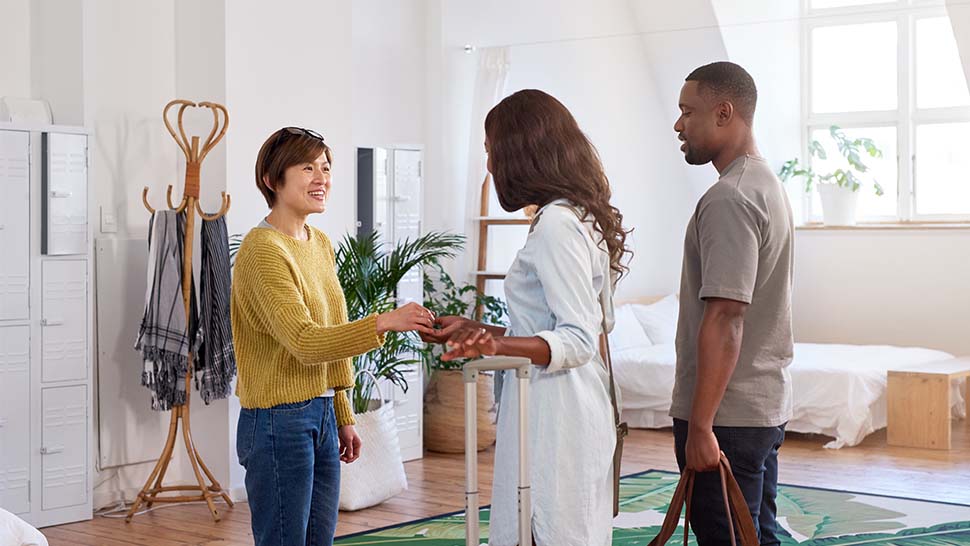 Multifamily has become an increasingly diversified sector, with short-term rentals (STRs) being the "next big thing." Also known as "home sharing," STRs aren't really new — they've actually been happening in multifamily communities for quite some time, albeit typically "under the radar." But now Migo by RealPage® is changing that.
Migo is unique in the fact that it enables forward-thinking multifamily property owners to offer home sharing in two ways: resident home sharing and furnished apartment rentals. Through its exclusive partnership with Airbnb, Migo is the only solution that facilitates both to maximize NOI and bring transparency, control and security to the arrangement. It gives multifamily communities a way to enable the experiential lifestyle that younger residents seek while at the same time nurturing a more beneficial relationship with them, maintaining occupancy and increasing renewal rates.
Resident Home Sharing
In resident home sharing, renters share their space with others who wish to secure STR living space. The property owner and the resident both share in the home sharing revenue, with the resident's share offsetting their rent by as much as 20% (depending upon how frequently they home share). The opportunity to achieve that level of offset often means that residents can afford to live more flexibly and luxuriously as well as increase their overall financial wellbeing.
Utilizing Migo's proprietary software suite, residents and owners can list their units on Airbnb via Self-Service or Full-Service options. With both, Migo monitors and sends alerts if residents and/or short-term guests are not following the terms and restrictions established for home sharing in the multifamily community.
For property owners, Migo minimizes risks and maximizes value:
Unlock new revenue streams from guest suites and resident home sharing
Monetize unoccupied or hard-to-lease units
Provide an amenity that truly differentiates your community from your competitive set
Maximize rents and renewals
Increase occupancy rates
Secure faster lease-ups
Lower cost per lead to lease
And Migo reduces the workload for multifamily on-site teams with high-touch remote management services:
Dedicated Migo Host for site support and ongoing resident engagement
24/7 Call Center available to on-site staff and residents
Robust Training and Resource Center within the Migo app for residents and on-site staff
Resident onboarding and ongoing communications with live information sessions
Implementation team for furnished units
Reward program that financially incentivizes leasing staff with every new Airbnb sign-up
The Full-Service Home Sharing Option
In the Full-Service home sharing option, Migo's host team manages every aspect of the unit's Airbnb listing and booking process, including communicating with guests, scheduling cleaning and granting guest access. Owners and residents simply go online and set the availability of their units. Migo takes care of the rest.
In addition, Migo's technology allows apartment owners to gain insights into home sharing activity. RealPage's AI Revenue Management system will adjust base rents based on demand for this service.
The Self-Service Home Sharing Option
With Migo's Self-Service home sharing option, the resident or owner is responsible for their unit's Airbnb listing, guest communication, access control, cleaning and managing each booking from start to finish — facilitated through Migo's proprietary tech tools — while providing on-call support when needed.
Migo is the first flexible living solution that not only enables resident and furnished guest suite home sharing options, but also furnished apartment Subscription Living.
Furnished Apartment Rentals
In a hot rental market, a move-in-ready apartment is worth its weight in gold. On average, property owners can typically charge 40-50% more for a furnished, short-term rental. Because furnished apartments command higher rents, property owners are able to attract renters who can afford it — often young upwardly mobile professionals.
For some multifamily property owners, furnished apartments are an amenity that attracts young professionals who crave a flexible, no-ties "live anyplace, work anywhere" lifestyle that affords them the freedom to travel and explore. Migo takes that to a whole new level by marrying the concepts of home sharing and flexible living, offering renters the luxury and flexibility they seek.
Subscription Living essentially allows a renter to pay a membership fee and then lease and stay in furnished units on a monthly basis. This enables them to freely move to another in-network furnished unit in another city whenever they want a change of scenery.
When it's time to relocate, all the resident needs to do is pack up personal belongings and have them shipped to the next location. In this way, relocating is quick and easy — and much more cost effective for the resident. Moreover, these furnished rentals immediately feel like home because they come complete with furniture and amenities like cable TV/internet, washers and dryers, a dishwasher, cookware, and luxury décor.
Managed via Migo's Self-Service or Full-Service options, these turnkey subscription rentals enable multifamily owners to rent their units faster and more reliably, increase occupancy and rent rates, and attract a constant influx of high-quality tenants. Migo simplifies, streamlines and secures the furnished apartment process for property owners and enables larger portfolio owners to "network" their furnished rentals to accommodate the subscription-living model.
Have a question about our products or services?