RealWorld Experience: Chef Tim Love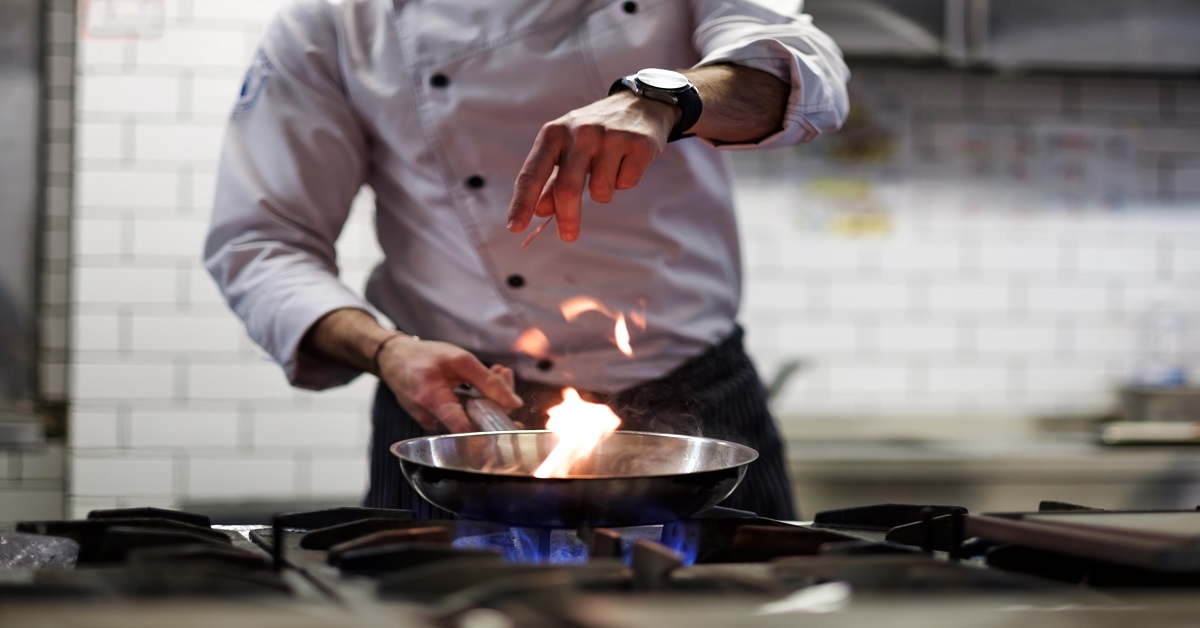 Chef Tim Love had an epiphany earlier this year as the economy lurched towards collapse. With his restaurants temporarily closed and corporate event invites drying up, the master of urban western cuisine landed upon a way to entertain through cooking and grilling.
Naturally Love would be unable to give demonstrations in person and would have to rely on some sort of virtual technology.
Implementing his plan would require shipping a few hundred boxes of ingredients and instructions to homes across the country, precisely timed to arrive fresh. Cooking utensils and equipment would have to be taken into consideration, as few have a professionally-equipped kitchen.
The experience could be loosely choreographed but would have to entertain at a high level since participants would be watching on a laptop or tablet in their kitchen.
Not just another cooking presentation
There you have the recipe for Love's Culinary Experience at RealWorld 2020 on Sept. 14th. Attendees who register for the Tier 1 package can select this event (limited space available) and learn how to grill a zesty skirt steak with Portobello mushrooms and pesto. All of the ingredients along with instructions for set-up, including how the table should look, will arrive a couple of days in advance.
The featured dish is one of a multitude of recipes that produce the frontier magic over an open flame you can find at Love's 14 restaurants from Seattle to Knoxville, including his popular Lonesome Dove Western Bistro founded in the Fort Worth Stockyards.
But Love is quick to say this isn't just another cooking presentation. Unlike the many popular shows that flood food channels, viewers can actually smell and taste what is being prepared. And the package isn't just another delivery service meal with a sheet of instructions. The meat is individually frozen and the rest is neatly organized. You simply put the box in the fridge for a couple of days.
"It's not just a bunch of ingredients," says the charismatic Love, who has become a de facto ambassador for his native state, Texas. "It's a whole experience in itself just opening the box. You have these labels, a picture of how the table should look. It's very pandemic-friendly if there is such a thing."
Love has done four such presentations, including one with 680 people that was "a blast," he recalls. Love has been able to perfect the process so it goes smoothly – the only cooking equipment required is a gas grill or inexpensive charcoal grill ("I cook on a $74 Weber Grill," he says). All Love asks of guests is that they prepare things according to the instructions, then relax, follow along, and have fun.
"By the time we're done it's guaranteed everybody will walk away with three things they didn't know before, whether it's about meat, charcoal, or the grill," he says. "The goal is to have fun, learn two or three things, and have some ah-ha moments."
The vibe of a live event
Public and private cooking demonstrations and music have become important spices in Love's culinary empire.
On a more intimate scale, he has shared his culinary prowess at "Meat & Greets" by making dinner for a few dozen fans and corporate guests and giving hands-on instruction during cooking demonstrations. Outdoors, he's grilled at over 500 food, wine, and music festivals.
Known as much for his business acumen as his Arroz Con Pollo, Love came up with the "virtual" idea at his Fort Worth home after many of his 14 restaurants temporarily closed and corporate events and festivals were canceled.
He thought about his love for music and food, which he has parlayed into appearances at some of the country's top festivals (including Austin City Limits and his own Austin Food & Wine Festival). At outdoor events, he and chefs from around the country prepare dishes with wonderful food fragrances permeating the crowd as live music filters through the air.
But Love was aware that watching a similar performance on TV can't replicate the vibe of being there in person.
"You can't put a guy up there and do a cooking demo," he said. "It's not the same. You can't taste and smell the food. Sending a kit reverses that. If you watch me on TV or a computer, and you have the ingredients with you and you get to cook it live with me, you can smell it, taste it. It's been very successful."
Be prepared and have fun
Love will have 10 participants join him live at the cooking site, while others will watch online. He says he works at a slow pace to allow everyone to keep up and includes some long pauses.
"I'll tell dumb stories and make fun of myself," he says with a laugh.
Participants can type in questions which he will answer live.
It's as close to a live cooking event – in these times – as you can get, Love says. "Come with a fun attitude and be prepared," he said. "I'll show you one of the greatest culinary experiences you've ever had."
Space is limited for this experience. If marked as SOLD OUT, you may still watch it in the Curated Experiences Theatre on the virtual platform. You can still learn from the best, but food samples won't be shipped.
Have a question about our products or services?