RealWorld 2022 Conference: Spotlight on Affordable Housing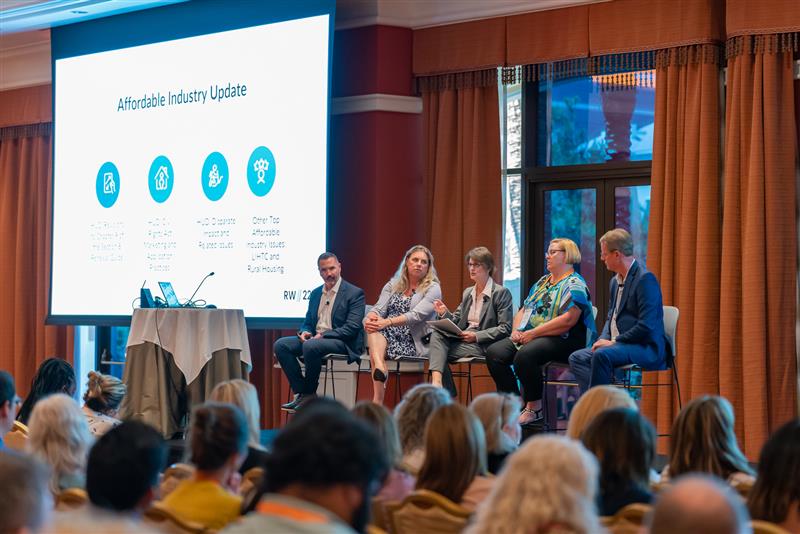 The pandemic lockdowns sent shockwaves through the entire real estate industry, but perhaps no stronger than in Affordable Housing, where owners, investors and operators have been the unsung heroes of that sector of the multifamily industry.
As the world continues to reopen in the shadows of the pandemic, life and business, including multifamily property management, have changed in important ways. But what hasn't changed for multifamily—and for RealPage itself—is the pursuit of excellence, according to Dana Jones, CEO of RealPage®, the leader in property management software for the multifamily industry. And innovation, she says, is essential to the pursuit of excellence.
Affordable owners, operators and investors have been on the frontlines of a shortage of 7 million units needed for low-income families—a shortage exacerbated by a leasing compliance process that is mired in red tape and is depleted by public underfunding.
In addition, the Affordable Housing sector has endured an intense public scrutiny on eviction moratoria and rent control—and that's on top of challenges related to policy pressures and the mounting risks of screening limitations. Identity and payment fraud add to the stress.
RealWorld Spotlight on Affordable Housing
RealWorld 2022 put a spotlight on Affordable Housing with panels that explored these and other pressing issues. Among the topics that were highlighted were the many ways in which RealPage is working with the Affordable sector to support their attainment of peak performance and operational excellence.
Amid current market uncertainty, it is more important than ever to keep all eyes on trends, some of which were spawned by the pandemic and continue to accelerate as new trends are coming into view. The Affordable sessions at RealWorld 2022 emphasized the importance of continually seeking new and innovative ways of navigating trends on the road to peak performance and operational excellence in Affordable Housing.
What quickly became clear is that RealPage's commitment to the Affordable sector is rooted in the company's own pursuit of excellence—relentlessly staying ahead of the curve and accelerating the innovations that drive revenue, asset value and efficiency while reducing risk for all multifamily owners, operators and investors.
Across all multifamily market segments, RealPage is investing in innovations that help their customers achieve operational excellence by empowering their teams to do more with less and focusing on areas where they can add the most value. And RealPage is bringing innovations to the table that will enable the multifamily industry to optimize the resident experience so as to better serve their communities.
RealWorld 2022 Affordable Housing Sessions
RealWorld 2022 featured eight sessions for Affordable Housing attendees and culminated with a Q&A session with a panel of Affordable leaders.
Know & Grow Affordable Industry Update
RealPage's Barry Weaver and Scott Nelson led a panel discussion about the impact of current and future trends on Affordable Housing. Attendees learned about new and upcoming regulatory changes for HUD, LIHTC, Public Housing and Rural Housing. Presenters included Ashley L. Sheriff, Deputy Assistant Secretary for the Real Estate Assessment Center (REAC), U.S. Department of Housing and Urban Development, Kris Cook, Executive Director, National Affordable Housing Management Association, and Jennifer DeSilva of The DeSilva Housing Group.
The Affordable Online Leasing Roadmap
This session, presented by Scott Holcomb, Barry Weaver and Kaahini Shetty, featured Travis Coley, Director of Training and Development at Cambridge, Michelle McCord, Vice President of Affordable Housing, Asset Management and Consulting Services, and Stacey Graham, Vice President of L.E.A. Beacon, who talked about qualifying applicants for Affordable Housing has traditionally been a paper-based and staff-intensive process that can finally become an online leasing experience now that HUD allows eSignatures. Attendees learned how other PMCs are using Affordable Housing virtual solutions to improve staff efficiency.
The Secret is in the Sauce – A Recipe for Success with Business Intelligence for Affordable
Kristen Brooks and her panel discussed leveraging business intelligence for actional, accurate and accessible analytics in Affordable Housing. Attendees learned how RealPage's leading business intelligence platform can provide Affordable Housing owners and operators with powerful tools for executing objectives, improve efficiency and increase effectiveness and how Affordable industry leaders are utilizing these platforms to gain unprecedented, immediate insight into portfolio and asset performance – allowing their teams to focus on actions the move the needle instead of assembling data and reports. Now, with KPIs available for the Affordable market, Affordable owners and operators can drive efficiency and execute with precision.
Good, Better, Best. Never Rest Until Your Good Is Better and Your Better Is Best with Onesite.
Susan Sloan talked about good, better and best practices to quickly improve Affordable Housing operations, with a focus on new OneSite Leasing & Rents. Topics discussed included HAP processing, the Affordable Waitlist offer process and periodic assessments, and bulk certification and processing.
The Check is in the Mail. Or is it? Business Best Practices for Rent Collection.
RealPage's Barry Weaver and Jeremy Ford led a panel of property management experts as they discussed rent collection issues in Affordable Housing, pointing out that Affordable property owners and managers have been the unsung heroes throughout the pandemic-induced eviction-prevention efforts. In this session, attendees heard from Affordable Housing leaders on their efforts to remain in the housing — not eviction — business and listened as they dove into topics like rent collection, utility allowance and security deposit disbursements, unpaid rent and evictions, and efforts being deployed, and gains achieved.
Ride in Style in the New Full-Loaded OneSite Experience
RealPage's , Susan Sloan, and Barry Weaver previewed the fully loaded, new experience for OneSite Leasing & Rents Affordable, which features a clean, crisp use interface, sleek design, refined processes, browser independence and streamlined workflows that drive efficiency and high performance.
Oops, There it is! Detect Leaks and Waste with Smart Technology. Save Big Without Spending Big!
In this session, RealPage's Mary Nitschke and Barry Weaver talked about the unique operational challenges Affordable properties face that other multifamily properties don't and how sustainability solutions fit the unique needs of Affordable owners and operators. Attendees learned how Smart Waste Management can reduce costs by 40% or more and how enabling quick, timely alerts about unusual water, gas and electric consumption can enable property managers to quickly rectify the issue and save big without spending big money. Weaver and Nitschke also talked about best practices for reducing energy consumption by 5% - 20% without a significant capital investment.
Wager Your Bet on Stumping the Experts for Affordable!
RealPage's Barry Weaver and Susan Sloan led a panel of Affordable experts that included Don Belcher, Director of Software Support at Peabody, Jennifer Coberth, VP Management Operations Software, Kent Bighinatti, Information Technology Director at Westminster, and Gaye Toney, Multifamily Consultant as they answered attendees' questions about their most challenging Affordable Housing issues. Attendees walked away with Affordable Housing tips, tricks, best practices and more.
If you missed the opportunity to be a part of RealWorld 2022: The Pursuit of Excellence, be sure to attend RealWorld 2023, which promises to be equally informative and exciting.
Learn more about RealPage Affordable.
Have a question about our products or services?