RealWorld 2019: Reliving the Magic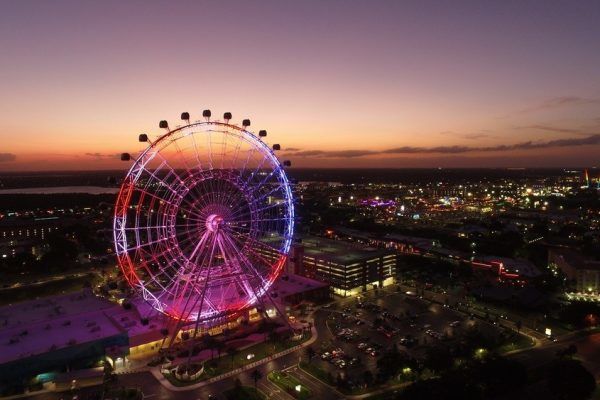 Taking a break from the glitz of Las Vegas, RealWorld 2019 captured the magic, imagination and inspiration known for one of America's top vacation destinations in July.
RealPage greeted customers and industry leaders for three days in Orlando and demonstrated how its software changes how people experience, utilize and monetize rental space for working, living or vacationing. With its typical knack for theatrics, RealPage dazzled in its opening general session with a mix of animation, lifelike images and virtual characters to cement the company's mission of leading the pack now and in the future of rental housing.
Executive Vice President and Chief Operating Officer Ashley Glover transformed from her virtual self to set the stage for CEO Steve Winn, who emerged from one of multiple holograms to explain how property operators can capture incremental yield from real estate through investments in advanced technology solutions that enhance as apartment living and operations approach its next plateau.
"Our industry is at the cusp of being able to monetize space through better technology, as well as offer unprecedented new convenience that will make living in an apartment more like staying at a hotel," he said.
What ensued over the next 48 hours was a rich blend of everything technology in the multifamily, single-family, affordable, senior and vacation spaces before a record crowd of attendees. Sessions on industry topics, user groups and live interviews filled the conference center at the Orlando Hyatt Regency, and crowds packed the Hall of Solutions for impromptu demonstrations of new and existing products.
Even the conference-ending party − which transformed a stark ballroom into a 1990s salute complete with Skee-Ball, arcade machines, music and video loops of cultural icons from the decade – was tabbed one of the best the conference has seen by customers and staff.
Aside from the fanfare, attendees learned the value of monetizing space through better technology, both from a high level and at its most granular stage. In that spirit, RealPage unveiled a trio of products: ActiveBuilding eCommerce, Contact Center 3.0 and Market Analytics.
Market Analytics combines best in class data for market performance
The big buzz was around the launch of Market Analytics, a platform that is the culmination of two years of work and fulfills on RealPage's promise to combine the best in class of Axiometrics, Real Capital Analytics and RealPage data and intelligence. Market Analytics provides more data and direction for clients through RealPage's vast collection of transaction data from more than 13 million apartment units, down to the submarket level.
"Data is becoming increasingly valuable to us and our customers," said Justin Alanis, senior vice present of Rentlytics. "As a result, RealPage is in a unique position, given all the data we have to use along with data outside our systems, to give more guidance, information and direction to our clients."
Instead of seeing a sliver of market information, users get the entire view of market activity to help understand the placement and harvest of capital, he added.
ActiveBuilding eCommerce, Contact Center 3.0 fulfill resident experience
John Pastor, Senior VP Consumer Solutions, took attendees through introductions of ActiveBuilding eCommerce and Contact Center 3.0, a pair of game-changing solutions that help property managers fulfill the resident life cycle.
ActiveBuilding eCommerce opens the door for new revenue streams by providing residents a place to access rentable spaces and purchase goods and services. The focus is on creating an engaging resident experience that encourages renewals and increasing a property's ancillary revenue.
The latest Contact Center updates provide a significant innovation in the multifamily contact center market – Contact Center now features chat and text capabilities, dynamic landing pages and unified communications.
"That's something that the industry really hasn't been able to do before," Pastor said in a Facebook Live interview at the conference.
The solutions are a part of RealPage's efforts to enable its customers to enhance the experiences of their residents but also strengthen branding beyond move-in.
"The biggest thing is you really need to think about the full resident lifecycle," Pastor said. "You really need to think about how your website brand ties to your leasing brand which ties to your resident portal. You really need to think about the experiences you're having with your residents.
"People don't think about the importance of brand after the resident moves in as much as they should."
Staying in step with an evolving single-family market
Former RealPage customer Inaas Arabi, who is now senior vice president at Propertyware, said single-family operators should make RealWorld a part of their annual conference schedule because of the value of education and training, connecting with peers and just taking time out of the office to build a plan of action.
That's more pertinent than ever, he says, because the single-family housing market is rapidly evolving.
Consolidation is driving efficiency at a rate the industry hasn't seen before and more capital is being made available to improve the owner/operator, including investment in technology.
"The beauty about Propertyware is it can connect you to those things very easily," he said.
Arabi expanded on Propertyware's new approach, one that focuses on being a growth enabler system for its clients. The platform is positioned to help customers not only grow by adding units but expand financially through ways like generating additional revenue by door. Also, automation is being used to reduce expenses to promote higher NOI.
"We've built in the right technology to allow you to drive new units or go after new owners," he said. "We've also built in connections and integrations with the right products that will allow you to make more revenue per door. And were working on the automation piece and building that into our systems so you can do more with less."
RealWorld 2020 announced
Amid the buzz, Denver was announced as the location for RealWorld 2020.
The conference will be at the Gaylord Rockies Resort & Convention Center, nearby to the Denver International Airport, in Aurora, CO.
Register for RealWorld 2020 today!
Have a question about our products or services?