RealPage Energy Summit 2022: Turning Sustainability into Value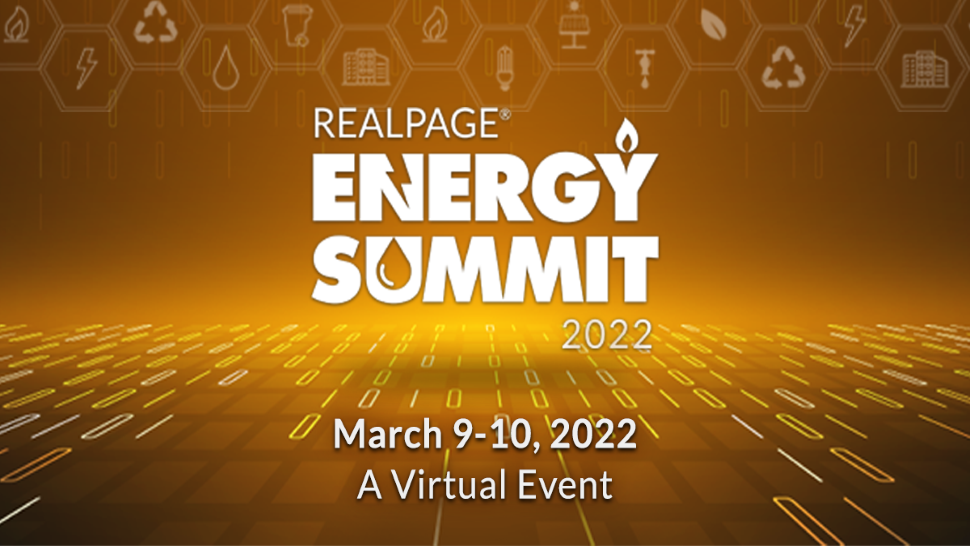 Just as multifamily portfolios market apartment's amenities and conveniences, sustainability is getting some of the limelight. Websites and other collateral show how properties are making lasting, green impressions through eco-friendly efficiencies that save residents money and reduce operating costs.
Sustainability in multifamily is growing at a rapid pace, and occasional conversations about utility management once at industry conferences have evolved into their own stage.
Each year, the RealPage Energy Summit convenes the brightest minds in multifamily and the national sustainability/energy sectors. The virtual conference, March 9-10, is the only Multifamily educational conference focused solely on utility management.
RealPage Energy Summit 2022 will once again provide education and best practices to stimulate conversations about how to reduce energy and utility operational costs. The one-of-a-kind event annually assembles leading sustainability authorities who discuss the latest energy and sustainability trends and share winning strategies for improving resident living experiences through green living.
This year's summit will be virtual and highlight innovations impacting energy and water usage, ESG and compliance, and the newest multifamily strategies for turning utility expense into sustainable value for stakeholders.
"This is where the revolution happens," says Mary Nitschke, RealPage's vice president of sustainability.
Making a difference through ESG
A big topic on this year's agenda is ESG and how investments are transforming multifamily utility management.
Environmental, Social and Governance (ESG) are making a big difference in how the apartment and multifamily real estate industry is viewing, measuring and managing its communities. For investors, a property with a proven ESG strategy signals a sound investment.
"ESG's goal setting has had a big impact on multifamily real estate and the investors behind it," says Nitschke. "There are trillions of dollars in investment, and there is a focus carbon reduction in multifamily. In some portfolios, not having a ESG plan in place is not an option."
A headline panel will discuss GRESB, the global standard for benchmarking real assets for energy efficiencies and sustainability, and Carbon Risk Real Estate Monitoring (CRREM), as well as an overview of the Urban Land Institute.
A conference mainstay is offering ways for multifamily operators to better conserve resources, improve NOI and more easily navigate a complex regulatory environment.
Attendees will learn how to save on energy/water efficiency projects through available rebates and grants, and get an overview of the energy market's outlook. A benchmarking and mandate session will explore Fannie Mae and Freddie Mac Green Loan programs utilizing the EPA Portfolio Manager as a backbone.
Apartment residents value sustainability
For the second straight year, the Utility Management Advisory (UMA) will present the Sustainability and Innovation Award at the Energy Summit. Last year, Greystar, which has become a proven leader in multifamily sustainability and utility management, took home the honors.
While the award recognizes a top multifamily performer's innovation in sustainability and energy management, it also signals the industry's commitment to meeting resident demand for green lifestyles.
"Residents understand that efficient properties are desirable, making Sustainability the next amenity," says Nitschke.
RealPage Energy Summit 2022 is open to multifamily owners and operators. Register today to secure your spot!
Have a question about our products or services?