PropertyPhotos: The Ultimate Multifamily Virtual Content Experience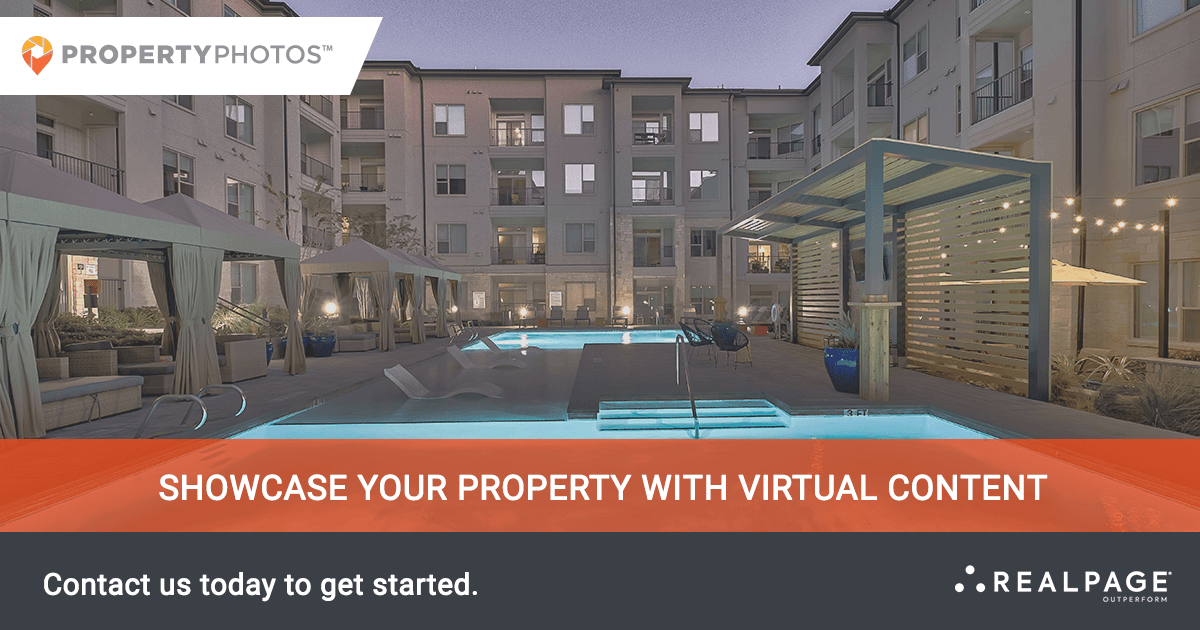 Apartment marketers can't go wrong with the ultimate virtual content experience for multifamily real estate. There is so much riding on it.
Today's website and marketing content has to be bold and revealing, and encourage renters to take a closer look. Only the highest quality, eye-catching images and content can deliver the story of the community in a way that draws prospects. Professional photography, 3D floor plans, virtual tours and videos that set a tone can be the difference in a prospect spending more time on the website or moving on to the next community.
But not every property management company has a staff of accomplished photographers, or the resources to hire expensive independent professionals to virtually tell the property's story. And while the temptation is great to click a few cell phone photos or videos of the lobby, pool, exteriors and amenities, the finished product likely will fall short of engaging prospects.
The ultimate virtual content experience offers so much more for potential renters, and it doesn't require assembling multiple resources on the back end. Dynamic still photos, videos, virtual tours and floor plans from a single source allow the prospect to see so much more about everything the property has to offer.
That has never been more important than with the presentation of virtual tours.
Supercharging the virtual tour leasing movement
In the wake of the pandemic, the ability for properties to virtually walk prospects through an apartment community is essential. Simply, many properties are operating with limited staff and aren't prepared to invite interested renters to take an in-person look.
And, many who are looking for a new place to live could be hesitant about visiting and touring a property.
Until recently, the multifamily industry tracked toward self-guided onsite tours, which had become the new frontier of apartment property management. Now tours that prospects can take on their computer or device are expected to "supercharge the virtual leasing movement," according to a report by the National Apartment Association.
RealPage Director of Product Management Erin Mitchell says that multifamily properties are standing out right now with virtual tours because they engage prospects through a wealth of info.
"The virtual tours are the most important," she said. "There are information and engagement, and it is hard to get both. Videos can be very engaging but 3D virtual tours are informative and interactive. They help provide such insight about the apartment, so it is qualifying leads in a way that other types of content haven't been able to see.
"These prospect residents are limiting their movements outside of their current home. It is the most important thing to have."
Multifamily housing industry marketers agree.
RealPage recently polled apartment marketers about how their prospect and resident renewal strategies. More than half said they are putting increased focus on virtual leasing, self-guided tours and resident portal solutions. Nearly 40 percent said they are focusing on virtual leasing.
Understanding the community and driving story ideas
Mitchell is an accomplished photographer with a track record of telling stories of life events, like weddings and family gatherings. She works closely with RealPage's content team to deliver convenient, high-quality digital assets through PropertyPhotos.com, a digital asset management platform designed to help multifamily properties create visually engaging imagery of their assets.
The solution is loaded with features and images for building a high-quality storybook for property websites without a big production. It's not just photos and floor plans, she said. RealPage has spent the last eight years compiling a vast repository of images, video and floorplans of about 50,000 properties that are now available for licensing on PropertyPhotos.com .
Photographers are seasoned veterans with dozens of years of capturing multifamily images.
"We are full digital marketing content creation team," Mitchell said. "We're constantly coming in with new ways to engage residents by highlighting and touching on the breadth of work. We are able to get into and understand the community and drive story ideas while finding that balance of effect of cost, quality and convenience."
Manage, create and explore digital assets
PropertyPhotos.com is the first solution to unite a digital asset management platform and professional content creation with licensing management and risk mitigation for unauthorized use of images.
The solution allows property managers to manage, create and explore digital assets for any property, anywhere. Standardizing content management processes and storing digital content in one centralized place helps maintain consistent brand identity.
Content can be searched, uploaded and downloaded or deleted easily. Machine-learning technology automatically assigns key words to a property's assets so that file management is simplified.
One of the feature's important solutions is the Digital HealthCheck. This simplified health check shows at a glance whether an image asset is safe to use. A detailed analysis of the property's digital imagery focusing on quality, copyright protection and where the assets are being used online is generated.
'It's almost too easy'
PropertyPhotos.com was created to provide the ultimate virtual content experience for multifamily. If the platform doesn't have images for licensing in stock, PropertyPhotos' certified photographers are assigned to create them as part of the service.
Campus Advantage has found the advanced tools of PropertyPhotos.com to be flexible enough to easily draw in the "selfie generation," which will become the apartment renters of the future. The company has eliminated the headache and high cost of working with and managing multiple contract photographers.
Also, using a centralized source for images and virtual tours has created more consistent messaging to better engage students looking for a place to live, said Lindsay Brown, vice president of leasing and marketing.
"PropertyPhotos.com has really helped us elevate our brands," she said. "Getting these high-quality images and getting these virtual tours have completely elevated the look and feel of all of our properties."
The platform is simple to use and allows Brown the flexibility to create and purchase different image bundles depending on needs. The cost savings is worth the investment.
"It's almost too easy," she said. "It's definitely something you should try out."
For more information, visit RealPage® Property Photos.
Have a question about our products or services?