6 Social Media Lessons for Multifamily Professionals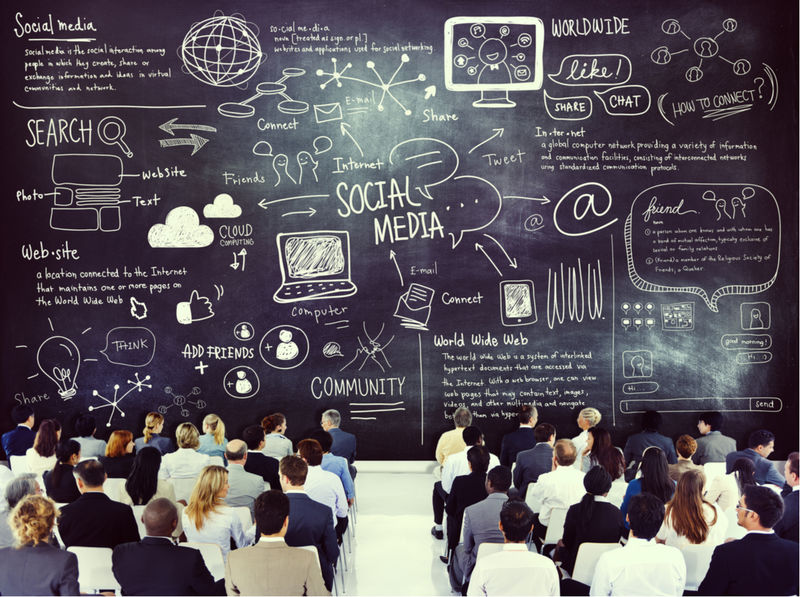 Although our interactions on social media take place in a digital world, nothing beats face-to-face interactions when it comes to exchanging the latest knowledge and forming lasting relationships. For this reason, over 200 marketers and professionals across the industry gathered at the Meritage Resort and Spa January 31 through February 2 for the Multifamily Social Media Summit. Small class sizes, the opportunity to connect with digital and multifamily leaders, and the highly specialized nature of the content shared made this a standout conference experience.
Missed the event, or simply want to relive the experience? We've rounded up top conference highlights:
Mastering social media storytelling and writing for today's audiences across multichannels
When it comes to social media, it's a completely different ball game than traditional marketing. Rather than focusing on pushing content out to people, we want to create content that pulls people in. Steve Crescenzo, CEO of Crescenzo Communications, best advises, "social media is not about a sales pitch, it's all about building relationships, communities, and tribes with content. It's about getting your name out there without the hard sell." Storytelling helps with this.
No child will ever ask you to read them a press release at bedtime. They want a story. So do your customers. #multifamilySMS

— Ryan Perez (@redryanperez) February 1, 2018
In his compelling presentation on storytelling, Steve showed us what content looks like when it's not only useful, but also interesting and entertaining. He broke it down further: "Avoid the 4 deadly Ps: programs, policies, products and procedures. Instead, focus content to master the 4 Cs: concise, conversational, compelling and creative."
Social media in crisis and Hurricane Harvey
Disaster can strike a community at any moment, and when it does, social media is often one of the first places residents go for support. In this eye-opening presentation, Kate Good, Senior Vice President of Multifamily Development and Operations at Hunington Residential, shared her firsthand experience following Hurricane Harvey in Houston.
Good and her team used social media as a key platform to disseminate information and identify residents in need. They leveraged a designated hashtag for disaster communications and delivered "scary" information in smaller bites across social networks. They also made sure to stop all automated posts about other topics, which can come across as insensitive in times of need.
Part of social media plan should be crisis communication plan. In a crisis, you should be able to instantly shut off paid/scheduled content. #Listen #TakeCareOfEachOther #multifamilySMS

— Jen Piccotti (@jenpiccotti) February 2, 2018

Good advises to look for the blessings in the midst of disaster and to, above all, "Be honest, human, empathic, and show you care."
Fight organic decline with animated content (on a budget)
With the seemingly constant change in algorithms across various social platforms, it's easy to see how fighting organic decline has become a struggle for many social media marketers. Emily Sarecky, Senior Engagement Strategist at MTC, spoke on insights found this year that could help counter this issue. According to Sarecky, "90% of all content in 2017 was video and the majority of video content leads to an increase in engagement." High engagement signals to algorithms that there is quality content and then prioritizes that content in the viewer's news feed.
Animated content can also help you stand out from the competition, especially if not a lot of them are using them in their #marketing mix. Hope you're having fun at #MultifamilySMS

— Go To My Apartment (@GoToMyApartment) February 2, 2018
Want to play around with video, but don't have the budget for it? Try animated content: photos or quotes with music looped behind it. Sarecky emphasizes, "Be adaptable and meaningful. Everything you do on social media must have a purpose, so put thought behind this."
Social media strategy for success
"At the end of the day, it's all about telling good stories." Beverly Jackson, Vice President of Social Media and Content Strategy at MGM Resorts International, delivered a truly compelling narrative in Friday's keynote.
"Tell good stories… you can't pay for things to go viral." Love hearing from @BevJack with @MGMResortsIntl this morning. #MultifamilySMS #LiveGrandPeaks #VivaLasVegas #MGM pic.twitter.com/Wgpt2TCPIX

— Grand Peaks (@GrandPeaks)February 2, 2018
In her presentation, Jackson explored creative ways to power experiences through video content. She shared a success story of how MGM worked with influencers to create a video promoting Las Vegas as an attractive destination for New Year's Eve, which was posted organically and then amplified with paid ad dollars. Jackson also discussed some of the latest trends in video, and how to use episodic and live video to better engage with your audience.
Social media: a travel industry perspective
Tom Cintorino, EVP of NorthStar Travel Group, exemplified connecting emotions to content from a travel industry perspective, "We aren't selling camper vans. We're selling the freedom to travel across the country on a whim or silent nights sleeping under the stars. We're selling the experience." Find what is unique about you, what is unique about your audience, and then use targeted marketing to gain their interest.
"Which emotion do you excite?" #multifamilysms in #napa – #socialmediamarketing My Brain is exploding – good thing they have #drinks🍹 @MultifamilySMS

— Sitka Creations (@sitkacreations) February 2, 2018
For emotions found at apartment communities, Cintorino offered a few suggestions: making friends, raising children, sharing food, celebrating diversity and enjoying love. "You must convey the sense of happiness they (renters) could get at your community. It's all about the people, experiences and a sense of family."
Working with social influencers in today's communication landscape
In the words of Marty Martinez, CEO and founder of SocialRevolt, "an influencer is the mutual friend who connects your business." In his engaging session, he shared how to create an influencer marketing strategy specific to multifamily. This includes both "micro influencers" (those with 10K-99K followers) and "macro-influencers" (those with 100K followers or more).
While influencer marketing is relatively new in the multifamily space, apartment communities are getting creative with their approaches. Martinez mentioned one community that even provides free rent to prominent Instagram influencers who agree to regularly post about their leasing and living experience.
Martinez recommends finding the right people, getting their attention, and measuring results. He cautions to create clear posting requirements for influencers (including CTAs) and make sure they tag your brand appropriately.
"Not all influencers are human." Shout-out to @ElevateSequoia for sharing how they are leveraging influential furry friends in their marketing efforts. #multifamilySMS pic.twitter.com/But3vnHRZx

— RealPage (@RealPage) February 2, 2018
Until next time, Multifamily Social Media Summit
More networking, idea sharing and innovation are ahead at next year's conference. We hope to see you there!
Loved every minute of #MultifamilySMS! Until next time, Napa. pic.twitter.com/30Z4uDa0JH

— Leah Mendes (@leahcmendes) February 3, 2018
Have a question about our products or services?