Multifamily PMCs Using Benchmarking to Optimize Marketing Spend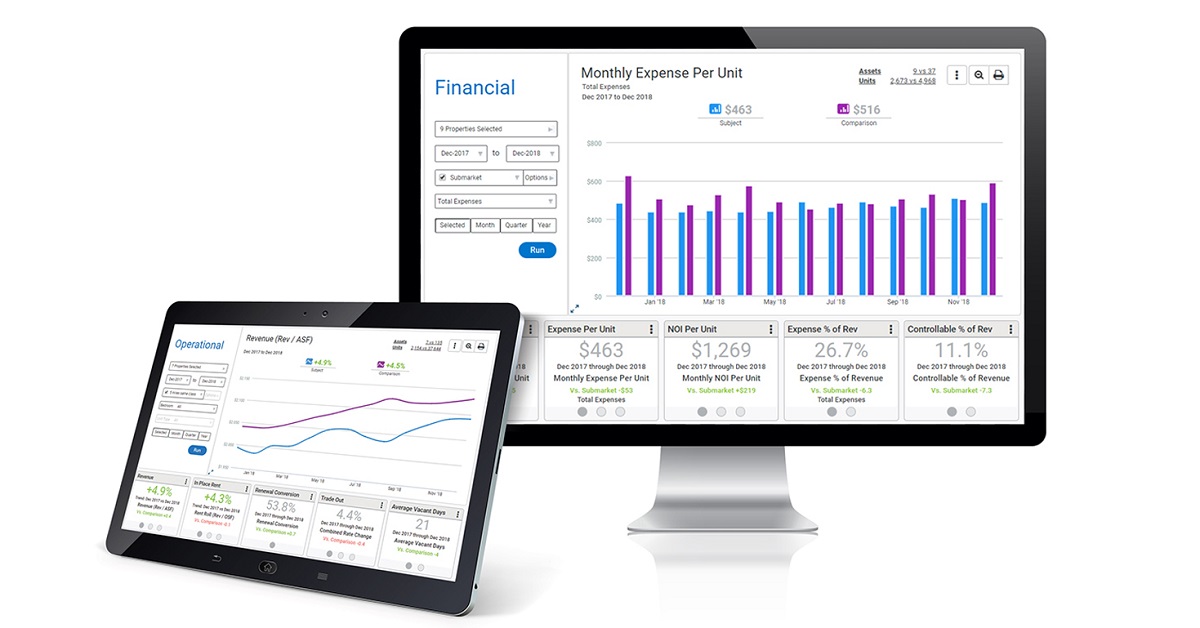 Benchmarking is trending as a versatile tool that helps guide the decision-making of PMCs by providing a context of changing market conditions that is missing in traditional internal analysis.
But most companies still evaluate marketing efficacy in terms of two things: how much they're spending, and how many leads they're generating. And this narrow approach can mean trouble.
The fact is that there are many other considerations to be taken into account in order to make the best decisions. In particular, many owners and operators aren't looking closely enough at local market conditions and competitors. The result is that they often can't distinguish between what is attributable to market conditions that everyone is facing and what is due to internal decisions and dynamics.
Without this insight, you simply can't make the most cost-effective marketing decisions. Throw in the industry changes that COVID has wrought and you can see that we're facing a more complex marketing landscape than ever before. This means it may be time to take a good look at the competitive environment within which your properties compete.
Fortunately, benchmarking can help you navigate even unusual times such as these. Benchmarking gives you the external market insights you need to make decisions that bring you the best value for your marketing dollars. Consider it a kind of situational awareness, an understanding of context that's critical to comprehending what your internal numbers really mean and don't mean.
Benchmarking is delivering for multifamily PMCs
According to Andrew Bowen, Industry Principal at RealPage, "Benchmarking provides us with clarity and context around market conditions to determine if current spending is effective, if additional spending is necessary and if the circumstances around availability and market response are singular to us or part of a broader market condition we need to react to. To date, everything has been about what is going on with our assets and our performance to budget. But if 2020 has taught us anything—and I don't think anybody budgeted for a pandemic—it's that we need the clarity that comes with understanding the competitive landscape in real-time."
Bowen notes that RealPage Performance Analytics Benchmarking is on the way to becoming the industry's only comprehensive suite of benchmarking metrics for the marketing and leasing funnel. The tool helps PMCs face today's challenges by changing the way they think about marketing. And the challenges are many: external issues such as demand volatility in markets with fewer prospects and job uncertainties, associated pricing pressures and an unpredictable future, along with internal issues such as delinquencies, leasing team effectiveness and expiration management.
Quality vs. quantity
The issue of today's reduced demand in urban core markets, for example, requires PMCs to understand prospects much more deeply. The traditional emphasis has been on measurements such as number of leads generated, number of page views and number of visits. Obviously these are still critically important. But Performance Analytics Benchmarking adds a qualitative perspective to its quantitative measurements. PMCs can address questions like: How qualified are the prospects we're attracting? How many applications were actually executed on and resulted in move-ins? What was the lifetime value of a resident generated through our efforts?
This thought process takes us from "How many leads?" to "What is the quality of the residents we're actually attracting?"
Performance Analytics Benchmarking also provides insights beyond the behavior of your prospect base. Now you can have a better understanding of the broader competitive prospect base as well.
Of course, you can currently see the audience you attract. You know their demographics and you know their behaviors. But you need information about the audience you want to attract but haven't reached, and how to target them effectively. That's new thinking, and Performance Analytics Benchmarking provides the answers.
Shifting your thinking from a purely cost-based analysis exemplified by cost-per-lead and cost- per- lease metrics can be an eye-opener as well.
Says Bowen, "If your marketing is perfect—and clearly nobody's is—your cost per lead would be exactly the same as your cost per lease because we would be identifying exactly the right prospects and all of them would move in. Focusing exclusively on lowering your cost per lead means you may be keeping your leasing professionals overly busy and driving your cost per lease up in the process."
Seeing through the fog
How does benchmarking play out in the real world, where clarity is often elusive? For example, you can find yourself in an emerging situation where it seems impossible to tell whether what your asset is experiencing is unique to it or the result of broader market conditions.
Bowen says that Performance Analytics Benchmarking can be like sunshine piercing the fog here. As an example, he cites a situation owners and operators are facing currently in cities with dense downtown cores like New York and Chicago. Consider a new, high-end downtown core asset: great location, walking distance to public transportation, phenomenal restaurants in the neighborhood, major employers down the street and all those great bells and whistles.
Today the restaurants are closed or serving at a minimum capacity because of COVID. Those major employers want everyone to work from home in neighborhoods that no longer seem as vibrant. Public transportation service has been sharply curtailed, or people are uncomfortable riding it. And because rent is much cheaper in the suburbs, people are flocking there.
"Now imagine I'm a marketer responsible for a downtown asset, and maybe I don't see that everyone's availability is skyrocketing because I'm just looking at ILSs," says Bowen. "But now I have Performance Analytics Benchmarking and can see the mushrooming availability. I also can see that lead volume is dropping at the same time and executed rents and renewal rates are falling through the floor. Am I going to go all in on a marketing strategy to outbid everybody else for Google AdWords in an effort to get back to 95%? No, I'm going to reveal and then deal with the reality, which is that the demand is materially less than what it was in February of this year for those markets. With increased availability and everyone fighting for it, I need to be hyper-effective in my PPC, SEO and SMO efforts. And this will likely come at an increased cost; will it be worth it in the end?"
Performance Analytics Benchmarking makes it possible to ask and answer questions like this and others like it. Who is bringing the highest resident value over time? Who moves in based on the availability that I have? The next era in multifamily marketing will be driven by the answers to such questions. But where these answers were once elusive, benchmarking can help bring clarity that will empower owners and operators to make strategic decisions with ever-increasing certainty.
Learn more about Performance Analytics Benchmarking.
Have a question about our products or services?