Meet a RealPage Everyday Hero
Grant Corbett, a new employee, rescued a resident's pet while on a recent submeter service call.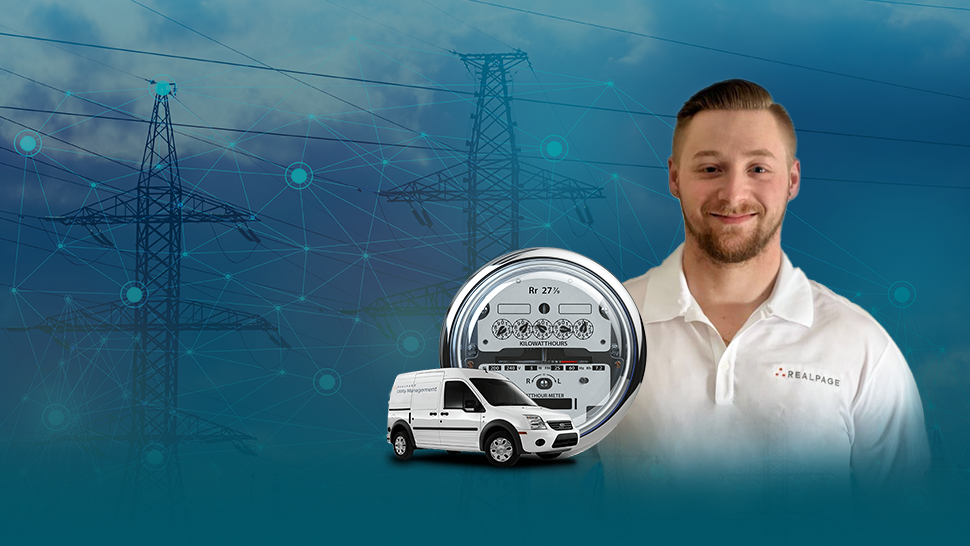 hero (noun): a person admired for achievements and noble qualities
What does an everyday hero look like? You may encounter one and not even know it until the story is revealed.
Meet Grant Corbett, a RealPage® submeter service technician who put everything on the line to save a resident's pet from a very serious situation. His story is indicative of selflessness and courage that, as CEO and President of RealPage Dana Jones says, "doesn't always come through on a résumé. I am so thankful we have Grant, and I know we have more like him who rise to the occasion to do great things."
The day started at a multifamily community
One chilly morning back in January, Grant Corbett headed out the door like he has done every day for the past five months since starting as a RealPage service technician. He was on his way to a multifamily property in the Seaport district of Boston, a neighborhood known for trendy restaurants, lively nightlife and the site of the historic Boston Tea Party incident. Little did he know that what started as a routine day would change in a blink of an eye.

As a service technician on the submeter team (hired just five months prior), Grant supports utility management systems within multifamily communities by installing, maintaining, testing, troubleshooting and repairing AMR equipment. His role on this team is important because he ensures electric, gas and water submeters are always accurate, compliant and working properly. In turn, property management saves costs and increases cash flow when tenants are billed for actual use of utilities, which encourages conservation of resources.
That day, Grant was assisting the staff maintenance team with a water meter in a rental unit located on the second floor of the 17-story high-rise residential apartment building. Out of nowhere, a fire alarm sounded from a fourth-floor unit.

Then, things turned dangerous.

He immediately jumped into action and headed toward the blaring noise after learning that even though the resident was out safely, their dog Oreo was still inside.

Knowing it was a potentially dangerous situation, Grant continued toward the apartment. When he got there, smoke was billowing out of the doorway making visibility difficult, and water from the sprinklers was already ankle deep inside the apartment. He decided that the only way to rescue Oreo was to form a human chain. He and the maintenance staff locked arms, and Grant sloshed through the water to the bedroom where the dog was hiding, grabbed him, tucked him under his coat and followed the beam of light from the front door to safety.

It ended in a disaster being averted
Shortly afterward in the lobby, Oreo (pictured below) was reunited with his owner. The property manager conveyed they were very happy that Grant was on site that day because the results could have been tragically different.
What happened was something truly extraordinary. Reflecting on the events, Grant said, "I was willing to put myself in danger, no matter what." In his mind, he believed that if it was his dog, he would want someone to do the same.
Grant is someone who is willing to do what it takes, even put himself in harm's way, to keep lives safe. He is an inspiration and an example of how to put others first.




Serving clients and their residents is our highest priority
At RealPage, putting customers first is not just lip service. Property managers, owners and investors expect and receive stellar service from those who work side-by-side with them. By providing innovative real estate solutions, we go beyond enhancing the living space, helping customers drive productivity and profitability across their asset portfolios.
Everyday heroes like Grant ensure that clients are always the focus. He is part of the RealPage team that goes above and beyond their job description in ways that positively affect the lives around them.

Heroes are a real part of the team
Grant has really excelled in his customer service role, especially when he is interacting with the multifamily communities and knowing that he is helping property managers and owners reach their full potential. In fact, the multifamily community conveyed that he was an extremely efficient technician who would have finished the submeter repairs two days early if it wasn't for the fire.
The landscape is bright for employment in the multifamily industry, even in light of those rethinking work and life goals. According to the National Multifamily Housing Council, there are several rewarding career paths.
"There's an endless variety of jobs in this trillion-dollar industry, from accounting and property management to marketing and information technology. Demand for apartments is soaring and every day we work enthusiastically to build and manage high-quality communities that meet the lifestyle needs of residents and allow them to flourish."[i]
Team members are RealPage's greatest asset. They come from all walks of life and backgrounds to create a culture of excellence, one where passion plays out in the software solutions we create for our customers, in how we collaborate with our teammates and in how we give back to our communities.

The proof is in the pudding. RealPage is ranked on the Forbes 2022 list of America's Best Large Employers. This annual list identifies the companies that employees like to work for and would recommend to friends and family. We're hiring heroes like you!
Come join our team of heroes and #Work4RP.

SOURCES
[i] NMHC - Why Work in Multifamily


Have a question about our products or services?