How Spend Management is Helping Vidalta Property Management Improve Yield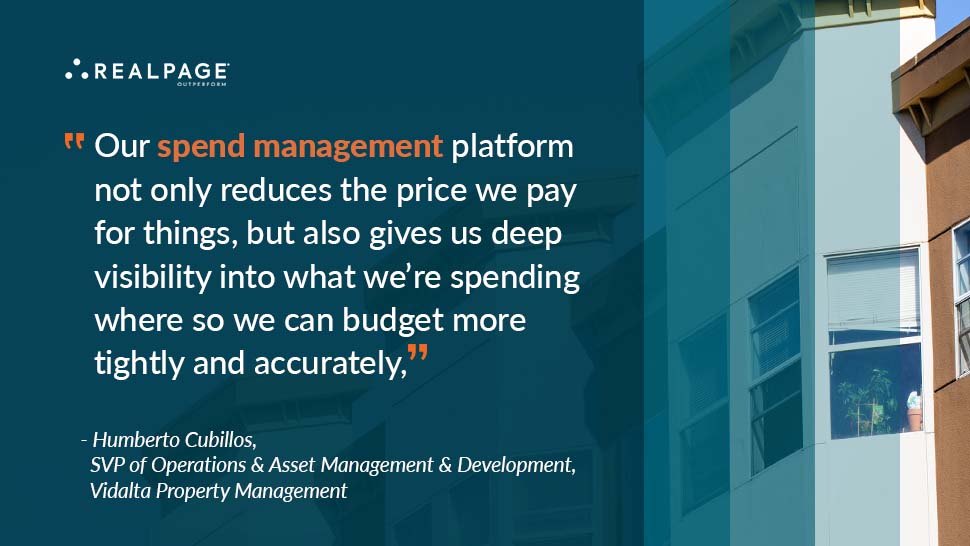 Whether formalized or not, spend management is an important part of what every property manager does. Put simply, a PMC that doesn't control costs will not be one for very long.
But there's a big difference between simply keeping an eye on spending and having a real program in place to do it. It's a difference that Vidalta Property Management has experienced first-hand.
"Our spend management platform not only reduces the price we pay for things, but also gives us deep visibility into what we're spending where so we can budget more tightly and accurately," says Vidalta's Humberto Cubillos. "It's a comprehensive, systematic way to approach spending that improves our yield in a way an informal approach cannot."
Vidalta has adopted RealPage's Spend Management solution, and Cubillos says it's part of a bundle of RealPage solutions that work together to maximize NOI.
Pay less, trust more
Cubillos says his favorite aspect of the platform is the online product catalog, and for more than one reason.
"The catalog is a central place for properties to order most of the products and services they need," he explains. "The prices are pre-negotiated, so we know we're getting a good deal, and the vendors are vetted and credentialed too. We only want to work with vendors we trust so we can eliminate ugly surprises." Cubillos says the use of the managed catalogs eliminates random "rogue" spending and provides consistency and value across the board.
It's also a benefit to on-site property managers, who don't have to cast around looking for vendors when they need products and services and second-guess their decisions. "These companies are pre-approved so managers can be confident when choosing them," Cubillos adds. "And on top of that, the catalog makes ordering things very easy in comparison to ordering from random vendors."
He adds that the vendors themselves are big fans of the catalog. It's tied into automatic electronic invoicing that's easier on the properties, easier on them, and gets them paid faster.
He says multifamily vendors are eager to get into the catalog since it puts them front and center when properties need what they have to offer.
Vetting and insurance for vendors
While good prices and easy access to vendors is paramount, Cubillos says the vendor credentialing provided by RealPage Spend Management is another big advantage.
"Vendor credentialing eliminates a lot of risk," he says. "Vendors are pre-qualified in terms of skills and certifications, insurance, risk factors and other criteria, and the burden to do this is taken off our managers. So, they can focus on whether the vendor matches the scope and requirements of the work instead of worrying about things like fraud, a bad history on prior jobs, criminal records or insufficient insurance."
Cubillos says that when the company finds a new vendor they'd like to work with, RealPage helps get them on board as an approved vendor that meets their specific insurance qualification criteria.
Better property management budgeting
A further benefit of the formalized spending process can be seen in budgeting, says Cubillos.
"The spending is happening online, on a real time basis, and vendors are being paid quickly, so we can see the impacts on budget during the period the money is being spent and be more accurate in our budgeting," he explains.
Cubillos says that too often, budgeting involves guesswork based on experience rather than real on-the-ground spending facts.
"What this platform does is couples actual spending more tightly with budgeting, giving you great visibility into your spend as compared to a paper-based or haphazard computer-based budgeting process," he says. "You're seeing the spending as it's happening, and you're getting a much more comprehensive view of it, so you can more accurately look ahead at what you'll be needing as well as more easily compare your spend to what you budgeted when you're reconciling."
A spend management success story
Cubillos tells a story about the notorious Texas ice storm of 2021 that points up an unexpected benefit to working with RealPage..
"Our properties were impacted significantly, and we ran out of vendors quickly," he recounts. "Everyone was scrambling to find vendors help them get things back in order. Because we had access to Vendor Marketplace and the RealPage eSupply GPO, we were able to identify big players who had the capacity and availability to help. Even though we hadn't worked with some of them before, they were already RealPage vendors, so we were able to get them on board very quickly, knowing they were reliable, priced right and were compliant in terms of the risk factors.
"There is no way we could have done that without the platform in place," he adds. "We would have been running around looking for people and maybe taking some risks just like everyone else who went through that ice storm."
The bigger picture
"It's all integrated to work together seamlessly, so you have this one-stop-shop for operations instead of a bunch of different solutions that work differently and don't exchange information smoothly," Cubillos says.
"We see RealPage as a strategic partner on the technology side, not just a software vendor," Cubillos concludes. "They want to help us meet our objectives rather than just providing solutions and services. They're helping us manage our risks and efficiencies at the operational level so we can deliver on what our investors are looking for and be more effective."
Please click for more information about RealPage Spend Management.
Have a question about our products or services?