Great Multifamily Websites are the Key to Getting Apartments Rented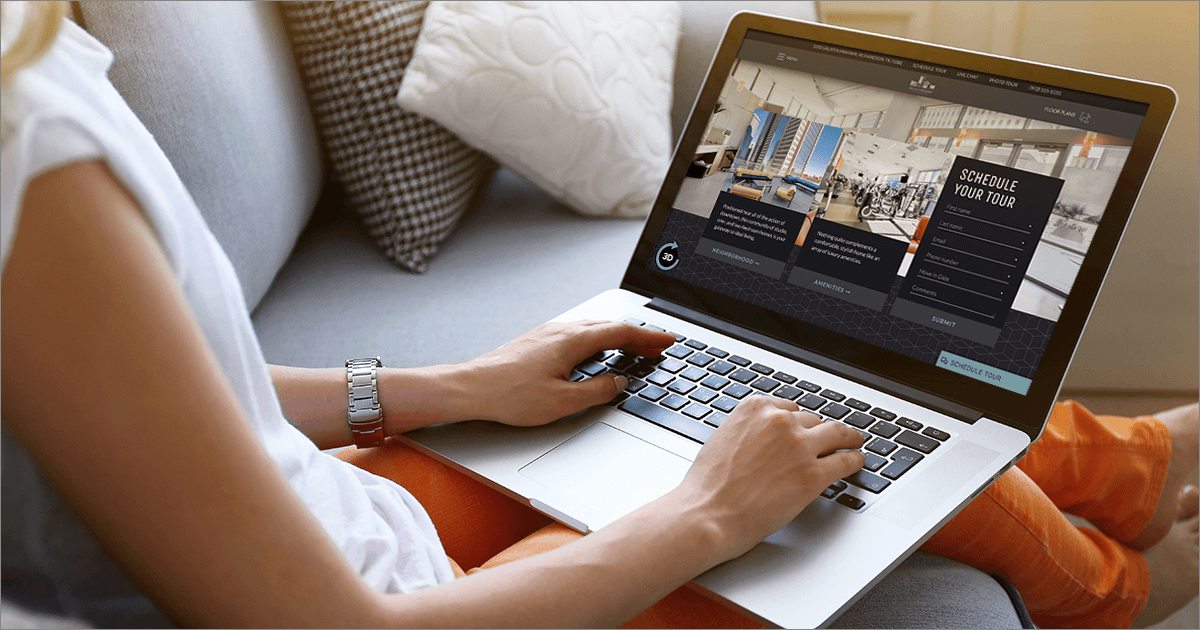 Multifamily websites are the new front lines for interacting with apartment prospects. The pandemic has cemented the importance of creating a complete prospect journey online through an engaging website.
But well before Covid, property management companies were already leaning heavily on web traffic to drive prospects to in-person property tours. And now, interacting online is more important than ever for marketers in their ongoing quest to boost and maintain occupancy.
Today's website must offer functionality from end to end: from choosing an apartment all the way through leasing, and everything in between. Multifamily websites must adapt to growing consumer preferences for taking care of things online. Renters have evolved in their apartment searches and have become comfortable leasing without visiting properties in person.
The latest apartment research by the National Multifamily Housing Council shows renters' dependence on multifamily websites: apartment community websites generate 60% of leases. Along their journeys, renters embrace features like chatbot and text messaging to communicate with staff and make online appointments.
Creating a compelling multifamily website journey
Gone are the days of launching a site with a few pictures and a short description of the property. Today's websites have to be fresh and up-to-date with engaging content to complete the prospect experience. And renters are looking for a frictionless path to purchase, where a big roadblock is not having the most current information on and off the site.
Strong search engine optimization (SEO) has become a pillar of a successful web presence. And offering virtual tours is critical. A recent Realtor.com study revealed that virtual tours boost clicks by 40%.
But satisfying the whole prospect journey encompasses much more than this.
In a recent virtual RealWorld session, RealPage Senior VP of Consumer Solutions Nikhil Venkatesh noted that creative storytelling is driving apartment online leasing. Websites are the launching point for leading prospects through a colorful introduction of the property and carrying them forward through signing a lease and eventually renewing.
"You have to create a seamless experience through the renter engagement journey to win the battle for the customer's heart," he told attendees.
10 multifamily website must-haves
Creating an impactful marketing presence that drives valuable leads with high conversion rates depends on several moving parts.
Let's take a look at the Top 10 Website Must-Haves:
Chat and Text – When prospects cannot simply visit or call the leasing office to get answers, they must have another way to communicate with the property. Employing an automated chat feature and enabling texting at website touchpoints gives prospects an opportunity to connect with staff as they are looking around.


Self-Scheduling Calendars – Websites should empower self-scheduling calendars so prospects can make online appointments, with schedules updated automatically. The ability to update meetings, virtual tours, etc. as they are booked keeps the scheduling process fluid and ensures all prospects are accommodated.


Online Leasing – This is a big one. Built-in online leasing functionality enables prospects to complete the entire rental process from application to making a deposit to moving in – all at their convenience. With leasing offices operating with reduced staff and hours, online leasing has become necessary for building and retaining occupancy.
Strategically Placed Contact Forms – Adding forms at multiple website touchpoints has proven to increase conversion rates. A good rule of thumb is to place forms alongside interesting content, like resident feedback and amenity features, or on landing pages that appear before the user searches through available apartments and pricing.


SEO Strategy – Content should include on- and off-site keywords relevant to the types of searches being made by prospects. These keywords allow Google and other search engines to crawl your site and judge your website worthy to show in a high position among search results. For example, virtual tours and cleaning etiquette are generating a lot of searches these days, so adding related keywords on relevant pages will get the search engines' attention and drive more prospects to your site.


Engaging Content – Lively, engaging, and immersive website content sets apart apartment companies in competitive markets. The 2020 NMHC/Kingsley Apartment Resident Preferences Report notes that 88% of people looking for an apartment on a website seek photos of apartment models and amenities on websites. A concise, highly descriptive copy has always been and remains the necessary driver of web traffic. High-quality photographs, videos, and tours lead the prospect through the site and property. "Property management companies need to think about the lifestyle they want to sell," says Sheena Pabari, Vice President of Content Services at RealPage.


Informative Content – Visually stunning site maps and floor plans engage and inform. When prospects are looking for an apartment, they are likely to go to 3D floor plans and community maps, according to NMHC. Maps and floor plans should inspire prospects to imagine what life would be like in the apartment and community.


Virtual Content – Matterport and virtual tours lead prospects on a tour of the property without leaving their living rooms. A Matterport tour is a high-definition photography walk-through that should include as many as 20 locations within a single interior, amenity, or unit. Virtual 3D apartment tours allow viewers to walk from room to room at their leisure and get a feel for the living experience.


ADA Compliance – Properties should follow basic compliance in designing their websites. Website accessibility for the disabled has become a hot topic in recent years. Courts have ruled in favor of plaintiffs because of Title III of the Americans With Disabilities Act violations based on large disparities between physical locations and online presence. The need is greater for properties to have ADA accessibility at basic levels so prospects and renters who are impaired can navigate sites.


Modern Design – A website should be easy to manage and feature the latest design. A contemporary, custom, and mobile-first design can generate 22% more quality leads and a 20-40% increase in organic traffic, according to RealPage. A recent redesign for one community earned the website's immediate rankings on the first three pages of Google. The website was awarded the NAHB Pillars Award for Best Corporate Website for its achievements in SEO success.
Learn more about how your multifamily website is the first place to start delivering a personalized brand experience.
Have a question about our products or services?