Getting in the Spirit Of Bourbon Tasting: RealWorld 2020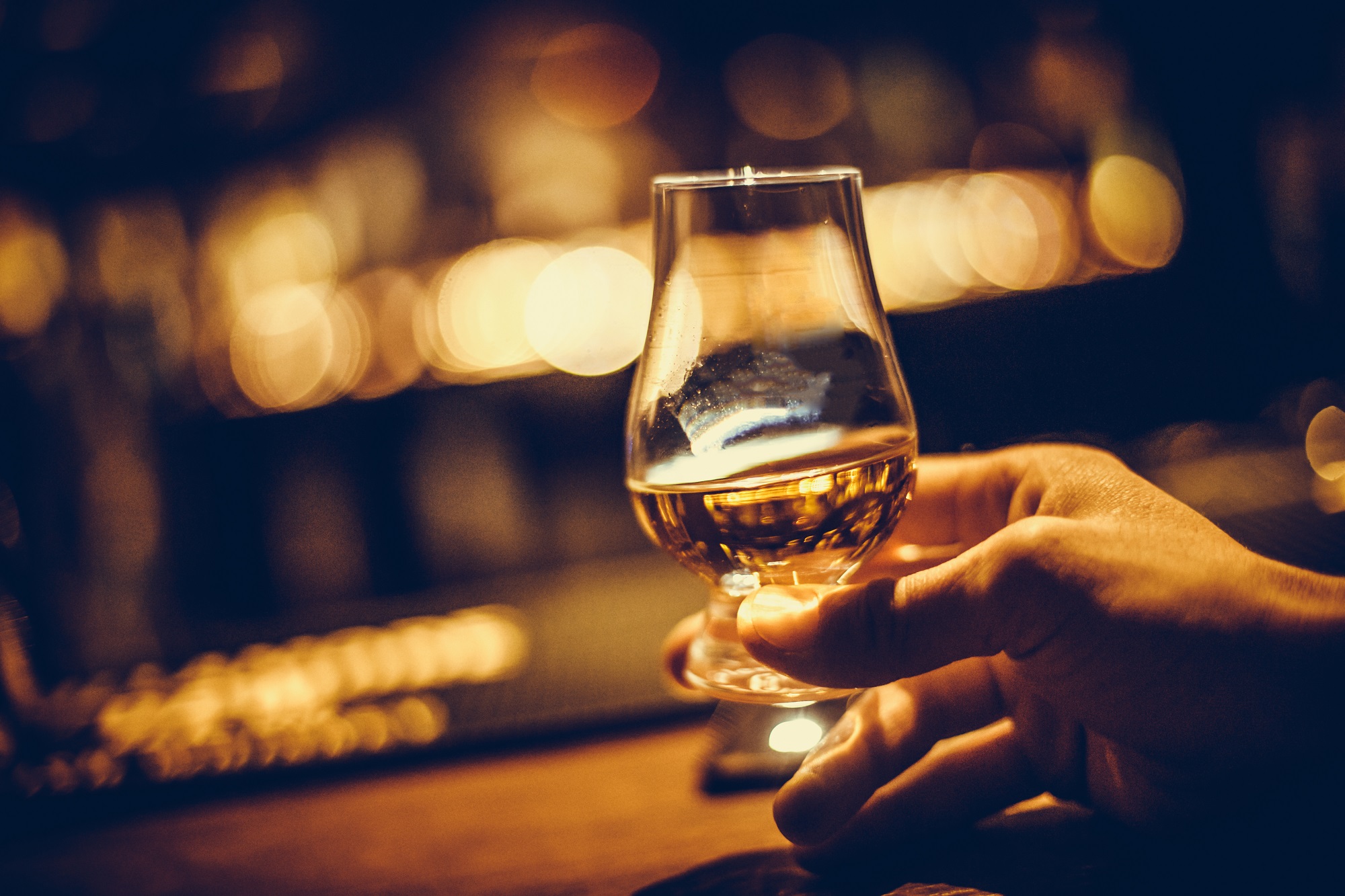 Just about every night, Tom Fischer can be found on YouTube, Facebook, Twitter, or Bourbonblog.com swirling a glass of bourbon, whiskey, or another distilled spirit. He takes a sip and notes the color and taste as one might imagine. But Fischer, one of the top bourbon experts in the U.S., looks deeper into the glass.
With each sample, he determines the spirit's approachability, whether it be for food pairing or enjoying at different times of the day − late at night after a fine meal, or early on as dusk settles. The bourbon or whiskey must continue to please time after time.
"For me, what makes a good bourbon or spirit is that I can go back to it on regular basis or, and whenever I do, experience something new, a new layer," says Fischer, whose bourbon commentary has been featured on CNN, National Public Radio, USA Today, BBC and other major media outlets. "When I go back to it, I will always discover something new just because there are so many facets to the flavor profile."
Until the pandemic, he traveled the country performing tastings at distilleries, restaurants, and other venues. Now Fischer is tasting closer to his home near the Indiana and Kentucky border, and on a given night he may sip with a distillery owner or actor, or smoke a cigar with someone like pro wrestler Ric Savage.
His tastings also venture into wine cellars and tequila bars.
On Bourbonblog.com, Fischer dons his trademark bow tie and shares the latest industry news holding a glass of whiskey in one hand and a microphone in the other.
A RealWorld tasting, with samples shipped to you
Fischer will host a special tasting for RealWorld 2020 attendees on Sept. 14th. He'll talk about four approachable bourbons that are part of the craft bourbon and whiskey experience. Attendees who register for the Tier One package and sign up for the live tasting will be able to sample the pre-shipped spirits from their desktops or mobile devices just as if they were sitting in the barrel room.
Fischer will offer his takes on Breckenridge Bourbon Whiskey, Balcones Single Malt Whisky, Clyde May's Alabama Style Whiskey, and Skrewball Peanut Butter Whiskey. Each is a regional spirit offering a distinctive taste and experience.
Born in Ocean Beach, CA, Skrewball Peanut Butter Whiskey is an unconventional choice, he says, but don't judge a whiskey by its label. The spirit combines the traditional boldness of whiskey with the smoothness of peanut butter. It was created by a local bartender who developed a shot to pay tribute to both whiskey and his love of peanut butter as a kid.
"Should all whiskeys be flavored with peanut butter? No," Fischer says. "But this brand does something with peanut butter and the flavor that allows it to retain its distinctive whiskey note. By itself, it's delicious."
A craft spirits revolution
Whiskey and bourbon are as American as apple pie. America nursed whiskey in the Thirteen Colonies, and since then good ryes and scotches have toasted millions of milestones.
Whiskey fueled the economy after the Revolutionary War, tamed the Wild West, and played a starring role during prohibition. In 1964, Congress declared bourbon as "America's Native Spirit" and the country's official distilled spirit – and noted the difference between bourbon and whiskey (bourbon is made from at least 51% corn and only produced in the U.S.).
"There is something about whiskey and aged spirits that I think allows people to build unity between their present and their past," Fischer says.
More recently, the world has experienced a craft spirit revolution. Small-batch distilleries are fighting for a piece of the market once dominated by long-standing Kentucky bourbons and Tennessee whiskeys. Craft bourbon and whiskey distillers as far away as California and Alaska are positioning themselves as destinations and appealing to consumers through distinctive labels.
American whiskey, despite a negative impact from tariffs, posted $4 billion in sales in 2019, second to vodka, according to the Distilled Spirits Council of the U.S. Since the early 2000s, U.S. craft distilleries have exploded from 100 to more than 3,000, Fischer said.
Showcasing the diversity of bourbons and whiskeys
Fischer founded BourbonBlog.com in 2005 to chronicle the rise of bourbon and whiskey, and has produced hundreds of videos and reviews since.
He hosts whiskey tastings across the globe and makes appearances as an expert speaker at festivals and corporate events. His palette is refined enough that he's been named a Kentucky Colonel by the state's Governor, and he established the first-of-its-kind whiskey sommelier program in Austin, Texas.
Fischer's objective at tastings is to enlighten his audience and showcase the diversity of the featured drinks, especially craft whiskeys and bourbons. Participants learn how to look for flavors as they move through the stages of the sip.
Not all single-barrel whiskeys or bourbons taste the same from one batch to the other, depending on how the recipe interacts with the barrel and the aging process. Every piece of wood is different, Fischer says, and that affects the chemistry of the distilling process.
It's part of what makes tasting whiskey a rich experience.
"My goal is always how to come up with interesting whiskey," he concludes. "Each tells a story. There are so many unique and different whiskeys, it allows us to have new conservations about our culture and heritage."
Space is limited for this experience. If marked as SOLD OUT, you may still watch it in the Curated Experiences Theatre on the virtual platform. You can still learn from the best, but whiskey samples won't be shipped – and if you are so inclined, raise a glass of your own!
Have a question about our products or services?