4 Reasons Why Apartment Home Sharing is on the Rise
Find out why apartment home sharing is gaining momentum in the multifamily industry with these 4 insights that explain the benefits of Migo.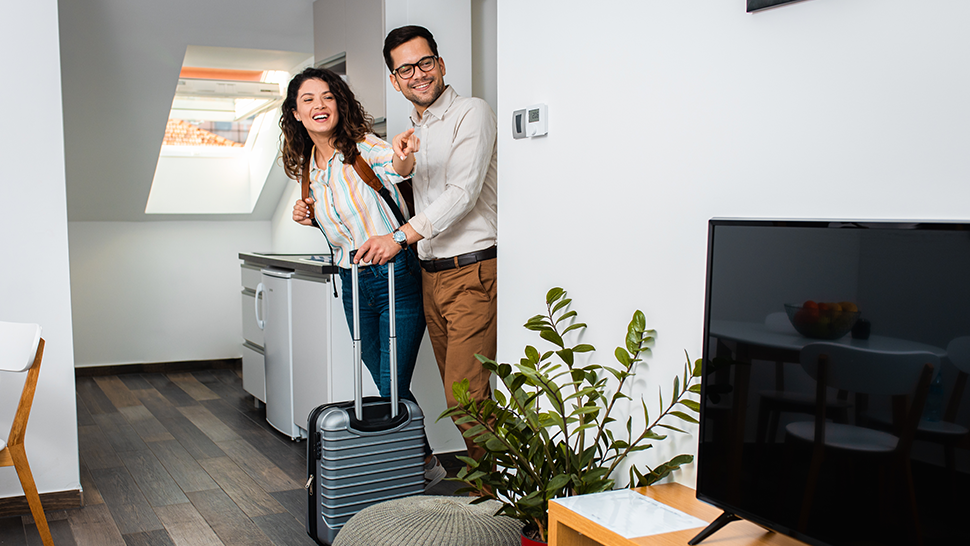 Home sharing is not a new thing. It's been around for years and has been widely popular among young adults. However, in multifamily communities, it has been largely restricted by local ordinances and lease agreements. Despite that fact, PropModo reported at the beginning of 2021 that 65% of recent Airbnb bookings were in multifamily buildings.
Moreover, according to Statista, the home sharing market is projected to reach 68.2 million by 2023. As a result, there couldn't be a better time for multifamily property owners to enable apartment home sharing through Migo by RealPage®.
Migo takes the hassle out of home sharing and makes it a profitable arrangement for both property owners and residents. It simplifies and secures the multifamily short-term rental experience for owners, residents, guests and community managers.
There are four reasons why home sharing is on the rise. And, thanks to Migo, it's never been easier to get in on this lucrative living option.
1. Home sharing offers financial advantages
Home sharing is financially advantageous for property owners and residents. The revenue share brings impressive gains to multifamily properties, resulting in $400-$600 increases in net operating income (NOI) per unit per year. On top of that, the property can see ancillary effects from resident home sharing activity that bring value to owners: 2-3% above market renewal rates, 1-2% higher occupancy, 2-3% higher rents, etc.
Migo's furnished unit option, an amenity in our Full-Service package (home sharing managed entirely by Migo), enables property owners to easily rent unoccupied or less popular units, which further increases revenue and NOI while the demand pricing tool displays and monitors the market and delivers optimized unit-per-night pricing. As a result, property owners can be assured that their units will be priced at the most competitive market rates. In addition, when Migo is paired with RealPage Smart Apartment for Sidewalk to Sofa™ access control, owners can unlock even more untapped revenue streams.
On the resident side, the younger generations of renters are less focused on homeownership and more focused on long-term renting, according to a March 2020 article on GlobeSt.com. Data shows that, more and more, upwardly mobile Millennials are delaying homeownership and are instead choosing to rent as they invest in growing their assets in other financial sectors.
Moreover, according to Apartment List's 2021 Millennial Homeownership Report, 18% of Millennial renters say they plan to rent forever, up for the third consecutive year from 12% in 2019 and 11% in 2018. For the Gen Z generation, homeownership is not yet a top financial priority. Seemingly, they too, will be renting for the foreseeable future.
At the same time, these younger generations of renters want apartment communities that deliver a luxury experience and the option for flexible living. Since home sharing can offset rent by as much as 20%, it offers a means by which Millennial and Gen Z residents can afford to live in A or A+ communities, which offer the amenities and experience they want.
And given that residents are already engaging in home sharing, multifamily property owners can harness it to their financial advantage by providing a means by which it can be accomplished in a safe, law-abiding, transparent manner — through Migo by RealPage.
2. Home-sharing creates sustainability
On stage at a recent FLEX Flexible Rentals Investment Conference in 2019, Steve Lefkovits, Executive Producer at Joshua Tree Conference Group, affirmed that having the ability to rent their space helps renters stay tenured in the community. By keeping apartments occupied, home sharing thereby creates sustainability for multifamily property owners.
The greater the number of occupied units a multifamily community has, the higher its rent revenue will be. For that reason, home sharing is a living option that property owners, managers and residents can all get behind.
3. Home sharing enables a flexible living option
With "work from home" and "work from anywhere" becoming employment norms, more people — particularly the Millennial and Gen Z generations — are exploring flexible living options that give them the ability to truly work from anywhere, whether that be in their apartments or on the beaches of Cancun.
It's only natural, then, that when young adult renters are "there and anywhere" instead of "here" in their apartments, they want to be able to rent their units to others for short-term stays. Migo's alliance with Airbnb streamlines the home sharing process in multifamily communities and takes all the hassle out of it for property owners and residents.
4. Migo by RealPage simplifies and secures home sharing
A significant home sharing challenge stems from the fact that multifamily communities were not traditionally designed to accommodate it. Migo is changing that by consolidating all the essential services, integrations, and transparencies into one product that makes home sharing activity easier to manage and monetize. It's the only comprehensive product suite on the market that enables both resident home sharing as well as owner guest suite home-sharing.
Utilizing Migo's proprietary software suite, residents and owners can list their units on Airbnb via Self-Service or Full-Service options. With both, Migo monitors and sends alerts if residents and/or short-term guests are not following the terms and restrictions established for home sharing in the multifamily community.
With Migo's Self-Service option, the resident or owner is responsible for their unit's Airbnb listing, guest communication, access control, cleaning, and managing each booking from start to finish — facilitated through Migo's proprietary tech tools — while providing on-call support when needed.
But for those who aren't DIY-oriented, Migo offers a Full-Service option, whereby, Migo's host team manages every aspect of the unit's Airbnb listing and booking process, including communicating with guests, scheduling cleaning, and granting guest access. Owners and residents simply go online and set the availability of their units. Migo takes care of the rest.
For more information about Migo by RealPage, visit Migo Home Sharing or call 1-87-RealPage.
Have a question about our products or services?