How to Produce Eye-Catching Photography in Multifamily that Attracts Renters
--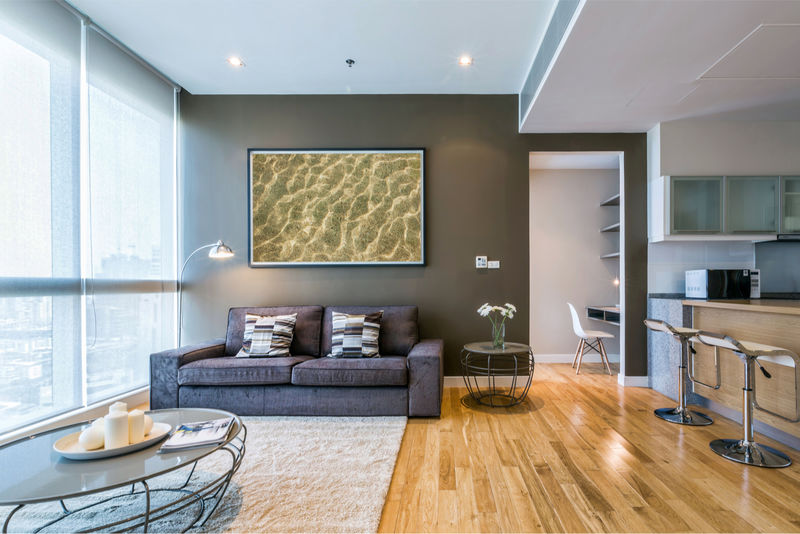 A picture is said to be worth a thousand words. But when it comes to apartment photography, a shot featuring the property shouldn't be that verbose. The right picture with the right angle, the right composition and the right lighting should send the very concise message to prospective renters that this is the place to be.
For property management companies on a limited budget who aren't fortunate to have a shutterbug on the payroll, visual story telling can be difficult. Posting a drab photo of a community can turn off prospects who land on the website. They're likely to move on to the next property on their short list without a second thought.
That's when the right group of photos that capture the true living experience can make a difference. Compelling images that highlight amenities and interior and exterior features stand out, especially among the wealth of media and information that begs today's apartment hunter.
"I don't think some people in this business fully understand how a photo can make or break a consumer's opinion," says veteran apartment photographer Ed Blinn. "The first impression means everything."
Take photos that will convince prospects to rent
Blinn, who is the Apartment Association of Tarrant County's director of communications, has taken thousands of photos of apartments. At AATC, he's affectionately known as "The Photo Guy." He believes the plethora of videos and images vying for consumers' attention is all the more reason to showcase the property through compelling photos. Yet, some property managers tend to lose focus by showcasing what they think is great about their community without regard to what prospects may want to see.
What the prospect is looking for, Blinn says, are images that relate to a desirable lifestyle or location. That requires mining the elements that invite the prospect to linger on the website, or working with a professional photography team that can help mine those elements for you.
"Consumers care about the details, not the operations," he said. "A property should focus on the amenities and features, the things that sets it apart."
Take photos that will convince customers to rent your apartments, Blinn said. That means understanding the audience when attempting to capture the community's flavor. At the end of the day, if the photo doesn't speak to the audience then it's not doing the job.
His short list for photos that sell includes those that focus on features and space inside and outside the apartment, an inviting pool shot and dog parks (if applicable). And also thinking about what you'd want as a renter.
"Put yourself in their shoes and create all the pics you'd want to see when searching for an apartment yourself."
Tips for creating property photos that sell
But taking those great shots requires a plan and some basic photo expertise. The good thing, Blinn says, is that with the abundance of mobile photo technology available, nobody needs a safari to capture great images.
Still, he recommends for DIYers to invest in at least a basic single lens reflex camera (SLR) and tripod to take quality pictures. And for those without the time, hiring a professional service like PropertyPhotos can make all the difference.
Here are some of Blinn's tips on taking great pictures of apartment communities:
1. Use the right equipment: This may sound daunting (and expensive). Quality photographers spend thousands on their cameras and accessories, and that's why they charge a lot. But Blinn says the good news is that the novice photographer can employ a consumer-end digital SLR without a big CapEx signoff. Packages that include a camera body, an 18-55mm lens and bag start around $500.
While these are great starter packages, Blinn recommends investing a little more in a wide-angle lens (14mm or 17mm) for interior shots. Also, while most cameras have auto exposure functions designed to simplify picture making, "you'll need to make sure you understand all the settings on the camera to use it effectively."
A good starting point is taking advantage of free or inexpensive lessons that some retailers offer with purchase of a camera.
2. Invest in a tripod. A tripod is a good investment (they can be purchased for less than $100). Even though many lenses today are equipped with image stabilizers, a strong and sturdy tripod will maximize sharpness and photo quality.
"Having tack sharp focus is extremely important when photographing anything, especially something that should highlight the detail," Blinn said. "Don't let the photo store clerk trick you into buying equipment you don't need. You something sturdy and easy to set up."
3. Use natural light: Avoid using a flash for interior shots and rely on natural light as much as possible. But Blinn cautions that the glow of light through open blinds inside a unit can distract the viewer from content in the photo. Close the blinds.
Using a tripod and managing shutter speed, aperture and ISO for shots in existing light will produce more even lighting and allow the viewer to focus on photo's composition. The process may require multiple images be taken at various selections to capture the right light, but through the graces of digital photo technology the photographer can quickly determine the right image in a matter of minutes.
4. Compose your shot. This isn't rocket science, but it takes a good eye to compose shots so the subject demands a longer look. Blinn recommends starting with the Rule of Thirds, a fundamental photo technique where the photographer envisions using guide lines and their intersection points to align the subject, usually off-center.
Composition requires effective balance achieved through cropping of the subject either before the photo is taken or afterward. The idea is to excite the senses as much as possible. For example, a pool photo is improved when a water fall or brightly colored flowers in a nearby planter are cast to one side. The splash and waves falling into the pool are refreshing, and flowers offer warmth and an extension of the pool's surroundings are appealing. A Plain Jane pool shot without any thought to composition is just any old pool.
"By understanding basic composition, you can deviate and experiment with different camera angles and play with composition all you want," Blinn said. "At the end of the day, simple is best, especially when it comes to showcasing home or apartment features. So save your Batman angles for Instagram."
5. Staging and setup: Not only is it important to set the camera in the right place to take a well-composed shot, you should move things in the environment as much as possible to improve subject matter, Blinn says. For exterior shots, make sure the grounds are well kept, clean and appealing. Take landscape photos the day after the crew mows and trims, when everything is neat and orderly. And pick up the trash.
"People want to see those elements that are well kept," he said. "Make sure you have shots that support the community. You're not going to get them out there unless they have a reason to get out there.
Above all, apartment interiors should appear spacious and unconfined, but be careful not to misrepresent the property.
Showcase the property as naturally as possible
Like anything, quality photographs of your property will take an investment of time and money. For those who want to leave it up to the pros, some multifamily technology companies offer professional services and website consultation designed to drive more traffic.
The ultimate goal whether using a pro or doing it yourself, Blinn says, is to give prospects a reason to visit the property.
"Showcase the property as naturally as possible to ensure you get good leads."
Ready to create an immersive photographic story for your community? Visit PropertyPhotos.com to learn more!
Have a question about our products or services?