Don't Miss the RealWorld 2021 Multifamily Conference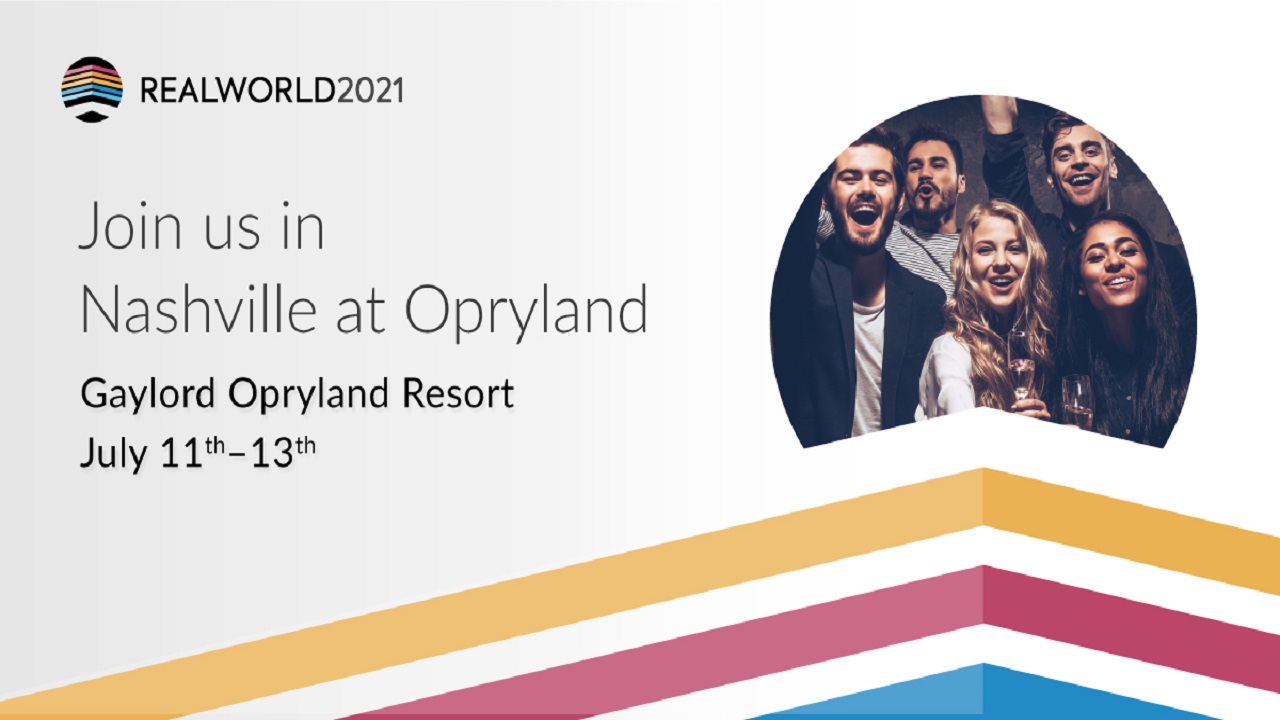 The Yield Awakens at RealWorld 2021!
The multifamily industry's premier event takes place live and in-person July 11-13 in Nashville –just as it reemerges from COVID and its critical repercussions.
The sun is shining brighter, stars are twinkling and music is in the air. With a year of mostly virtual operations under its belt, the rental housing industry is awakening to a new sense of normalcy. But what is the new normal, and where is the market headed?
Virtual tours, new leasing and living solutions and other technology that blossomed overnight during the pandemic are here to stay. Innovative solutions are enabling easier payments and other processes for today's residents. And deeper visibility into the full range of property performance criteria is now at your fingertips.
The RealWorld conference offers insights into these key industry initiatives and a host of others. Industry leaders, laser-focused sessions and exploration of next-gen solutions will help operators and owners navigate today's rental housing landscape.
There are so many reasons to join us at the Gaylord Opryland Resort and learn how companies like yours can outperform!
Let's count down the top five reasons why you should attend:
#5 Go Deep on Property Management Solutions
#4 See How the STARS Are Aligning
Nashville is the city where stars are born, and we've got STARS of our own to show off! RealPage STARS Analytics gives you visibility into a broad range of performance outcomes in your markets to ensure you're not leaving money on the table. Sessions: "Utilize STARS for Better Insights to Attain Peak Performance with the Full Property Management Suite," "Rethink the Way You Manage Your Business With Stars," and "Meet STARS Analytics: More Than Data, Benchmarking or Reporting."
#3 Learn to Enhance the Resident Experience
Discover how to rise above your competition through the industry's most powerful tenant technology solutions – from smart buildings to community engagement – that keep residents happy while making properties more profitable and sustainable. Hear industry leaders discuss new opportunities to unlock hidden yield by motivating residents with points to adopt online payments, amenity reservations, insurance and more. Sessions: "Maximize the Resident Experience: Connect, Engage, and Reward Residents," "The New ActiveBuilding: Maximizing the Resident Experience," "Boosting ROI and NOI with Smart Buildings," and "The Most Profitable Amenity: Monetize Home Sharing for Owners and Residents."
#2 Boost Touring and Manage the Prospect Experience
Learn about new virtual tour options so you can offer the flexibility and convenience prospects expect when looking for an apartment today. And, with fraudulent applications having increased by over 60% in the past year, along with new eviction regulations and rent control, you'll want to know about current best practices for protecting yourself. Understand how AI models are impacting screening by predicting not just an applicant's ability to pay, but their willingness. Sessions: "Maximize Value: Innovative Screening & Insurance Solutions Reduce Fraud & Bad Debt to Optimize Yield," and "Keep on Touring. How Your Prospects Can Tour When and From Anywhere They Choose."
#1 Hot Chicken and the RealWorld Party
If you need an extra jolt, the Hot Chicken will do it! For nearly 100 years, Hot Chicken has been as much a part of Nashville as the Grand Ole Opry. The spicy fried entree is the city's celebrated dish, and is certain to add a little kick to RealWorld 2021. And don't forget the end-of-conference RealWorld 2021 party. At our last in-person RealWorld in 2019, the big event was voted by attendees as the best ever. So, imagine what we'll do to top that one! We can tell you for sure that it will feature live up-and-coming talent from the heart of America's Music City. Bring your boots!
Need more reasons?
RealWorld 2021 will showcase how to turn utility spending into sustainable value, harness data to drive results and provide updates on the affordable housing market. Also, see the unveiling of our P2 (Peak Performance) Suites and learn how to think beyond raising rents to drive NOI.
The health of everyone onsite – from attendees to hotel staff – is paramount to us, and we are working closely with the Gaylord Opryland to help ensure you feel safe and comfortable throughout the event.
Can't make the event in person? You can register for the online event, Sept. 20-21, and participate from your home or office. View keynotes and breakout sessions, join interactive networking experiences, attend pre-scheduled product demos, and chat with experts in the virtual Hall of Solutions. Session schedule coming soon.
Don't miss this opportunity to be a part of RealWorld 2021, The Yield Awakens. Register for RealWorld today!
Have a question about our products or services?