COVID-19: Staying Ahead in a Crisis with Analytics (Webcast Summary)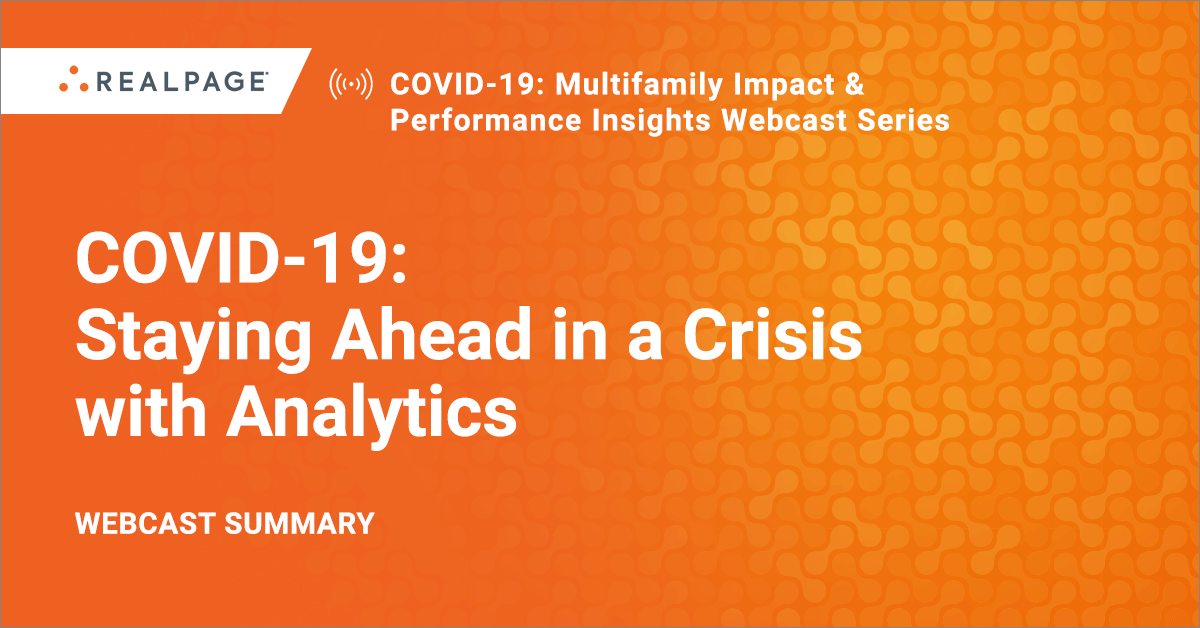 To support the multifamily community through the current COVID-19 crisis, we've launched a series of discussions centered around its impact on the rental housing industry with the latest data, expert insights and actionable measures stakeholders can take to minimize fallout. Register for upcoming webcasts and watch previous episodes on demand at the COVID-19: Resource Center.
This is a condensed summary from the webcast, COVID-19: Staying Ahead in a Crisis with Analytics, broadcast on April 14, featuring RealPage® Deputy Chief Economist/VP Jay Parsons and Industry Principal Andrew Bowen with special guest Miguel Gutierrez, Chief Operating Officer at CAPREIT.

LATEST APARTMENT DATA: TRAFFIC & LEASING ACTIVITY
Highlights from the latest assessment of key leasing traffic indicators, sourced from RealPage systems using rolling 7-day counts on a same-store basis, showed that property website traffic was down 6%, guest cards were down 23.4% and executed new leases were down 31.7%.
However, the trends in both website traffic and new lease signings did improve over drastic declines in the prior week, while guest cards held flat week-over-week but were up compared to the low point two weeks ago.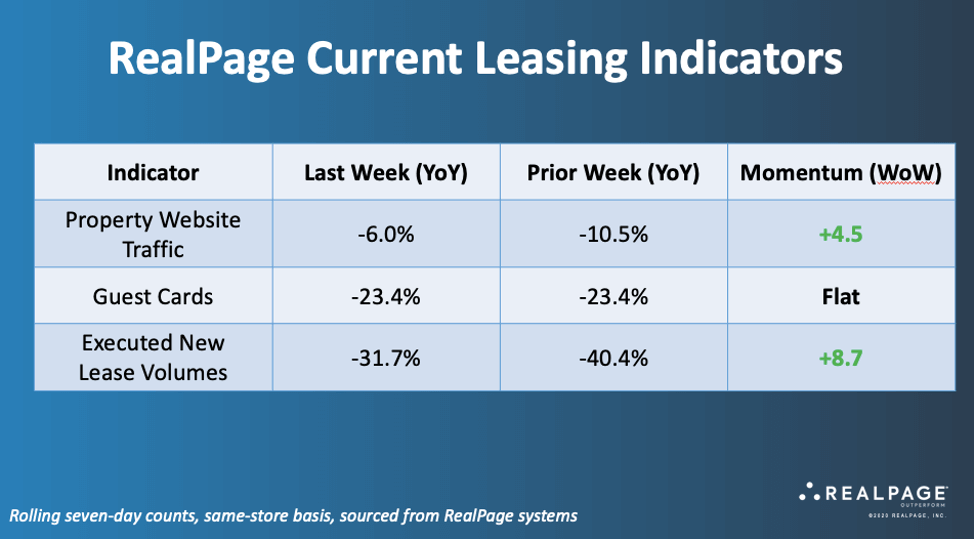 We also continue to see strong indicators that social distancing plus economic uncertainty is driving retention rates even higher with 54.1% of expiring leases renewed in March.
Historically, retention rates usually peak in February before slightly easing in March. From 2011 to 2019, there was an average 90 bps seasonal decline in retention between February and March. The opposite has occurred this year, with retention inching up 30 bps month-over-month. Correlated with this trend was a huge spike in rescinded non-renewal notices with an indication of very high retention numbers for April.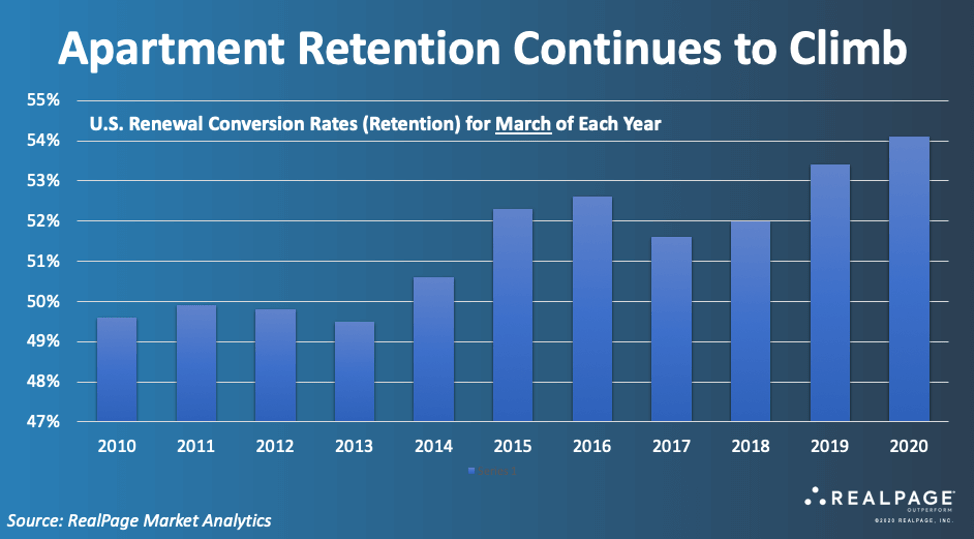 Payments (or collections) fared better than many executives expected, given the backdrop of 17 million jobs lost in three weeks, with 69% of conventional apartment renters having paid rent by April 5 (historically, a slight decline from the norm).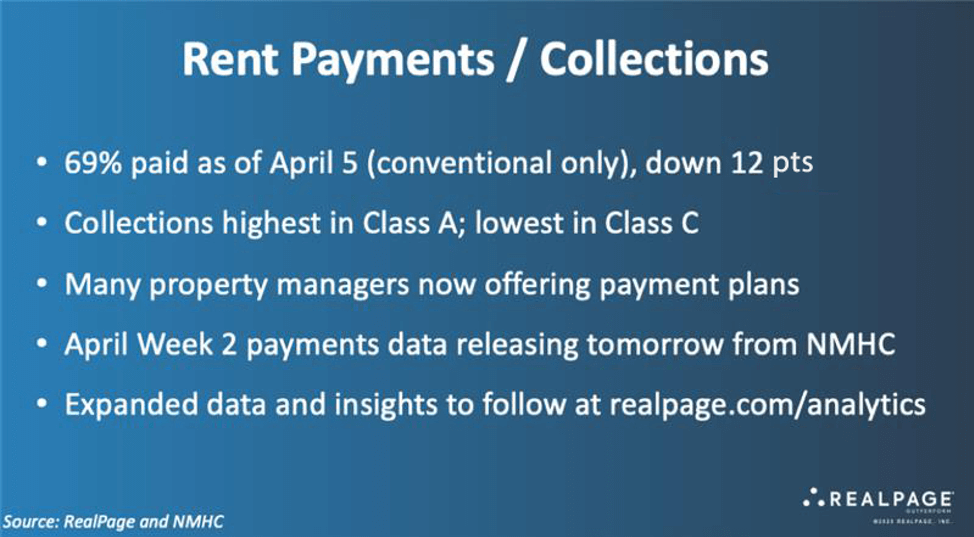 CAPREIT: A REAL ESTATE OPERATING COMPANY'S COVID-19 RESPONSE
Miguel Gutierrez, the Chief Operating Officer for CAPREIT, shared about the various and constantly evolving measures CAPREIT was taking to continue to deliver great resident service while minimizing the pandemic's impact on portfolio performance.
"We've established a core group that constantly reviews the latest regulations and policies to provide guidance in the field." He also noted that CAPREIT created an internal COVID-19 site with informational guidance and that the company president sends a video message every night to the entire company.
Not surprisingly, the frequency of reviewing collections has increased—and those are now reviewed on a daily basis by investors and the executive team. Although he is expecting to see the retention rate boost from its previous 57% rate to around 70%, one area of concern has been the number of residents who have turned off the automatic payments function.
The most significant changes implemented have been the closings of leasing offices and amenities to the residents and the public. CAPREIT's ability to quickly shift to complete virtual leasing offices has been successful and enabled a contact-free move-in for 21 new residents in the past two weeks. Payments are now only received online or by mail and the efficacy of this shift is also being closely monitored.
Additional operational changes have included placing routine work orders on hold, with a regional service team monitoring the work orders to ensure important issues aren't overlooked. Maintenance is also making DIY tools and instructions available to residents. Common areas are more frequently cleaned, though housekeeping is an expense they will be reducing while amenity areas are closed.
Gutierrez also noted that resident engagement was another metric they were more focused on at this time to foster better resident retention. Metrics used to assess engagement are gathered from both their resident portal and social media. Increased steps they've taken to engage residents have included organizing virtual sing-a-longs, promoting local business offers, holding raffles for timely payment of rent and other portfolio-wide campaigns that help residents win prizes.
PUTTING APARTMENT DATA INTO ACTION: 5 BEST PRACTICES
Putting data into action starts with clearly communicating throughout the organization—from the corporate office to the community managers—what the company is trying to achieve and the strategies that will be implemented to achieve those goals, as well as the metrics used to measure their success. This communication becomes even more critical during a downturn, and accurate, actionable data and modeling become supremely valuable.
As the market shifts, you don't want to play from behind. Those who detect early signs of recovery first—and act strategically—will be best positioned to capitalize. The challenge is getting the right data to inform those strategic decisions. This is why lease transaction data is essential to reveal what is actually happening on rent rolls with lease signings and renewal rates—data that cannot be gleaned from asking rents or survey data.
Following are the 5 best practices that will help maximize performance in the face of COVID-19, the KPIs you should focus on, and what actions to take with them:
Best Practice #1: Push for occupancy but don't give away the farm (i.e., pricing) and don't let high occupancy become an albatross (i.e., reduced screening).
Actions: Focus on forward-looking rent numbers in various cohorts at 30/60/90 days. Look for lease expiration management patterns by bedroom type. Monitor the number of residents on payment plans, and review collections on daily basis and relative to historical collections.
Best Practice #2: Protect your leasing team through remote work options, while measuring the effectiveness of your remote leasing operation. Consider outsourcing some functions like your call center and billing—even if on a very limited scale or temporary basis—to ensure quality service continuity. Your leasing teams are juggling a lot right now (e.g., working from home with their families, playing the role of homeschool teacher) while also trying to maintain your business. Empower them with tools and resources that will help them concentrate on selling units.
Actions: First and foremost, focus on new leases achieved relative to the amount of availability you have. Monitor the number of leases achieved. Understand traffic compared to guest card creation and factor in leasing effectiveness by looking at the timeliness of follow-up and the number of follow-ups performed per lead. If using a call center, monitor which channels are the most effective for engagement (e.g., current studies indicate that webchats are showing the highest conversion rates in the leasing process at 25%).
Best Practice #3: Drive retention to help keep occupancy high by offering flexible payment plans for those who need it and who have a track record for paying. Build a strong, interactive virtual resident engagement strategy to drive retention AND reputation.
Actions: Emails and texts are nice, but challenge your teams to find creative ways to engage the whole community to participate in message boards and portals, virtual contests (as CAPREIT mentioned above), trivia tests, photo sharing (one company uses the ActiveBuilding™ amenity features to showcase Facebook Live events, with their maintenance teams conducting online demonstrations of DIY fix-it jobs). Use ActiveBuilding and social media comments and responses to assess engagement levels.
Best Practice #4: Pursue cost-effective online marketing strategies such as SEO and SEM (Search Engine Marketing or Paid Search) that enable you to turn up the volume or reduce the frequency and associated costs, as needed. Also use this time to ensure your property website has fresh, rich, relevant content.
Actions: Don't focus on the closed amenities—highlight the in-unit amenities, portal features and website pages that are driving clicks Monitor keywords to your highest-trafficked pages and target SEO/SEM buying.
Best Practice #5: Balance the internal and external dynamics. Don't fall into the trap of following handpicked rent comps off a cliff. Let your internal data dynamics guide you and use transactional market data for context and decision support—and to indicate when you can start being more aggressive with pricing.
Actions: Utilize external benchmarks from tools like RealPage Benchmarking and other trusted industry data for greater accuracy and relevancy. With your pricing strategy, look at supply holistically and not just at new leases on the demand side.
For the complete discussion on COVID-19: Staying Ahead in a Crisis with Analytics, including answers to viewer questions, watch the webcast on demand anytime here.
Have a question about our products or services?