COVID-19: Impact on Remote & Outsourced Services (Webcast Summary)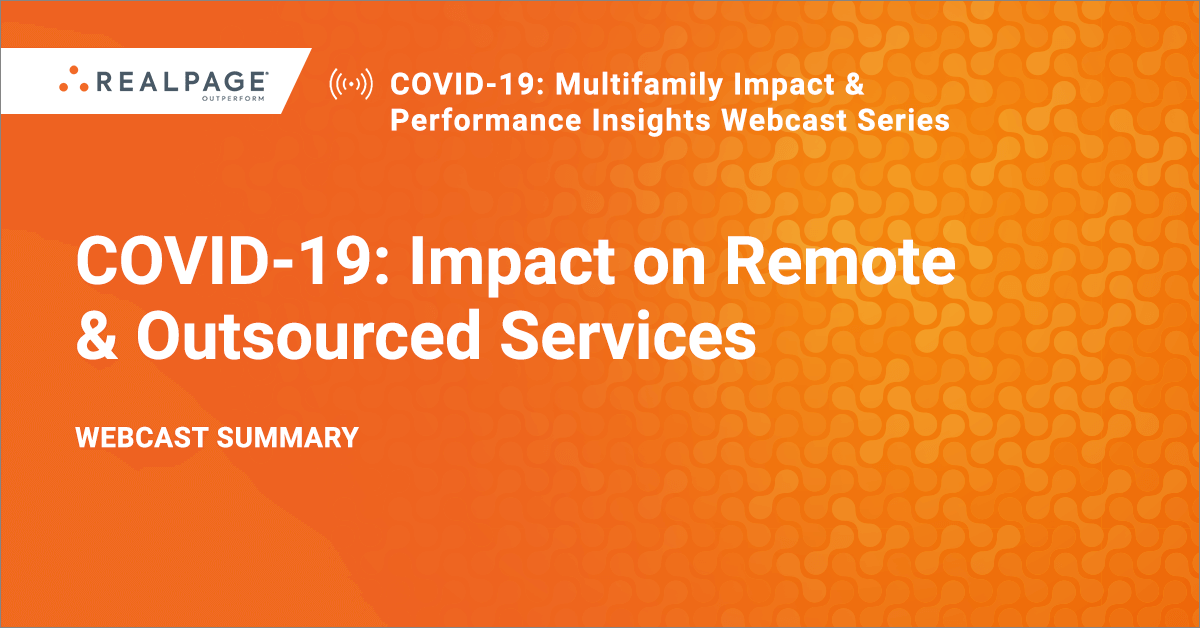 To support the multifamily community through the current COVID-19 crisis, we've launched a series of discussions centered around its impact on the rental housing industry with the latest data, expert insights and actionable measures stakeholders can take to minimize fallout. You can register for upcoming webcasts and watch previous episodes on demand at the COVID-19: Resource Center.
This is a condensed summary from the sixth webcast in the series, COVID-19: Impact on Remote and Outsourced Services, broadcast on April 2, with RealPage® VP and Deputy Chief Economist Jay Parsons, VP of Outsource Services Scott Holcomb, SVP of Spend Management Sara Jones, VP of Renter Engagement Nikhil Venkatesh, VP of On-Demand Learning Katie McCaslin and Senior Director Customer Success Management Nicole Levin.
Special guests included: Melissa Gill, SVP Accounting, Stonemark Management, and Erica Duda, Controller, Redwood Capital Group.
LATEST ECONOMIC UPDATE
Everyone in the industry is focused on how much rent is paid this month with so many Americans out of work. A staggering 6.6 million unemployment claims were filed last week, and the Federal Reserve of St. Louis said it's possible that up to 47 million people will lose their jobs, pushing the unemployment rate to 32%. Despite unprecedented job loss this year, recovery of most positions is expected in 2021.
The $2 trillion stimulus package, called the CARES Act, will be providing additional monetary unemployment benefits and one-time cash payments to many Americans. The looming questions are not only when the stimulus funds will reach the hands of renters but—given the Act's temporary protections against evictions and late fees—whether they will apply relief income to rent payments? We are watching those numbers closely and collaborating with the National Multifamily Housing Council to create an industry-wide tracking report on rent payments beginning this month.
REMOTE TOOLS AT THE FOREFRONT OF THE BACK OFFICE
Perhaps the next biggest question after "Will my residents be able to pay rent?" is "How do you maintain operational continuity during a time of tremendous uncertainty, heightened risk and potential staff outages?" With many businesses having to adapt quickly to managing a remote workforce, we spoke with industry veterans from across the country to see what tools they're using to surmount the challenges.
"Improved Back Office 100%"
Melissa Gill, SVP Accounting at Stonemark Management, shared how a decision they made a year ago equipped them for today's pandemic. "A year ago we implemented RealPage SmartSource™ as part of a technology overhaul. We rolled out new laptops, trained on Teams and other collaboration tools and it has proven to be invaluable now. I'm in Vermont with team members in Georgia, North Carolina, South Carolina and Alabama—and everyone is accessing everything seamlessly. It's been phenomenal and improved back office management 100%."
With SmartSource, companies like Stonemark can ensure their teams—almost all of whom are now working remotely—can access data and preserve productivity and continuity with a secure platform that reduces threats and risks like ransomware. SmartSource works closely with every partner to identify the specific tools and configurations needed so devices like laptops are pre-installed and can be used right out of the box.
Stay in Compliance
A large part of the multifamily industry includes Affordable Housing, and the challenges they are facing have been magnified due to an overwhelming lack of supply—in physical assets and human capital. The COVID-19 crisis adds further challenges for affordable housing operators. However, RealPage Compliance has been instrumental in addressing their needs for greater resources that can be utilized remotely. RealPage Compliance supplements on-site staff deficiencies by expediting processes like certification approval that help ensure compliance requirements are met. Additional services like Document Management are also helping advance Affordable toward more paperless efficiencies that better manage workflows.
Although compliance is typically viewed as applying only to tax-credit and affordable housing properties, more cities are mandating that developers set aside a portion of their units for renters at certain income levels—and this means Class A operators will have to meet compliance. But instead of hiring specifically for a sliver of your portfolio, RealPage Compliance provides experts with a deep understanding of federal, state and municipal regulatory complexities who can manage the complete documentation process and navigate the Enterprise Income Verification (EIV) system.
Protect and Empower On-Site Employees
On-site teams are superstars, running businesses that are usually worth tens of millions of dollars. Erica Duda, Controller for Redwood Capital Group, shared how COVID-19 has transformed some of Redwood's business practices. "Our biggest concern was for our on-site employees who can't work at home. We closed amenity areas and office foot traffic and completely shifted to online leasing and virtual tours."
Other online tools that can help the front office drive lead-to-lease conversion rates include Answer Automation, which answers phone calls and other inbound messages from prospects and residents—ensuring leads don't get lost. Our analytics show increased usage of this service over the last few weeks. Leasing Assistant, AI chat, texting and enhanced guest cards are additional CRM tools that empower front office staff with better access and understanding to help prospects and meet their needs. The RealPage Contact Center personalizes prospect and resident experiences with live agents who have extensive training for converting leasing inquiries into online applicants and handling maintenance requests.
Reliable Accounting Staff and Payment Plan Guidance
When it comes to finding accountants to fill staff shortages, Erica relies on SmartSource. "They cover all contingencies. If an employee becomes ill, they cover it. From our perspective, it's been very seamless when it comes to accounting." SmartSource has the scale and talent to handle AR, AP and reporting for single properties or entire portfolios. Erica has also found SmartSource critical under current conditions with creating and tracking repayment plans. "We'll be doing more of this with them."
Onboard Qualified Vendors Fast
Finding qualified vendors under today's lock-down circumstances is exceptionally challenging. RealPage's Vendor Marketplace helps solve this problem. Owners and operators can easily search and view profiles. You can see their qualifications, insurance certifications and other experience. Credential Key helps expedite the selection process, making it possible to quickly onboard vendors who meet your insurance requirements. Once contracted, invoicing can be done 100% electronically. The elimination of paper invoicing processes can measurably improve productivity: reducing the average time to process with paper from 33 days to between 5 and 10 days.
Create an Exceptional Brand
Despite this cataclysmic downturn, consider using this time to build up your brand with rich content like compelling photography, 2D and 3D floorplans and engaging Matterport videos. RealPage PropertyPhotos™ is an integrated online solution that enables you to create, manage and protect content that can boost your Google search rankings and your online reputation. With RealPage Reputation Management, you have a remote team dedicated to monitoring negative reviews and responding quickly to address issues raised.
Flexible, On-Demand Property Management Training
EasyLMS is RealPage's learning management platform that not only solves for traditional needs of onboarding new employees, but also focuses on cultivating and retaining top talent for long-term employment. Especially now, EasyLMS opens the bridge of communication by creating a learning space where teams can connect, and engagement is fostered by rewarding task achievements. Customers can utilize the extensive library of available content, including a course-specific to pandemic awareness, as well as create custom content for their communities.
Performance Advisors Equipped for Crisis
Using outsourced services requires a trusted team of advisors who partner with you to help execute your goals and guide you through crises. RealPage Performance Advisors are a unique group of individuals—including former consultants, regional managers and executives with extensive industry expertise—specially equipped to provide insights and solutions that can help customers address Rent Week challenges and how to effectively communicate with residents. Performance Advisors also help customers leverage RealPage's data analytics to make the best business decisions.
To see the complete session, COVID-19: Impact on Remote and Outsourced Services—including all expert insights, guest interviews, survey and Q&A responses—watch it on demand here.
Have a question about our products or services?