COVID-19: Impact on April Rent Payments, Leasing Traffic and More (Webcast Summary)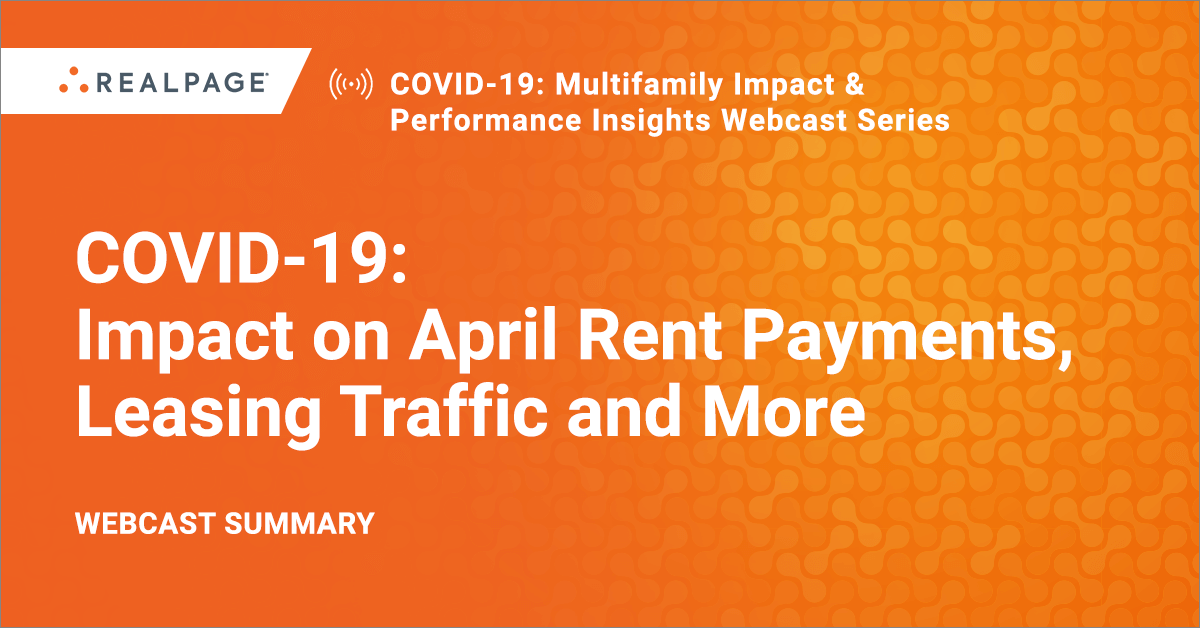 To support the multifamily community through the current COVID-19 crisis, we've launched a series of discussions centered around its impact on the rental housing industry with the latest data, expert insights and actionable measures stakeholders can take to minimize fallout. Register for upcoming webcasts and watch previous episodes on demand at the COVID-19: Resource Center.
This is a condensed summary from the webcast, COVID-19: Impact on April Rent Payments, Leasing Traffic and More, broadcast on April 9, featuring RealPage® Chief Economist Greg Willett and Vice President/Deputy Chief Economist Jay Parsons.

ECONOMIC UPDATE
Nearly 17 million jobs were lost in three weeks, indicating that we may be reaching the point where job cuts are now enveloping major corporate employers outside the hospitality, retail and entertainment industries. Such implications raise broader concerns about future consumer and business spending, as well as about how this will impact the country's finance and banking system. This trajectory would mean we're moving from a sharp but short "V-shaped" recession pattern toward a more prolonged downturn.
APARTMENT RENT PAYMENT TRACKER
As part of unprecedented industry collaboration, the National Multifamily Housing Council (NMHC) created a nationwide Rent Payment Tracker with RealPage and other property management system providers contributing rent payment data.
The results for April Rent Week (April 1- April 5) showed 69% of conventional apartment households paid rent—a decline of only 12 percentage points from March and 13 percentage points from April YoY. The share of rent payments paid online jumped 20% compared to the same time last year. Over half of webcast attendees polled (53.3%) considered the 69% payment performance better than expected.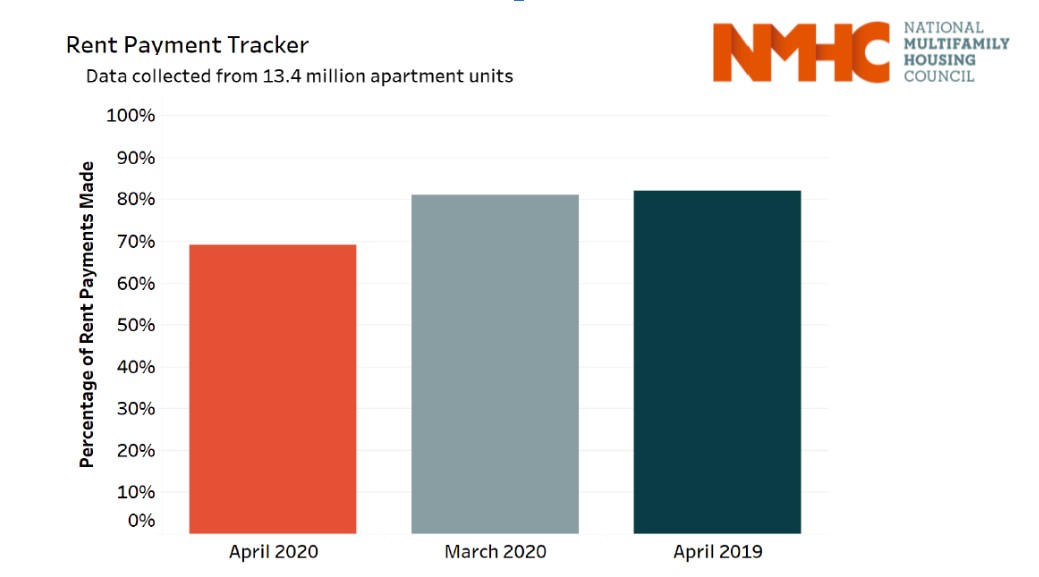 APARTMENT RENT PAYMENTS BY ASSET CLASS
Class A properties saw a decline of 9 percentage points in on-time rent payments by April 5. Class B fell off by 11 percentage points and Class C, the most affordable market-rate units, were down 17 percentage points.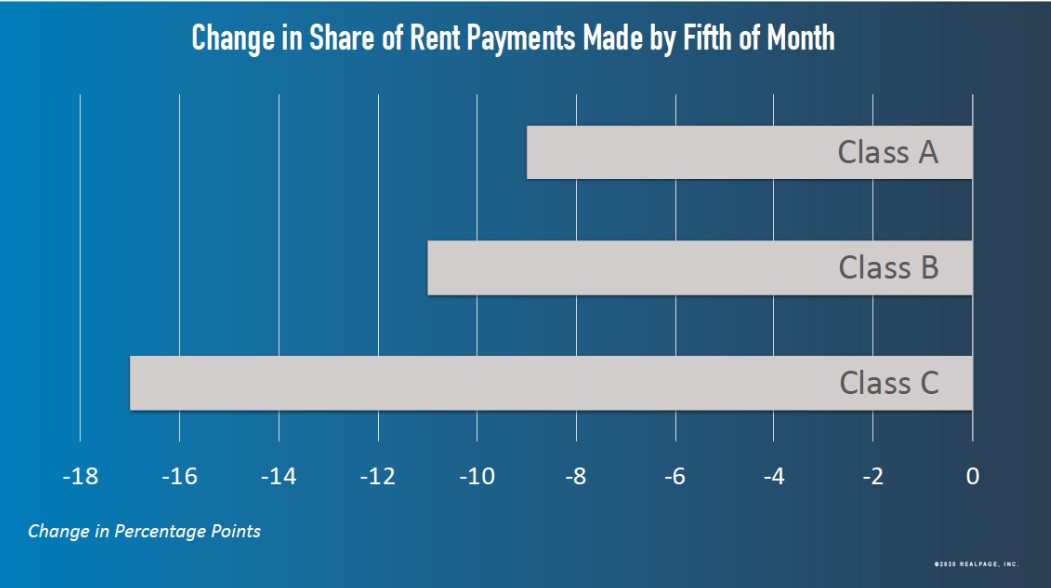 APARTMENT RENT PAYMENTS BY METROS
Five large metros—Salt Lake City, Nashville, Kansas City, Las Vegas and Detroit—reported on-time payments down between 14% and 17%. New Orleans experienced the largest decline with rent payments down by 28.5%, a direct result of the tourism industry shutdown in addition to Mardi Gras—identified as a "superspreader" event for the novel coronavirus.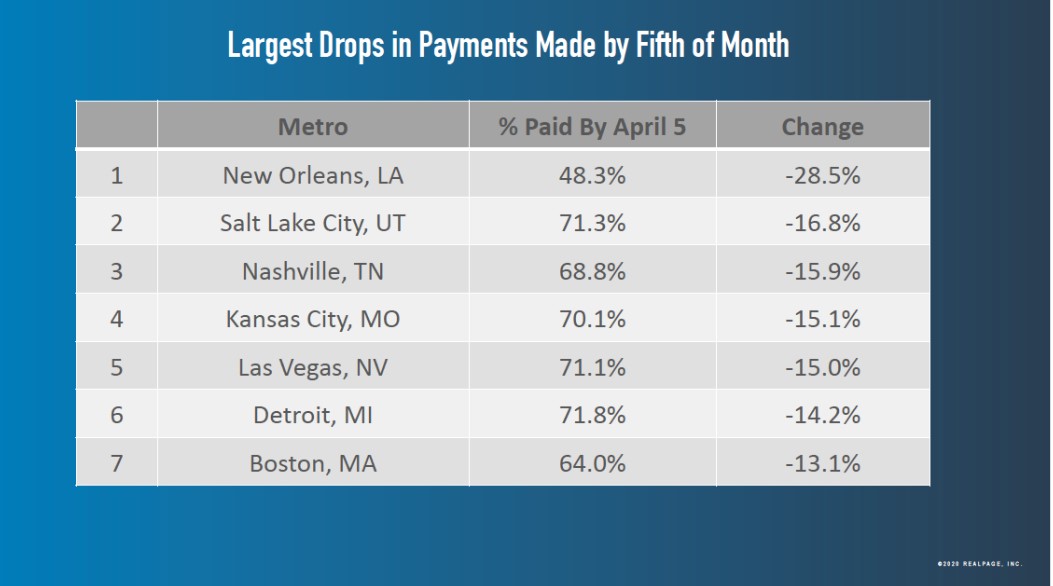 Nine key markets—Tampa Bay, San Antonio, Denver, Phoenix, Austin, Dallas/Fort Worth, Los Angeles, Seattle and Charlotte—performed better than the national average and saw on-time payments slide by around 7%-8%. Raleigh experienced the smallest loss at only 4.1%.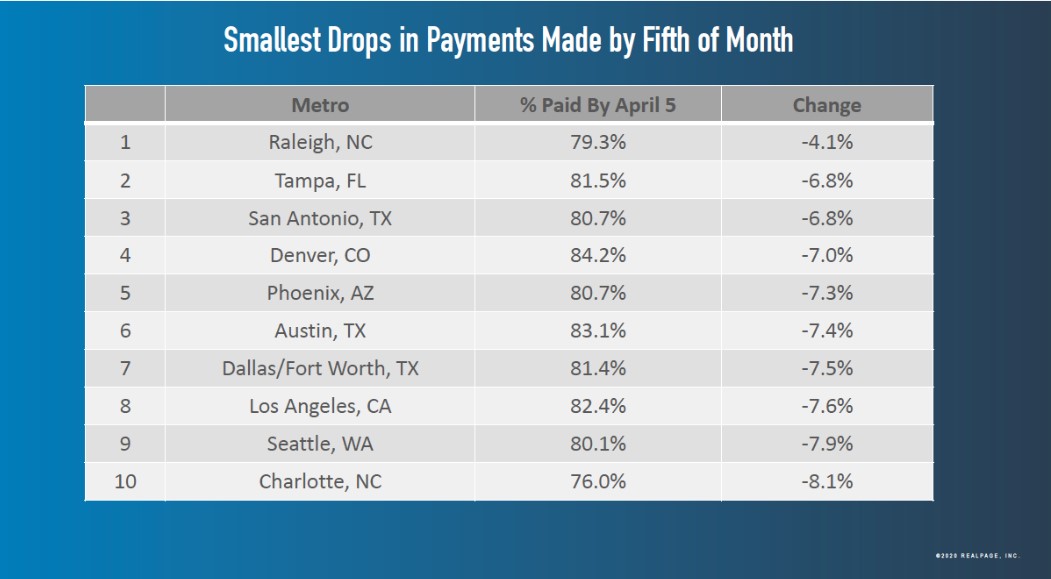 RENEWAL DEMAND AND OCCUPANCY
COVID-19's torrential impact on the economy and healthcare will create high renewal demand over the coming months. In periods of uncertainty, renters display a root behavior and remain at their current residence. This was evidenced by a huge spike in rescinded non-renewal notices (i.e., when a renter gives move-out notice, changes their mind and remains at the property). In the most recent 7-day period, rescinded notices jumped 20% compared to the same period last year.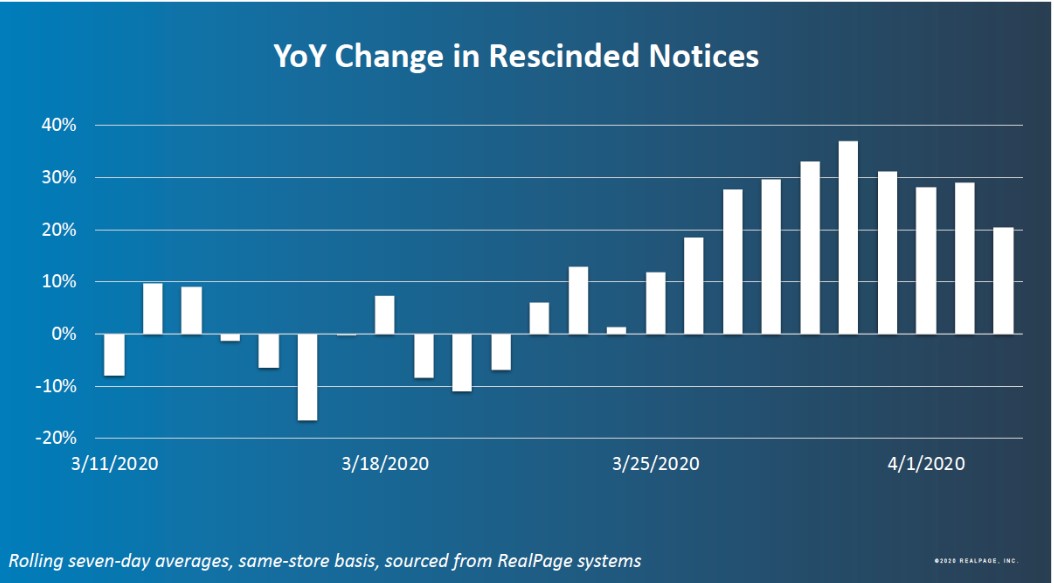 LEASING TRAFFIC AND GUEST CARD TRENDS
Class A properties and larger primary markets generally saw the sharpest declines in leasing traffic. The West region of the country, home to some of the nation's most expensive markets, recorded outsized drops in website traffic, guest card creation and new lease signings.
Class B, C and tertiary markets saw comparatively lesser declines in traffic and leasing activity, due in part to these segments' lack of competition with most of the new supply. Singling out tertiary markets in particular: Year-over-year declines in new lease signings have held around 25% for the past two weeks, compared to a consistent 40% drop in primary metros.
If payments in Class B, C and tertiary markets rise in the days following Rent Week, this will indicate renters paid with physical checks, which take longer to process with closed offices.
Despite website traffic and guest card creation bottoming out around March 25, with guest cards down nearly 35% and website traffic down about 20%, while these metrics are still down year-over-year, the trend is now curving upward.
NEW LEASE DEMAND
New lease signings over the 7-day period of March 29-April 5 plummeted 40%. In the wake of COVID-19, both new lease demand and renewal demand must now be considered equally. Currently, it doesn't matter if occupancy comes in the form of a new lease or existing renewals. Renewal demand should help offset, to some degree, the declines in new-resident lease demand, and if operators remain disciplined, this could help avoid large rent cuts in new-lease pricing.
FORECASTS
Based on the occupancy figures seen during the Great Recession of '08/'09, (where occupancy dropped from approximately 94% to 92%), a minimum occupancy decline of 200 basis points is predicted. Given the greater job loss and new supply on the way, the decline is expected to be bigger, with the caveat that the starting occupancy is closer to 96%.
Rent change decline is expected to be smaller than during the Great Recession, based in part on greater performance transparency that will enable better-informed decision support. Most owners and operators will not make concessions in the face of limited demand and will further adapt lead-gen strategies. Recommendations include changing resident screening criteria. In a downturn, risk management and protecting occupancy tend to move up on the list of priorities. Other tactical measures include adjusting marketing spend and reexamining more cost-effective methods for lead generation.
For the complete discussion on COVID-19: Impact on April Rent Payments, Leasing Traffic and More, including answers to viewer questions, watch the webcast on demand anytime here.
Have a question about our products or services?