Augmented Intelligence Chat Boosts Virtual Leasing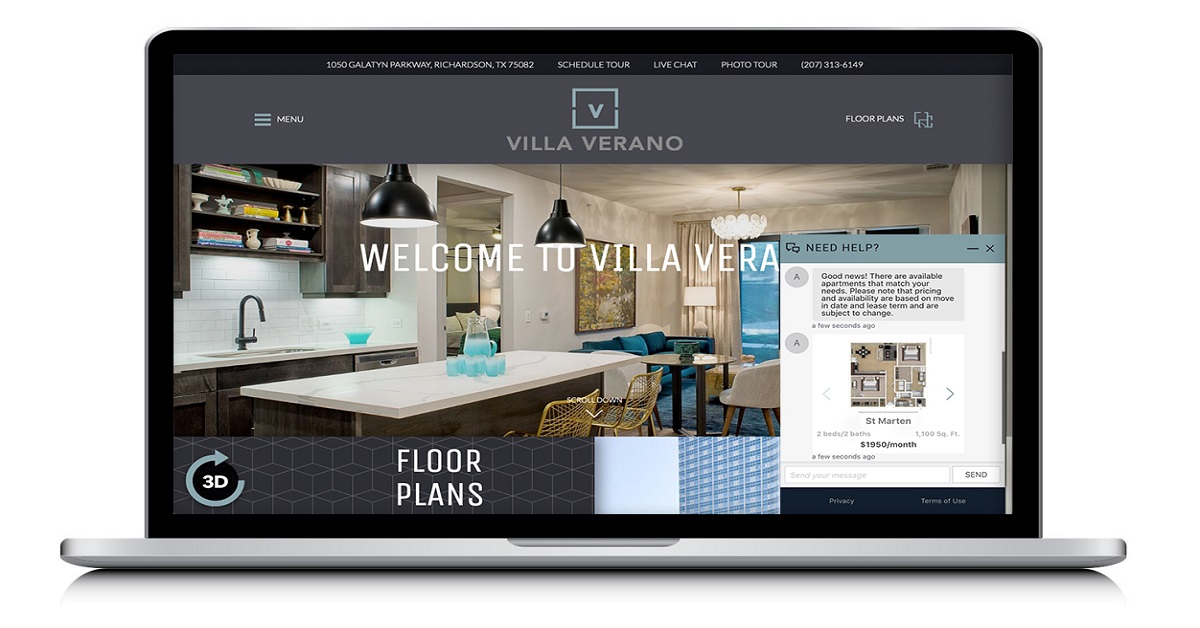 Virtual Leasing is here to stay, and it most certainly will grow in importance. COVID-19 made it a necessity for the multifamily industry. Months of use by property management companies proved its power.
At the same time, it is new territory for many, and its possibilities are still in the process of being discovered. But properties need to know how to make the best use of virtual leasing now. They face the pain point of the unknown, a result of COVID turning the market topsy-turvy. And they face the pain point of learning a new technology while trying to maintain the personal level of service their teams are known for.
Essentially, this all comes down to people and technology working together. That would be the specialty of Paige, a new virtual leasing solution from RealPage. Paige features Augmented Intelligence, which combines an AI chatbot with live support to increase prospect engagement.
A typical AI chatbot can answer a prospect's questions about price, availability, scheduling a tour, amenities, pet policies, etc. Paige's difference is that, if the AI chatbot is not able to answer a question, it warm transfers over to a live agent from either the property's leasing team or RealPage's Contact Center, who can then handle the rest of the conversation. Warm transfer means the agent has all the communication history available to them in order to pick up the conversation seamlessly. It's a fluid experience. Additionally, Paige can direct prospects to a live agent at any time they ask for one.
According to Jennifer Cashier, RealPage VP of Contact Center and AI solutions, "Paige answers 95% of the types of questions that come in and the other 5% transfers over to a live agent. So, 100% of your communication is addressed. And the cost is actually 30% less than a traditional live agent chat and text solution. I'm excited to say that we expect to be launching voice by the end of this year."
The Power of Now
Owners and operators know that they have to build a relationship with leads the moment they make contact with the property. Engagement needs to be instant and as uninterrupted as possible so that prospects keep their focus on the property and only that property. That isn't easy. The Paige solution makes it easier.
You can think of a prospect's experience as "consecutive moments of now". There's a lot going on in their lives and minds that can change on the spot as new information comes in. For example, they may realize they know very little about the property. In fact, they may not know what they're looking for in a property at all. They may be in a time crunch. Different questions come to them at different times. Meeting their every question in the moment can reduce concerns and begin building their confidence that this is the place they want to call home. Paige does that 24/7 by tag-teaming people and AI so that every "moment of now" is addressed.
A Better Connection
Paige changes the nature of a property's interaction with leads. One reason is that Paige does a lot of the heavy lifting upfront.
Kortney Balas, VP of Information Management at JVM Realty, which recently deployed Paige, describes it this way: "Paige serves up a customer who's more ready to lease. She simplifies the search process. Before Paige, many of our prospects seemed to be coming in cold. They would just pick up the phone and ask agents the most basic questions about pricing and availability and amenities, as if they didn't go to other parts of the website to find out about the community. Now they're connecting with Paige and getting the factual answers they need right away. She can even give them a picture of the floor plan. The experience has a positive emotional effect on the prospect. The relationship has begun. Once Paige warm transfers the prospect to an agent, the two are able to build a deeper connection."
Jeffrey Butcher, National Leasing Director at JLB Residential and a Paige user, notes that agents have long been used to answering the basics as part of the sales process. With Paige handling much of that, agents now can turn their attention to getting emotional buy-in in this new, virtual world. People make decisions to buy based on an emotional connection, not necessarily on what they can touch and feel. His teams have been learning how to gather the needs, wants and desires from the prospect and getting a sale based on understanding the root of their emotions. The leasing teams are not merely using the basics that Paige collects as information. They are looking at it as a "pre-story" to assist them in connecting even more deeply with leads. Consider it a window into the prospect that helps agents anticipate their thoughts and needs.
Says Mr. Butcher, "At the end of the day, if we treat our clientele the same way we have for years and years and years in the industry, we're not doing anything different. So, we've been able to adapt and really change and use this virtual world that we're in to sell the value of our homes based on the emotional state of our client."
Results Are Coming In
Paige's Augmented Intelligence solution is a new arrival on the virtual leasing landscape. Right now, Paige is deployed in ten property management companies comprising more than 11,000 units. There is enough data coming from these sources that prove Paige is working.
Jeffrey Butcher says that, overall, 15-30% of leads coming in to JLB Residential participating in the Paige launch on a given month are attributable to the Augmented Intelligence solution. Additionally, those properties moved from answering the phones onsite at 0% to upwards of 86% of the time. He makes special note of the situation at The Register, a new JLB property in Richardson, Texas that opened in early July. They have been bombarded with leads, but in a high functioning way. It's ending up as one of their most successful lease ups based on the amount of people who want to come in, talk and tour.
JVM's Kortney Balas comments that, in September 2020, 57% of visits were being set by Paige alone, without even rolling over to a live agent. She describes Paige as very low risk and very high reward.
Mr. Butcher puts a bow on it: "At the Register, Paige has allowed my clients to have somebody to touch base with them and answer questions instantly. The amount of sales that we're able to get now, based on the relationship that was built prior to the Register's opening is a good testament that we're doing something right in the virtual world."
Learn more about maximizing conversions with RealPage AI Chatbot.
Have a question about our products or services?