As stewards of the multifamily housing industry, we each have visions for the apartment of the future. Some may see it as a techno-eccentric unit, a place in a world unto itself that stimulates the imagination and promotes self-indulgence in urban playgrounds. Others could argue it supports sophistication, lifestyle and basic essentials and redefines the old real estate axiom of location, location, location.
Talk to any developer or apartment operator and they'll agree that the shape of multifamily now is likely to morph into something far beyond the traditional, even by today's standards.
But exactly what shape that will take is an unknown. Today's multifamily has transformed into something unlike what multifamily forefathers who lorded over the first apartment in ancient Rome ever imagined. And with a diverse stable of renters living in a world where lifestyles and processes change as quickly as a YouTube video goes viral, trying to imagine the apartment of the future is no easy proposition.
People believe that home is a reflection of their identity
The National Multifamily Housing Council has a vision of what apartments may look like 25 years from now. In "Disruption," NMHC shares what it believes will be the way that industry must house a renter population that is destined to grow by 2030 when 4.6 million more apartments will be needed just to keep up.
Multifamily operators, says the report released in January, will find themselves in front of a mixing bowl tossing in ingredients like technology, personalization, demographic and household formations, employment, transportation, shopping habits, health and spaces to come up with the right brew.
The upheaval of all things once considered the norm to multifamily operators is not only requiring a new recipe but perhaps the cooking process as a whole.
"If you look at other industries in real estate—office, hospitality, retail, and you're starting to see restaurants—they've all been disrupted," says National Multifamily Housing Council Vice President of Industry Technology Initiatives Rick Haughey.
On the surface, images by KTGY Architecture + Planning that accompany the 27-page report paint a futuristic picture of apartments and commons possessing sleek, ultra-modern simplicity with straight lines and expansive curves that promote self-expression and casual sophistication.
In the weeds, however, NMHC offers a much more complex view of housing's transformation from a commodity to the reflective nature of how people view themselves and their homes, and how the industry will get there. NMHC says, based on a recent consumer housing insights survey, that 60 percent of people believe their home is a reflection of their identity. And its vision is one that satisfies the needs of future residents beyond pastel walls and granite countertops.
To get to where NMHC envisions, however, the apartment industry must embrace changing consumer habits and a buying mentality that defies the traditional marketplace. It also must continue to shed the stigma of being slow to keep with the times.
According to NMHC, just 17 percent of Americans say "innovative" describes apartments very well.
Taking the future of apartment living head-on
The survey takes the future head-on.
Among the highlights, NMHC has identified several "tectonic shifts" that are "poised to radically reshape our customers' expectations and experiences, as well as multifamily's approach to designing, developing and operating our communities."
Technology, given advances in robotics and artificial intelligence, will be a big player rather than an add-on accessory or appliance. Also, a lifestyle-focused apartment will be as important as the location and layout.
Despite the temptation to appease the Millennial generation, apartment communities will have to transform from traditional floorplans to adapt to a greater variety of households and housing needs that are expected to be impacted by America's aging population and immigrants. Boomers are living longer and already have made their desires to rent known, and immigrant households are expected to bloom. Hoyt Advisory Services research suggests that immigration will surpass internal population growth for the first time by 2024. NMHC says that immigrant households are larger and more likely to rent and more likely to rent longer.
"Together, these trends suggest a strong future for demand for not only rental housing in general but product that can accommodate larger families and multigenerational households—and be affordable to boot," the survey says.
Hoyt Advisory Services says, "Single housing rental units and larger apartment units will observe the most demand pressures from this demographic trend. With lower-than average income, rental unit affordability stress suggests that low-amenity larger units will be in very high demand for some time."
In addition, future apartments will have to accommodate a workforce that depends on mobile technology and that growth of nontraditional jobs impact housing decisions. Because many now work from home, the apartment of the future likely will be transformed from workplace to living space within the course of 24 hours.
Also, tomorrow's apartment communities will have to be integrated into the fabric of the community more than they are today.
"Apartment communities may also provide for spaces that can have multiple uses and be shared for neighborhood needs," the report said.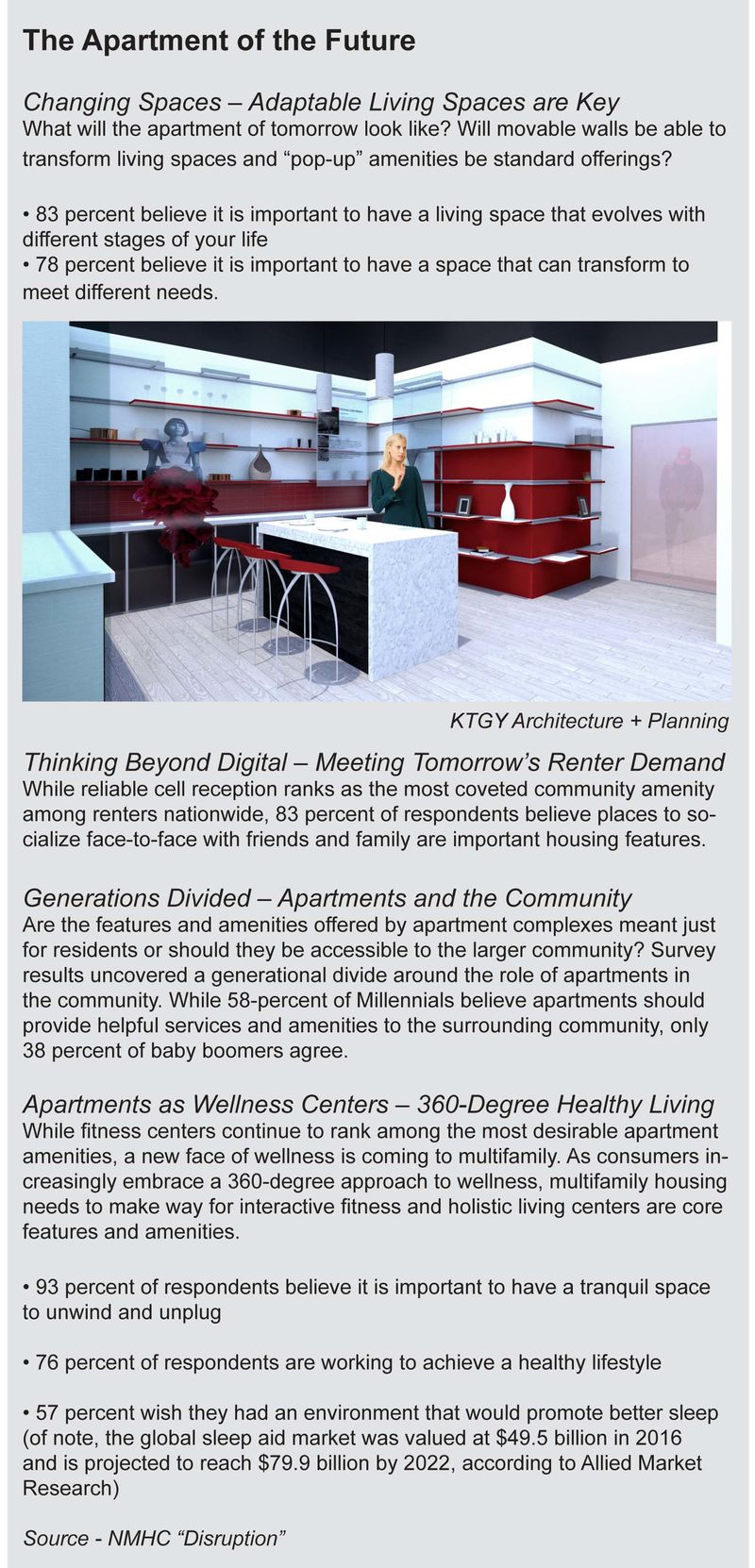 A growing fickle marketplace hinting what the future will hold
Throughout this apartment transformation, the marketplace will undoubtedly change as technology-driven consumers live and shop online, NMHC says. A January Pew Research Survey notes that as smartphones and other mobile devices have become more widespread, more than a quarter of American adults go online "almost constantly."
"Hyper-informed and empowered by a tsunami of personalized, networked data, today's consumers control their own destinies and expect immediate gratification 24/7—and that will become exponentially apparent as younger generations influenced by 'friends' around the globe take command of consumption."
A big challenge, if those looking into their crystal balls are calling it right, is the growing fickleness of the marketplace. Ninety percent of the U.S. population is expected to connect to the grid via smartphones in the next 25 years, experts say, and consumers will expect companies to know their preferences and next moves before even laying eyes on them. A Salesforce.com poll of 7,000 consumer and business buyers reveals that most are likely to switch brands if they're treated like a number, the report says.
In that case, customer loyalty may very well be dead, and "companies that aren't dominating consumers' screen time or making their lives more convenient will lose in what Silicon Valley sage Ray Wang, founder of Constellation Research, calls today's 'attention economy.'"
Nine out 10 survey respondents in NMHC's survey say that convenience in important to them, and it's handy to make transactions online, which begs the question, how does the multifamily industry fill vacant units and build renter retention knowing that consumers are likely to jump to the next best thing that comes along?
The answer appears to be in creating the ultimate living experience for a consumer base that is somewhat maverick in the way it goes about making purchases. That experience is going to be have to front-loaded with a focus on lifestyle, according to the report.
Developing mix of space to promote retention will be key
So much of multifamily leasing and retention already depends on establishing the right mix of space and amenities that develops loyalty. It's likely going to be more important 25 years from now.
How the apartment of the future ultimately shapes up awaits. And developers and operators may have different interpretations of what it looks like based on strategic plan and long-term goals over the next two or three decades.
But "Disruption" suggests that today's consumers are already pioneering future housing demand.
And it's time to listen and start planning ahead.
Have a question about our products or services?