American Landmark Streamlines Apartment Maintenance with Mobile Tech, Slashing Time and Increasing Asset Value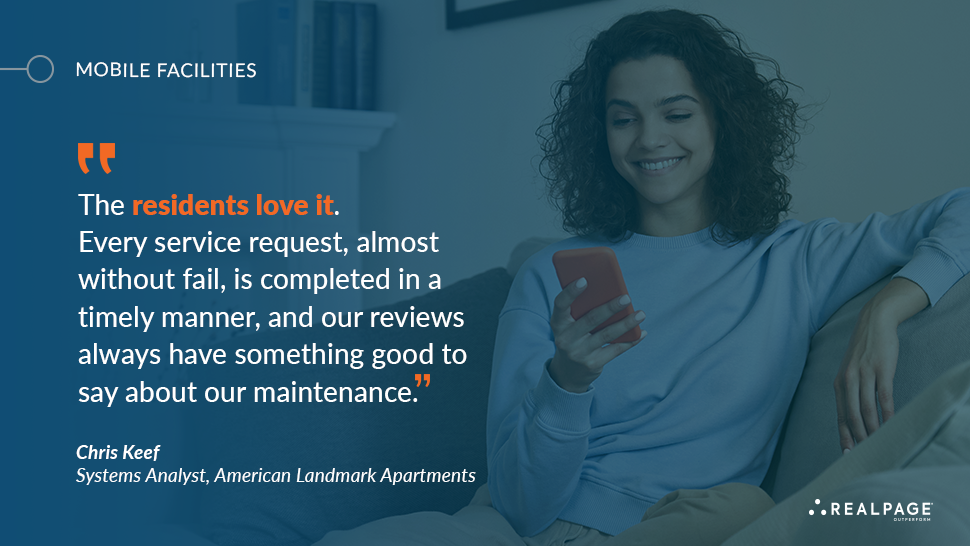 Like most successful multifamily companies, American Landmark keeps a constant eye on efficient cost and labor-saving operations. Focusing on distressed multifamily properties and renovation opportunities, the company seeks to add value not only through improvements, but also by tuning up the properties' operations and NOI to increase their asset value in anticipation of selling them, usually in a window of three to five years.
One of the most exciting developments in the company's pursuit of operational excellence has been in the critical area of apartment maintenance – not only a significant money and time sink in multifamily, but also at the top of the list of items that impact resident satisfaction.
Keeping apartment maintenance techs on the move
American Landmark's adoption of RealPage's Mobile Facilities has utterly transformed the traditional leaky, paperwork-heavy maintenance process into a watertight, streamlined model of efficiency.
"Most multifamily properties still do maintenance the old-fashioned way," says Chris Keef, the company's systems analyst. "Maintenance staff go to the front office to learn about their assignments. They might spend a few minutes there talking to leasing staff and sipping coffee. There's paperwork, and it might or might not be ready. Then they go to the unit to do the work. Then more paperwork. Then back to the office. In the era of mobile devices, this makes no sense anymore."
With Mobile Facilities in place, all the information and reporting the apartment maintenance techs need is on their mobile devices. They move from one job to the next without having to visit the front office, logging job status as they go. Supervisors and the front office can make changes in instructions on the fly. And everything's integrated with the property management software, so front office staff aren't spending their time creating maintenance paperwork and updating records on their computers. "What happens is that the maintenance staff spend their time actually doing maintenance, and your leasing staff has more time for their core duties, leasing apartments and keeping residents happy," explains Keef.
The apartment resident perspective
The property isn't the only stakeholder to benefit from Mobile Facilities. Residents win as well.
First and most importantly, maintenance requests are addressed a lot more quickly these days. And since maintenance is often listed as the #1 criterion by which residents judge their communities, this is a critical accomplishment.
"We implemented a 48-hour service guarantee," says Keef, "excluding special situations where a part must be ordered or the pandemic affected the order. In fact, we have actually been able to keep our average service time below 24 hours."
Residents can make their apartment maintenance requests online, saving a phone call or visit to the office.
The maintenance solution also keeps residents informed about the status of their requests and allows them to specify whether they want to be notified before a tech enters their apartment. This not only keeps residents happy, but eliminates calls to the front office. "The residents receive notifications when a ticket is placed on hold and why, when it's completed and what was done," Keef says. "The residents love it. Every service request, almost without fail, is completed in a timely manner, and our reviews always have something good to say about our maintenance."
The same efficiency that has come to typical maintenance tasks has also benefited make-ready maintenance and inspections. "We complete them on the app, increasing productivity without the supervisor or someone having to keep track of that gigantic, outdated make-ready board," Keef comments.
A transformed front office
A good proportion of traffic and phone calls coming into the front office has traditionally related to maintenance. Techs come in for paperwork, before and after jobs. Residents drop by or call in to report their problems. And then there's the maintenance-related transfer of information from paper to computer that falls to front office staff.
With Mobile Facilities, all of this is eliminated. "Those extra bodies in the front office spending time on maintenance-related issues aren't there anymore, so the leasing staff can actually work on getting apartments leased," says Keef. "Residents can quickly and easily make their maintenance requests online, so they don't have to make a phone call or stop by the office."
Peerless oversight of maintenance
Another beauty of the system is that all of the information going into it is being captured and is available for supervisors and managers to use for oversight and decision making.
As examples, Keef mentions that managers can learn more about how much time specific times of jobs are taking and see what types of parts are being used for budgeting. Many users of Mobile Facilities also use it to keep an eye on the job performance and efficiency of their teams and techs.
Maintenance information that's on paper in file cabinets serves nobody well. At best, it must be retrieved from files and compiled into reports. With Mobile Facilities, the data is at managers' fingertips, available for immediate use in their oversight capacities.
Achieving peak performance
Keef sees Mobile Facilities as just one part of a larger vision to better leverage technology in bringing peerless efficiency to the company's operations to achieve peak performance. He's particularly impressed by the benefits the company derives from the seamless integration f the solutions that drive operational excellence.
"When leasing and rents talks to accounting and budgeting, you get your business intelligence," he explains. "We've got online leasing, renewals . . . you can also integrate payments, screening, insurance. Since I started working with RealPage products in 2006, the whole idea was for there to be one place to go for everything. That's what RealPage has done for us; it's put everything together."
Mobile Facilities has earned its place as a vital component of this integrated suite of solutions, delivering value in both staff efficiency and the resident experience, and giving property managers deep insights into the maintenance function along with the ability to fine-tune it. Keef sums up his opinion of the solution this way: "It has changed maintenance from a necessary burden into one of our real strengths."
Please click to learn more about RealPage's Mobile Facilities solution.
Have a question about our products or services?