AI Chatbot Saves Leasing Agents Hours of Phone Time – Without Compromising Customer Service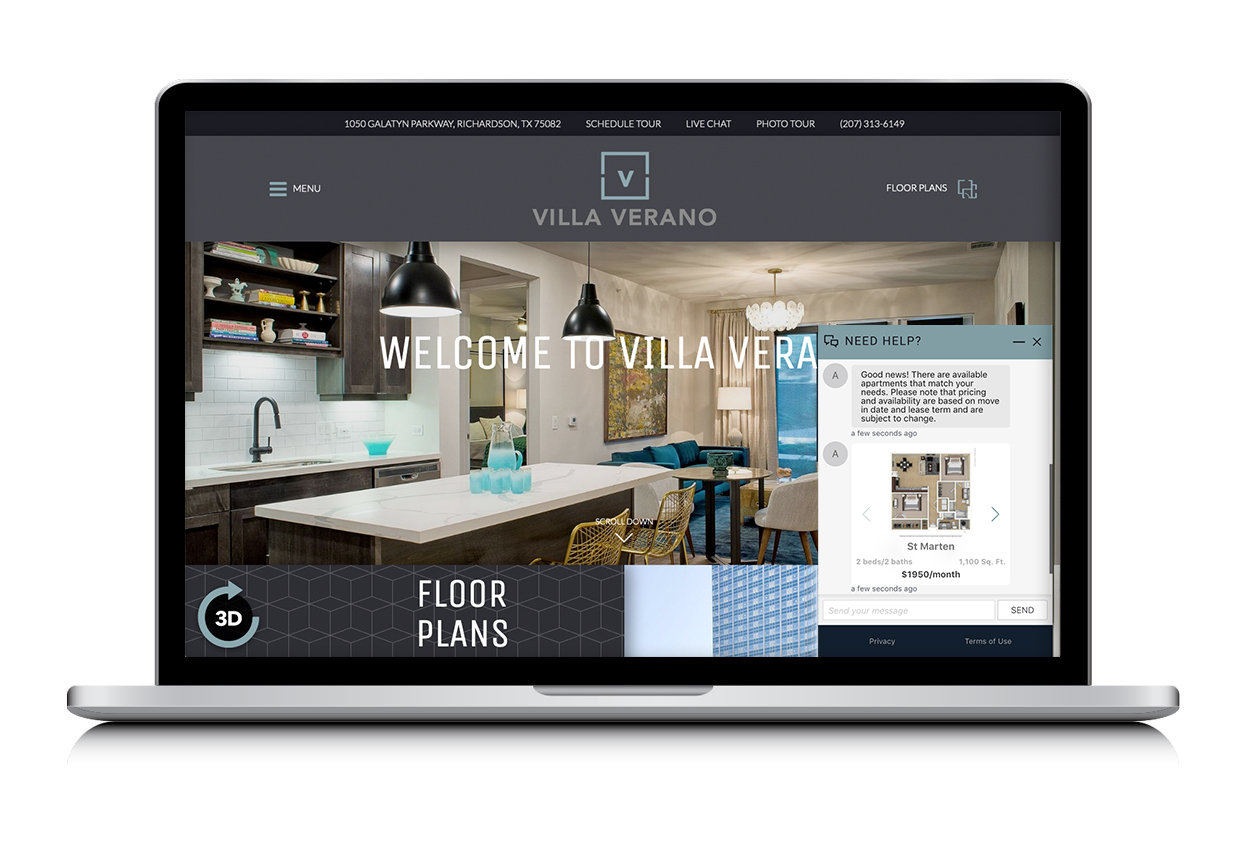 AI chatbots that can intelligently respond to prospects are providing multifamily operators labor-reducing options for handling incoming property inquiries. Automated chat has gotten smarter and far less frustrating, and when backed up by live agents can greatly relieve burdened leasing agents at a relatively low cost.
The AI chatbot revolution began about five years ago and accelerated last year as businesses were forced to work remotely. Across the U.S., the AI chatbot market is expected to reach $9.4 billion by 2024, up almost $7 billion from 2019, according to Business Insider. More impressively, a report from Juniper Research suggests that the consumer retail spend via chatbots worldwide is expected to reach $142 billion by that time.
Chatbots are getting better at dispelling perceptions that conversing with a machine is frustrating and unproductive. IBM notes that chatbots can now answer about 80% of standard questions, and 67% of customers used automated chat in 2019.
In multifamily, an effective chatbot complements a leasing or call center staff by answering basic questions quickly and knowing when to get a human engaged. Improved technology is enabling chatbots to understand questions and provide the right answers to keep the conversation moving. Rather than getting stuck on a non-standard question and potentially losing the consumer, the ideal chatbot smoothly transfers the call to a live agent.
RealPage's chatbot, called Paige, is these days very busy helping apartment prospects find the right home. And in doing so she is freeing site staff for other obligations and opportunities.
Paige is a great option for apartments working with limited or reduced onsite staffing, without compromising the quality of customer service or missing incoming leads. She also is there to welcome renters who want answers without engaging in a live conversation.
Augmented intelligence: a smart chatbot above the rest
Paige isn't your everyday bot with artificial intelligence. Her "augmented intelligence" puts her in a class of her own. If Paige can't answer basic questions about the property, including rents and available units, she gets help quickly. Prospects are automatically warm-transferred to a live contact center agent if the request is outside of her scope of support.
"This means she's engineered to complement rather than replace human intelligence, yet smart enough to answer many questions without human involvement," says Jon Pastor, SVP of Consumer Solutions at RealPage. "And she's the only AI bot that has leasing agent calendar integration, allowing the prospect to access real time pricing and floorplan availability and self-schedule a tour."
Paige started with the ability to answer common leasing questions about such issues as availability, pricing and pet policies, and is now capable of answering questions about fees, local schools, rent specials, amenities and more. And she's getting smarter all the time.
Cost-effectiveness of AI chatbot
Paige, who works around the clock, continually learns by successfully handling thousands of interactions.
Paige's performance compares favorably to live chat, at a 30% lower cost. Visit-set ratios have remained the same for AI chat as they have been for live chat, according to RealPage data. And Paige is getting the job done mostly on her own. At JVM Realty Corp., she set 57% of visits without rolling over to a live agent.
Lower cost is just one advantage of AI chatbots. They are available around the clock, and there when the leasing team is not available. Chatbots are also scalable and ready to work during peak hours, and they don't need coffee breaks.
And, chatbots respond as soon as a user engages them, so there's no frustrating wait.
Simplifying search
Paige has become a front-line ambassador at JVM Realty by helping prospects get information they need quickly about pricing, amenities and other information rather than waiting to speak to a live agent.
Kortney Balas, VP of Information, says JVM quickly realized that Paige actually educates website visitors more fully about the property than if they were to seek the information on their own.
"Paige helps them simplify their search," she said in a recent RealPage video. "If prospects are in a hurry, or maybe not disposed to navigate to various pages with information like floorplans and amenities, they can tap on Paige's shoulder and ask those questions and she delivers the information right away.
"The fact that Paige answers some of those basic questions and at least gets them going in the right direction is huge. It's bringing us a more educated customer and resident."
Paige complements LiveChat, which JVM Realty has employed for years. In fact, she has become an important team member.
"The integration of Paige is really helpful," Balas says. "She is serving up what's in our system just as a leasing agent would."
For more information about RealPage's Contact Center 3.0 and the new automated assistant or 24/7 Virtual Leasing Office, please visit www.realpage.com/contact-center/.
Have a question about our products or services?