5 Things to Know Before Considering Home Sharing in Your Multifamily Community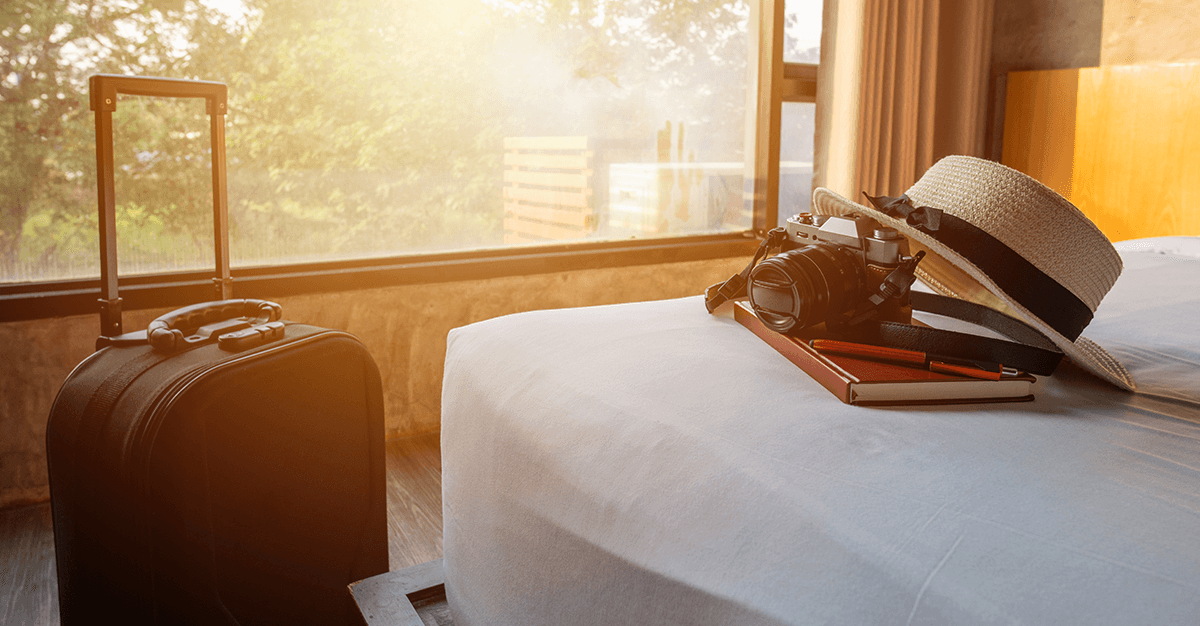 The COVID-19 pandemic has accelerated the adoption of apps that match people who are looking for a place to stay with those who have space they're willing to rent, including entire apartments. Also known as "home sharing," this flexible living option continues to grow in popularity as "work from home" is morphing into "work from anywhere" with 11% of American adults using platforms like Airbnb to find places to stay, according to Pew Research. As a result, "anywhere" is now different living spaces every day, week or month.
RealPage® has teamed up with Airbnb to launch the Migo multifamily home-sharing solution and monetization platform that enables property owners to share in the returns. Migo is the connector that makes Airbnb work better in multifamily communities and enables multifamily owners and residents to participate and profit from home sharing on Airbnb.
In a recent National Multifamily Housing Council (NMHC) survey, one-third of the NMHC Top 50 list and more than one million apartment homes reported that they would be open to a partnership program with short-term rental (STR) sites. Careful planning will be the key to success. There are 5 things to know before considering home sharing in your multifamily community.
City and State Home-Sharing Laws, Regulations and Ordinances
Similar to ride-hailing apps like Uber and Lyft, home-sharing services have been the subject of much legal and regulatory scrutiny in recent years. If you're thinking about allowing your multifamily residents to home share, first examine the laws in your city and state to ensure that any such activity in your community will be compliant with all applicable ordinances and regulations.
In particular, New York City has analyzed the legality of these STR services, finding that 70% of such available rentals are illegal or violate the state's "multiple dwelling" laws.
Home sharing and STRs have come under fire in several other cities, as well, but Migo provides a safe, secure, transparent way to enable home sharing that also ensures compliance with town and city home-sharing ordinances. If you're thinking about allowing your multifamily residents to home share, first examine the laws in your city and state to ensure that any such activity in your community will be compliant with all applicable ordinances and regulations.
Security, Safety and Quality of Life Issues in Home Sharing
One of the most important aspects of home sharing is compliance with fire and safety codes to protect short-term guests (i.e., portable fire extinguishers, sprinkler systems and clearly marked fire exit paths). In fact, 80% of NMHC survey participants listed safety as their primary home-sharing concern. By working with Migo, property owners who do not yet have these measures in place will have access to the resources, tools and information they need. One of the most significant home-sharing challenges is that multifamily communities have traditionally not been designed to accommodate it. As a result, in the event of an incident, a temporary STR guest may not know the safest evacuation route, etc. Another challenge that has been deeply concerning is lack of criminal background checks. While legal subletters are subject to proper screening, temporary guests typically bypass this critical layer of security, which enables them to access the unit, the community and shared amenities — and that poses a safety risk for everyone. In addition, STR and home-sharing guests may cause damage to the building's amenities or common areas — or even the apartment itself.
Migo mitigates these risks and concerns by working closely with with Airbnb to perform identity verification, requiring an uploaded ID that is then run through various criminal and background checks. Potential guests will only see Migo properties if they are "ID verified," otherwise they will just see traditional Airbnb results, according to Todd Butler, Vice President of Flexible Living at RealPage. Furthermore, if property damage occurs, each Airbnb booking includes $1M of damage protection and $1M of liability coverage.
Another concern is the potential for excessive noise. STR and home-sharing guests may feel that, because they are not permanent residents of the multifamily community, they needn't be concerned about the effect their behavior will have on other residents' quality of life. Property owners and managers must be prepared to work with residents to ensure compliance with community rules. Migo by RealPage helps alleviate this concern through its partnership with NoiseAware that monitors noise levels in home-sharing units and alerts guests, residents and managers if residents or guests are not following the community's home-sharing terms and restrictions.
Black Market Home Sharing
Remote Lock reported in August 2020 that 43% of property managers have reported short-term rentals occurring without their knowledge or consent. Migo greatly diminishes the likelihood of such "black market" home-sharing arrangements by enabling transparency in the home-sharing process. And dovetailing programs like this can help property owners encourage resident and guest compliance by rewarding residents for abiding by their multifamily community's home-sharing rules.
Migo also addresses cleaning and sanitization issues, which are particularly concerning as the COVID-19 pandemic continues to rage. Through Migo's national partnership with Spruce, residents and property owners can secure the services of cleaning professionals; cleaning fees are typically paid for by the Airbnb guest.
Liability and Insurance Home-Sharing Issues
An apartment unit available for home sharing and STRs can result in increased traffic in the building or complex, including the use of pools, fitness rooms and other common areas by people who haven't been vetted through the normal leasing process. That's why it's important for property owners to work with a company like Migo that supports a multifamily property's ability to define and manage access, help ensure guest background checks are completed, monitors residents and guests for adhering to stated guidelines, and more.
Home-Sharing Access Control
One of the potential risks of home sharing is guest access to areas of the property they shouldn't be able to access ("resident-only" areas) and the worry of lost or duplicated keys. Pairing Migo with Stratis® Smart Access for Sidewalk to Sofa™ control alleviates property managers' stress regarding the possibility of lost or stolen keys. And it provides peace of mind for residents who have concerns about short-term guests copying keys to their long-term homes. Smart Access control enables guests to easily check into the apartment while at the same time providing property managers with the ability to restrict the guest's access to resident-only areas and only during the time of the guests booking dates.
Have a question about our products or services?