Creative Ways to Retain Renters
-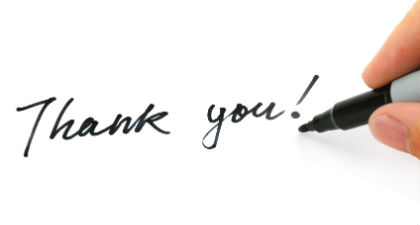 During the month of November, American's thoughts typically turn towards things for which they are grateful: family, friends, pets, jobs, bacon (just me?). For property owners and managers, it's equality important to remember to express gratitude and thank your residents.
However you choose to express gratitude, though, make sure it's genuine. Most of the time people can tell whether you're being sincere or not, and in this age of social media, experiences, both good and bad, will be shared.
Make sure your resident's experiences make the good list with these creative ideas for expressing gratitude and saying, "thank you." After all, giving thanks should be a year-round event.
Here are 15 creative ways to thank your residents:
1. Hand-written notes
I realize this is a bit old school, but when was the last time you received a hand-written note? I received one after presenting at the Greater Dallas NARPM Chapter earlier this year and I loved it so much it's hanging on my wall. Trust me when I say if you thank your residents in a personalized and hand written note, it will not go unnoticed.
2. Gate-side services
The sky is the limit on this one. Here are a few ideas the staff of PMI and RealPage suggested:
Coffee at curbside (or hot chocolate, juice, etc.) as the residents pull out of the parking lot
When residents pull into the parking lot in the evening, greet them with $5.00 pizzas from a local vendor
Provide morning breakfast for residents as they leave for work (think danishes, breakfast sandwiches, etc.)
While we're talking about breakfast, how about a full-blown pancake social. It's a different spin on the community pool party (which is a good idea, too)
3. Lotto ticket (where applicable)
This one is tricky because not every state offers a lottery. But where allowed by law, and the home office, why not send out holiday cards with a lotto or scratch-game ticket.
4. Create a local business gift pack
Go around to area businesses and create a holiday coupon gift packet for your residents. Or you can create a Groupon for your community with a local business.
5. Celebrate resident milestones
Send them a note or present.
6. Hold a monthly raffle
Hold monthly, random, no cost raffles for various prizes such as free maid service or use of a reserved or covered park spot for a month.
7. Make a phone call
Another old-school way of saying thank you: picking up the phone and calling your residents. And while we're on the subject of phone calls:

8. Make a video
Make a short video thanking residents and share it via social media and email.
9. Implement and brag about resident suggestions
Create a virtual (or physical) suggestion box. When you implement a resident suggestion, brag about it. People always appreciate feeling like they're being heard.
10. Create a culture of genuine thankfulness in your staff
Easier said than done, right? But really important. Make it part of your staff training from day one. For example, sending a customized email to residents immediately after making a monthly rent payment.
11. Holiday photo sessions
Back in my apartment-living days, my apartment complex offered free and discounted holiday photo sessions. They worked with a local photographer who waived the sitting fee and offered discounts on packages. Better yet, your staff can offer free pictures with Santa at the leasing office for both families and pets.
12. Cupcakes!
Also acceptable are cookies and mini bunt cakes. Have a sugar cookie decorating party.
13. Free car washes
Assemble the staff and give free car washes a couple of times during the warmer months.
14. Pet walking service
If your property allows dogs, consider offering higher end pet services, such as walking the dogs.
15. Provide the Sunday paper
Remember the newspaper? If not, the Sunday edition of the local newspaper is full of great reading, store flyers, and coupons. Offer it for free. And with the newspaper industry struggling somewhat in the digital space, I'm sure they'll be happy to work with you on subscription deals for your residents.
How will you thank your residents this year? Share your stories of creative ways to thank your residents in the comments below.
Have a question about our products or services?