Online Leasing Solutions
Transform the leasing experience for your staff and prospects.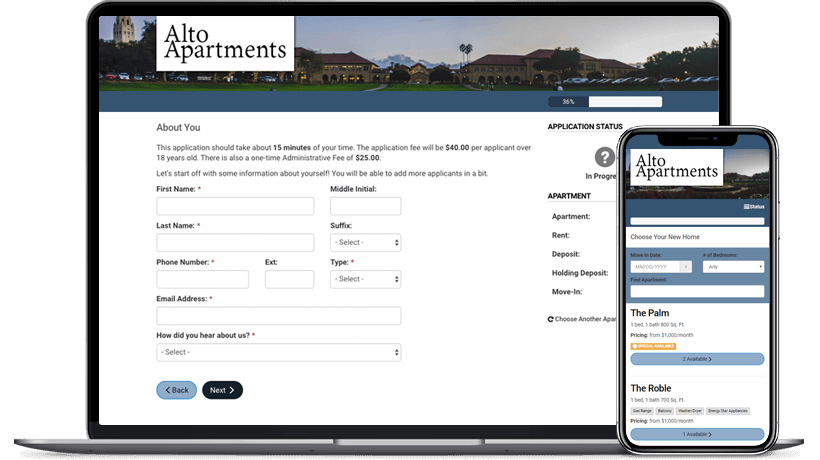 Transform the leasing experience for your staff and prospects with our comprehensive online leasing solutions that work with all major Property Management Systems.
Simple, Seamless, Time-Saving
Take prospects from search to eSignature with this feature-rich platform that streamlines and simplifies the experience of leasing apartments, saves your staff time processing paperwork, and frees up more time for customer service. Applicants can register online at their convenience, 24/7.
The RealPage Smart Leasing Tablet works in conjunction with Online Leasing to empower your team with a mobile leasing experience complete with real-time pricing and availability, designed to increase the visit-to-lease conversion ratio.
And now, Leasing Tablet features ID Document Validation, giving leasing agents the ability to validate prospect identities prior to touring—an important risk-reduction feature that integrates with your current lead management and property management system.
More leases. Less risk. Better bottom line.
Capture 33% more applications with 24/7 online leasing
88% of apartment residents prefer to search and apply via internet
A 10-minute online application captures up to 7% more leases
Complete A to Z Leasing Experience
Gina Carter, Vice President of Portfolio Operations at Blue Ridge Companies shares that RealPage Online Leasing provides an online leasing experience for prospects so they never have to set foot in the leasing office. And because 85% of Blue Ridge Companies' applications are completed online, employees are freed up to focus on service.
Prospect ID Document Validation Reduces Risk
With Leasing Tablet, now available with ID Document Validation, you can add a layer of protection to your property, leasing staff and residents by verifying prospects' identities prior to touring your community.
This integrated identity fraud mitigation solution uses a multilevel government-issued ID validation process that verifies if the prospect is more likely to be the person they say they are. Prospects and agents aren't required to physically handoff proof of identity—all interactions take place via the prospects mobile phone, and validation results are available in just seconds (pass or fail) for a contactless experience.*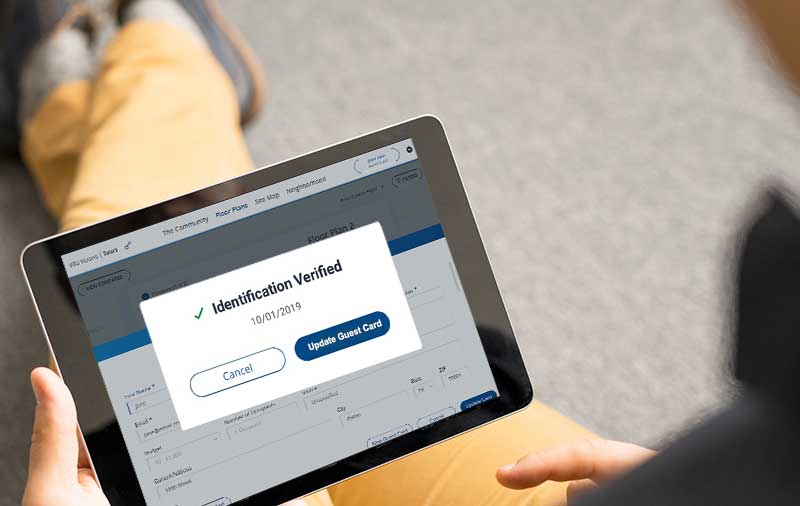 Save Staff Time and Simplify the Leasing Experience with Our End-to-End Leasing Solutions:
Online Applications
Build custom-branded online applications specific to your business needs, leveraging certified templates and documents.
Screening
Combine best-in-class screening data with flexible configurations to fill vacancies quickly with qualified renters.
Lease Documents
Create and send online lease renewals for renters to conveniently view and accept lease extensions.
eSignature
Go from invite to a signed lease in a matter of minutes.
Electronic Payments
Custom-branded online and mobile payment portals allow prospects to securely and conveniently pay electronically via ACH, credit and debit cards.
Document Storage
The option to provide a secure location to upload, share, and manage leasing documents from the cloud or RealPage Document Management.
Lock Up More Leases in Less Time
Imagine completing up to 75% or more of leases online. RealPage offers the most complete end-to-end online leasing solution that can help you achieve this. Through the power of integration with community websites, multiple CRM systems and the RealPage Contact Center, Online Leasing enables staff to dedicate more time to customer service while saving time and driving revenue.
Revolutionize Your Apartment Leasing Office with Leasing Tablet
The key to getting that lease signed is having the most crucial information at hand when prospects want to see it. RealPage® Leasing Tablet empowers your on-site staff to do that on the go, boosting the likelihood that more prospects will sign leases.
With Leasing Tablet, you can provide prospects with the real-time information they want—unit availability, pricing, site plans, community amenities and more—with just a single touch, anytime, anywhere--even while touring the property. Bring your community to life with 3D floor plans, high-resolution photo galleries and more:
Transform the apartment leasing experience for staff and prospects
Improve lead management—record every lead on the tablet
Increase conversion rates with real-time pricing and availability
Turn on-site leasing professionals into your best marketers
Elevate property tours
*Not available for Illinois IDs