These Five States Are Building the Most Apartments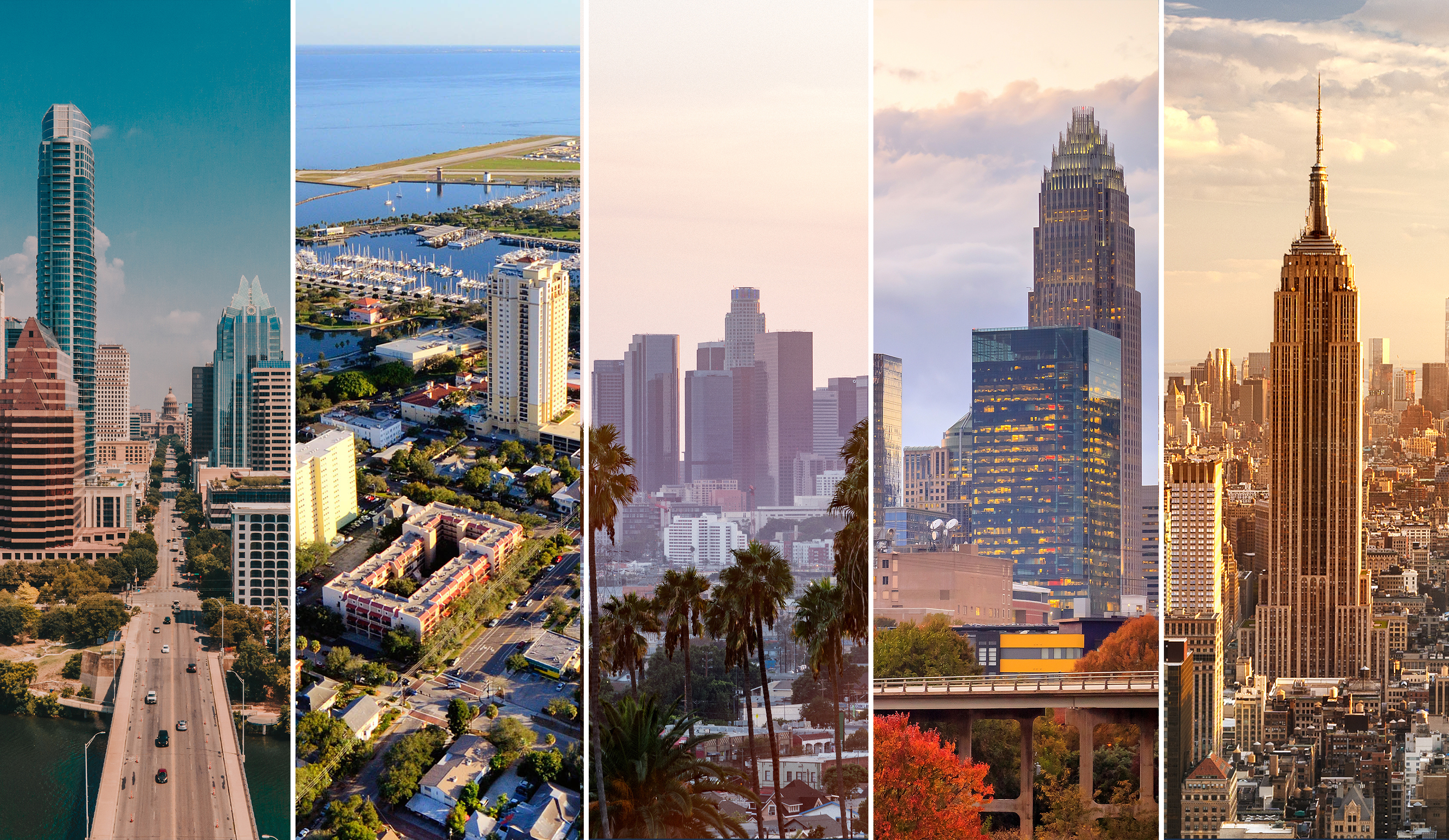 While apartment construction activity is up almost everywhere nationwide, five states are building nearly half the nation's total volume of supply.
The five states with the largest number of apartments under construction as of 3rd quarter 2022 include Texas, Florida, California, North Carolina and New York. Combined, these markets are building 45% of the nation's apartments.

Texas
It's no surprise that Texas tops the nation for apartment construction activity. Two of this state's largest five apartment markets – Dallas and Austin – regularly top building and permitting activity rankings. That was the case in 3rd quarter, as nearly 160,000 units are under way in the Lone Star State. This will increase the existing stock in Texas by 6.3%. Dallas construction numbers accounted for nearly 50,000 units, while builders are developing nearly 40,000 units in Austin. Those are two of the nation's biggest metro-level volumes of new supply, with the perpetually busy New York rounding out the top three. Austin is also a top-ranking market for percentage growth, with new stock increasing the inventory base there by 14.1%. Houston also made the national top 10 ranking, with over 28,000 units under way.
Fueling demand for nation-leading apartment development, Texas has added a record number of new residents recently. According to the most recent estimates from the U.S. Census Bureau, Texas gained more new residents than any other state in the nation in the year-ending July 2021. Total population change from July 2020 to July 2021 was roughly 310,300 residents. The big bulk of that was in domestic migration with 170,000 new residents coming into the state. This was one of the biggest domestic migrations in the nation, after only Florida. International migration was also big in Texas (second nationwide, with only Florida seeing more) at over 27,000 new residents. Texas also saw the biggest natural increase in population in 2021, with roughly 450,000 births and 308,000 deaths.
Florida
A little more than 128,200 apartments are under way in Florida, which will swell the existing unit count by 7.4%. With nearly 24,000 units under way as of 3rd quarter, Miami is the Florida market with the most construction activity. Also logging big development are Orlando (21,000 units), Jacksonville (14,000 units), Tampa (13,500 units) and Fort Lauderdale (12,700 units).
Florida emerged as an epicenter for demand in the COVID-19 pandemic, when the work-from-anywhere wave pushed residents out of big, expensive cities and into smaller beach towns with lifestyle appeal. Second only to Texas, Florida saw big population growth of over 200,000 residents in 2021. Florida claimed the nation's largest domestic migration total in 2021, with nearly 221,000 new residents coming into the state from within the country. This state also saw the biggest international migration volume, with nearly 39,000 residents coming in from other countries. Interestingly, the natural change in the existing Florida population was negative, as 320,000 deaths outpaced 260,000 births in the state.
All this population growth has led to strong apartment market fundamentals in recent years, with Florida markets commonly ranking among the best occupancy and rent growth showings nationwide. It's no wonder that builders are constructing more units to take advantage of the way the market here has transformed.
California
Roughly 83,500 units are currently under construction in California, with that volume set to increase the existing base here by 2.7%. That's in line with what California typically sees for construction volumes. Not surprisingly, Los Angeles is the state's busiest market, with 30,200 units under way. Markets accounting for fewer of the state's apartments under construction include San Diego (9,400 units), San Jose (7,500 units), Oakland (7,400 units) and Anaheim (6,500 units). In San Francisco, about 5,700 units are under way, which is a bit behind the normal pace for this market.
California is historically an undersupplied market, even after accounting for the big volumes of apartment construction that characterize the state. Interestingly, California lost residents in 2021, with the population here declining by 260,000 people. This was due to domestic migration, as roughly 370,000 residents left the state for other parts of the country. California followed Texas as the state with the second biggest natural increase in population in 2021, with nearly 530,000 births offset by about 415,000 deaths. It will be interesting to see if the population decline here continues, and if the construction volumes fall off as a result.
North Carolina
North Carolina is an outlier on this list. As of 3rd quarter, there were over 67,000 units under way in this coastal state. That stock is set to increase the existing base by 10.1%, one of the fastest growth paces nationwide. Other states scheduled to see existing stock increase by double digits in the near term include Delaware (21.9%), Utah (13%) and Montana (10.2%).
Charlotte and Raleigh/Durham account for big blocks of the stock under way in North Carolina, with roughly 25,000 to 30,000 apartments rising in each. That stock will increase the Charlotte market by 14.5%, one of the most significant metro-level growth paces scheduled in the U.S. Elsewhere, Greensboro/Winston-Salem has about 3,300 apartments under construction, while smaller blocks of product are going up in Asheville, Myrtle Beach and Wilmington.
North Carolina is another state that benefited from the work-from-home phenomenon during the pandemic, with residents flocking to the small, affordable beach towns along the coast. Fueling the need for more housing supply, North Carolina saw its population increase by nearly 94,000 residents in 2021, following only Texas, Florida and Arizona. Domestic migration was a big factor in that, as North Carolina received roughly 89,000 new residents from other parts of the country.
The North Carolina apartment markets have outperformed in recent years, with occupancy and rent growth holding out when some other markets saw steep declines during the COVID-19 pandemic. One factor keeping North Carolina resilient in recent years has been high-wage job sectors that have held onto jobs during hard times.
New York
Roughly 50,300 apartments are under construction in New York. That volume is scheduled to increase the existing apartment base by 2.2%. Most of that construction activity is, of course, rising in the city of New York, where 44,900 units are under construction. That's the second highest volume nationwide, after only Dallas. Much smaller volumes are under way in Nassau County-Suffolk County, Albany and Buffalo.
New York lost residents in 2021, as the Census Bureau reports 319,000 people left the state. A big chunk of that was domestic migration, as residents left the expensive New York City for smaller, more affordable locations. As a result, apartment market fundamentals wavered during the pandemic. But those fundamentals have recovered more recently. It wouldn't be newsworthy for this market – which typically weathers even the worst of storms – to absorb all the new apartment supply under way.
Conversely, the states with the smallest number of apartments under construction are Mississippi, Hawaii, West Virginia, Arkansas and Vermont.