Southern Schools Tend to See Highest Off-Campus Housing Ratios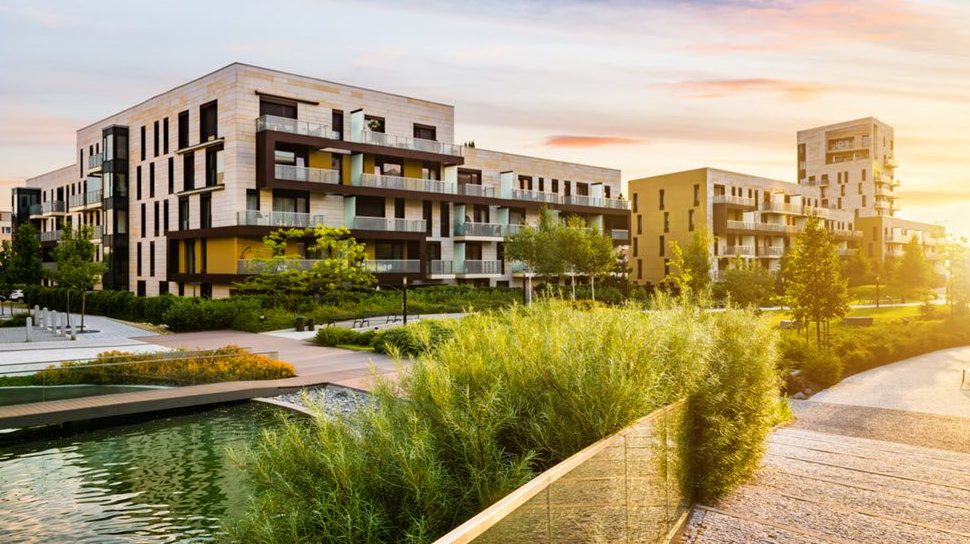 Students in the South tend to have more options when it comes to off-campus, purpose-built housing than students in other areas of the country. That's because colleges with the most off-campus housing per student tend to be concentrated in Florida, Texas and other southern states.
Of the 175 core universities tracked by RealPage, the off-campus bed-to-total enrollment ratio averages 16.9%. In the southern states, however, that number jumps nearly 10%. Conversely, schools with the highest on-campus bed-to-total enrollment ratios tend to be concentrated in the northeast.
Of the RealPage 175, the schools that rank in the top 10 all have at least two off-campus beds per every five students.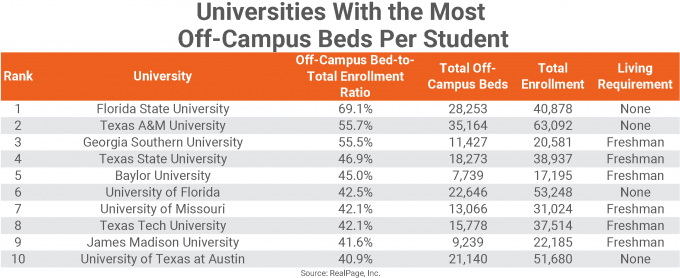 Florida State University takes the top spot for the highest off-campus bed-to-student ratio at 69.1%. The Tallahassee university shrank enrollment in 2017, according to most recent enrollment figures available. But that shouldn't be the norm in the short term as enrollment is projected to grow every year through 2023. Likewise, supply is growing at a rapid rate. Florida State claims top spots on the rankings for schools with the most new supply in both 2018 and 2019. Florida State's 6,712 on-campus beds are 100% occupied while off-campus stock is a healthy 95.3% occupied.
Texas A&M University, which is by far the largest university on our list, also has more than one off-campus bed per every two students. The College Station university, which takes the #2 spot on our list, has been a new supply leader for years, seeing four-figure bed additions since 2012. A&M is forecasted to take a breather in 2019 and 2020 before completion volumes are expected to pick back up in 2021, albeit at a much slower pace than in recent years. The large university has also been growing enrollment every year since 2005, and more growth is forecasted through 2023. Though the university doesn't require any students to live on-campus, the university owns about 12,000 beds that are about 98.0% occupied. In light of the high levels of new supply, A&M's off-campus occupancy is a soft but stable 93.0%.
Georgia Southern University has an off-campus bed-to-student ratio of 55.5%, putting it in the #3 spot in our list. The university in Statesboro, about an hour drive northwest from Savannah, shrank enrollment about 1.2% in 2017. That trend should reverse quickly, however, and the university is expected to see growth every year for through 2023. In addition to the nearly 11,500 off-campus beds, the university has nearly 5,000 on-campus beds that are about 96.4% occupied. Georgia Southern has the lowest off-campus occupancy on our list at 88.8%. The university is not forecasted to see new off-campus supply until 2021.
Though Texas State University shrank enrollment by a nominal amount in 2017, that year proved to be the outlier as the San Marcos university has been consistently growing enrollment since about 2000. Likewise, the university has seen new off-campus supply every year since 2012. With more than 18,000 off-campus beds for its nearly 39,000 students, Texas State comes in at #4 on our list. Off-campus supply is a healthy 97.4% occupied. Texas State, which requires freshmen to live on-campus, has about 7,000 on-campus beds that are 101.6% occupied. New on-campus supply is expected every year through 2021.
Yet another Texas school, Baylor University, claims the #5 spot on our list with a off-campus bed-to-student ratio of 45%. Both enrollment and new off-campus supply have been growing consistently over the last several years. In both 2014 and 2017, the private university in Waco added about 1,700 new off-campus beds. In light of new supply, occupancy has come down slightly from past levels and stands at 91.2%. On campus, where freshmen are required to live, Baylor's 5,300 beds are about 93.7% occupied.
Universities taking the remaining spots in our top 10 list have a few things in common. University of Florida, University of Missouri, Texas Tech University, James Madison University and University of Texas at Austin all have large and growing student populations, and their on-campus housing is very full. At UT Austin and the University of Florida, on-campus stock is 100% full. At Mizzou, Texas Tech and James Madison, on-campus occupancy is between 96.0% and 98.9% full.
UT Austin is the clear new supply leader amongst this pack, pulling an average of 2,500 new beds annually from 2012 through the 2023 forecast.
The University of Florida is seeing four-figure additions to its off-campus bed count since about 2015, and that is expected to continue through 2020.
Texas Tech is taking a breather in new supply in 2018 and 2019 before seeing a couple hundred new beds for the next few years.
James Madison has seen a few hundred new off-campus beds deliver roughly every other year.
Mizzou has seen more sporadic supply, coming in waves of a couple hundred beds every few years. In 2018 and 2019, Mizzou is expected to see a lull in off-campus completions.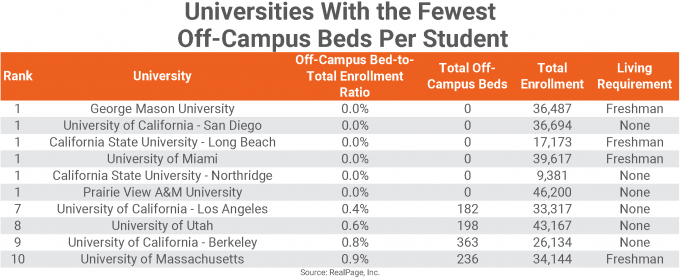 Conversely, six schools in the RealPage 175 have no off-campus housing, making their off-campus bed-to-student ratios easy to calculate at a round 0%. Excluding those six schools, several large state schools with 20,000-plus students have meager amounts of off-campus housing. All the schools that have the lowest off-campus bed-to-student ratios have well-occupied on-campus options. The 16 schools listed above have an average occupancy of 97.4% in on-campus housing options.