Apartment Occupancy Hits 13-Year Low in San Antonio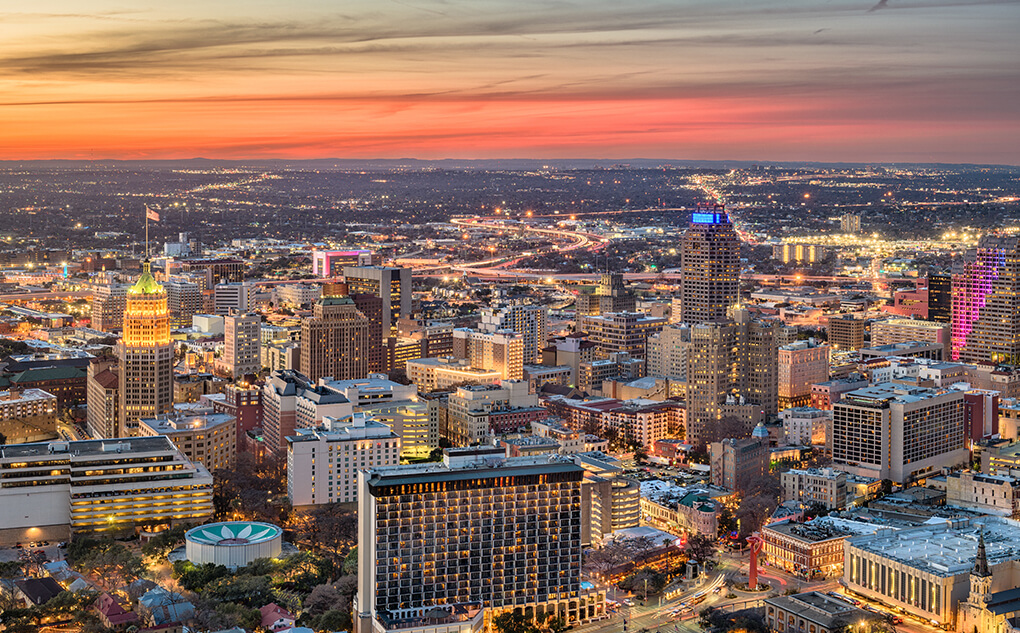 San Antonio-New Braunfels remains one of the nation's worst performing apartment markets.
While fundamentals in many U.S. market have improved recently, San Antonio remains weak. This South region apartment market with roughly 226,000 existing units located a little over an hour drive southwest of Austin, has continued to post low occupancy and subpar rent change levels over the past year amid mounting supply volumes.
Part of San Antonio's lackluster apartment market is due to the composition of its economy. San Antonio's slow-but-stable employment base in health care, government, military and aerospace manufacturing and repair jobs helps the market stave off more severe impacts from economic downturns. But those slow-and-steady demand drivers also limit upside potential in economic growth cycles.

In October 2023, San Antonio's apartment occupancy backtracked 180 basis points (bps) year-over-year, the fourth-worst pullback among the nation's 50 largest market, according to RealPage Market Analytics. That downturn took San Antonio's occupancy rate to just 91.4%, the lowest level in over 13 years and the weakest reading nationally, trailing the U.S. norm by 290 bps.
Weak occupancy is nothing new for San Antonio, as this market consistently registers well below the U.S. norm. Over the past 10 years, occupancy in San Antonio has trailed the U.S. average, with a rate averaging around 93.5%. While San Antonio occupancy did register above 95% in the second half of 2021 through the first half of 2022, that was an anomaly due to pent-up demand from the 2020 COVID-19 pandemic shutdown.

Among San Antonio's asset classes, October occupancy was weakest at 90.7% in Class C product. Class A units led with a rate of 91.9%, followed by Class B stock at 91.5%. Looking at neighborhoods, occupancy was weak across the board. The weakest reading of 89.6% was in Southwest San Antonio, which has seen a surge in supply over the past year. The tightest, though still weak, rate of 92.7% was in North Central San Antonio.
Contributing to San Antonio's weaker than usual occupancy rate, supply has been increasing at a time when demand has softened. A total of 5,432 units delivered in the year-ending 3rd quarter 2023, the market's largest annual completion volume in nearly three years. Net move-outs continued in the past year, but the bloodletting has at least lessened over the past two quarters. While improvement is happening, however, it will take more time to recover from the massive net move-outs in 2022 and early 2023.

Despite historically weak occupancy, apartment development has ramped up in the Alamo City. There were nearly 17,200 units under construction in San Antonio at the end of 3rd quarter 2023, with more than 12,000 of those units slated for delivery over the next four quarters, more than double the current delivery volume and by far the biggest supply load since RealPage began tracking the market in in 1993.
San Antonio's supply wave will prove the most significant headwind the market faces in the coming year. New supply is scheduled to expand San Antonio's existing inventory 5.4% in the coming year, which is well above the South region (4.4%) and U.S. (3.4%) average expansion rates. Far Northwest San Antonio and New Braunfels/Schertz/Universal City will capture nearly half (43%) of the market's new supply in the year ahead. Still, all but one submarket (Airport Area) will receive some level of new supply in the coming year.
With occupancy plummeting and mounting supply on the way, apartment operators in San Antonio have resorted to price cuts to preserve occupancy. Effective asking rents in San Antonio were down 3% during the year-ending October 2023. That was the market's deepest rent cuts since RealPage began tracking the market in the 1993 and a bottom 10 performance among the nation's 50 largest apartment markets.
As of October, monthly rent for an apartment in San Antonio averaged $1,253, the fourth-lowest rate among the nation's 50 largest markets.

In the year-ending October 2023, Class B product in San Antonio experienced the steepest rent cut of 3.9% compared to a decrease of 2.9% in Class C units and a decline of 1.5% in Class A product. Likewise, all of San Antonio's 14 submarkets posted rent cuts over the past year, with the steepest cuts in Far West San Antonio (-6.5%) and Far Northwest San Antonio (-4.9%).
Apartment demand is anticipated to pick up in the coming year which should give occupancy a solid boost, but occupancy is still expected to remain below the essentially full mark and below the national average. With improving occupancy, operators should be able to nudge rents up, though annual rent growth is projected to be mild.