Largest Apartment Projects Scheduled to Complete in 2022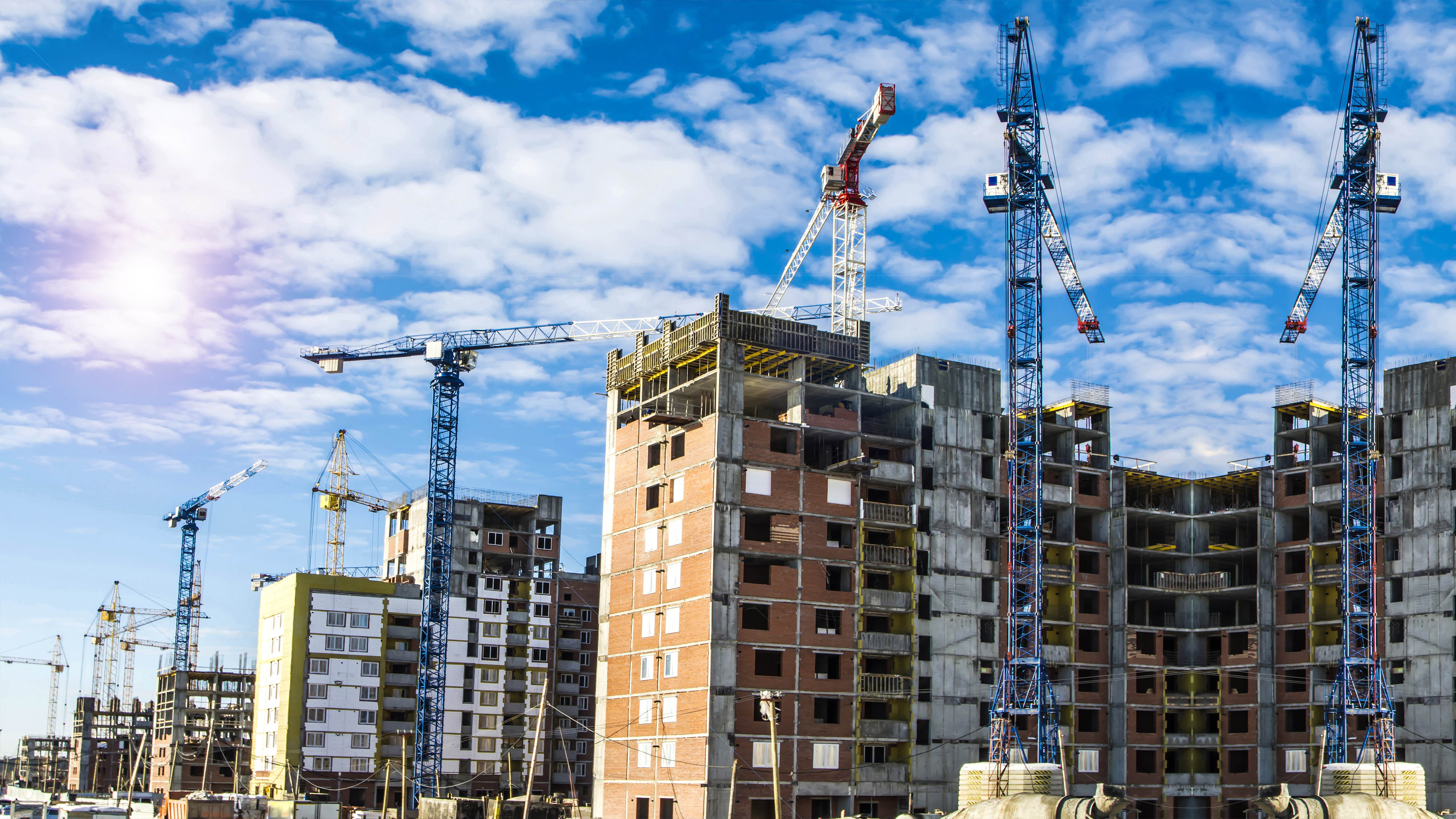 The U.S. apartment market is on track to grow by nearly 411,000 units in 2022, a number boosted by some massive individual projects.
The largest conventional apartment projects scheduled to deliver in 2022 are being built on the east and west coasts and nearly all of them are considered high-rises. Four of the 10 largest projects are set to come online in the New York market, while Los Angeles and Seattle are each expected to receive two of these large projects. The remaining communities are delivering in Anaheim and Philadelphia. Four of these 10 large projects completing in 2022 were originally scheduled for delivery in 2021, but the pandemic created construction delays. Looking at developers, Brookfield Properties was the only developer to have more than one project in the list of biggest 10 completions for 2022.
Here's a look at the 10 largest projects scheduled to deliver next year.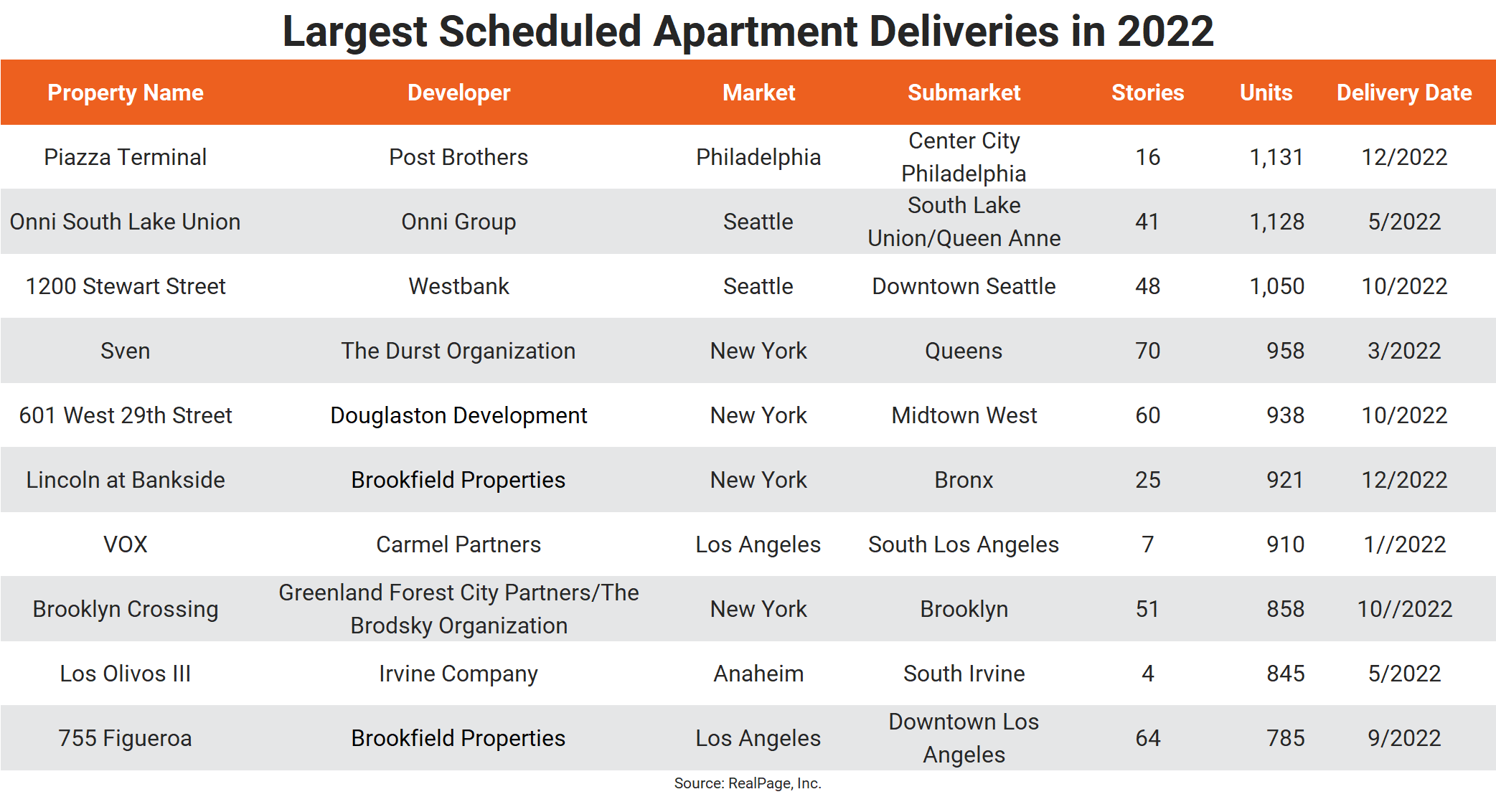 Piazza Terminal
The largest apartment community scheduled for completion in 2022 is the 1,131-unit Piazza Terminal in Philadelphia. Philadelphia-based Post Brothers is developing the 1.1 million-square-foot multi-building development in the Northern Liberties neighborhood of Center City Philadelphia. The site is between North Hancock Street and Germantown Avenue, north of West Wildey Street and is adjacent to The Piazza mixed-use development which opened in 2009. Piazza Terminal consists of two eight-story buildings, two 12-story buildings and a 16-story building wrapped around a public promenade that will be an extension of the existing Piazza Liberties Walk apartment community. Piazza Terminal will feature an indoor lounge and outdoor amenities with three different pools, an outdoor kitchen and dining area, cabanas, a yoga lawn, fitness center, dog park and hot tubs. Construction on Piazza Terminal commenced in February 2020 and is scheduled for completion by the end of 2022.
Onni South Lake Union
Onni Group, a real estate development company headquartered in Vancouver, Canada, is building a master-planned community on Denny Way in Seattle's South Lake Union neighborhood. The residential portion of the development will contain 1,128 units in twin 41-story towers. This project was approved in 2016 and began construction in early 2017. It was previously scheduled to be completed in 2021, but construction was delayed due to a reconfiguration of the penthouses and the effects of the COVID-19 pandemic. Construction is now scheduled for completion in May 2022. Apartment amenities include two rooftop decks, mid-building private outdoor green terraces and amenity space, a fitness center with a yoga studio, and bike storage. In addition to the apartments, the project will contain office space, nearly 54,000 square feet of retail space, pedestrian plazas and two sky bridges.
1200 Stewart Street
Vancouver, Canada-based Westbank is building two 48-story residential towers in the Denny Triangle Urban Center Village near Amazon's headquarters in Downtown Seattle. The 1.2 million-square-foot project, dubbed 1200 Stewart, will include a three-story commercial podium with nearly 150,000 square feet of retail space anchored by a Trader Joe's grocery store. In addition to the residential towers, the project will also include a four-story residential low-rise. In total, 1200 Stewart will contain 1,050 residential units. The development will also feature creative workspace, a Live Nation music venue and a galleria connecting Stewart Street and Denny Way, creatively incorporating a Boeing 747 as useable space. Westbank began construction on the project in June 2018 and originally estimated delivery in December 2021. That construction finish date has been moved out to October 2022.
Sven
New York-based developer The Durst Organization is building a 70-story building in Long Island City, directly across from Queensboro Plaza, which will be the second-tallest structure in the borough of Queens. The project started construction in early 2018 as Queens Plaza Park, but the name was later changed to Sven. The development will be comprised of 50,000 square feet of retail and office space in addition to 958 rental units. Amenities will include an outdoor swimming pool, a 20,000-square-foot fitness center, a library, co-working areas, a children's playroom and a demonstration kitchen. The project also includes the adaptive reuse of the historic Long Island City Clock Tower which was completed in 1927 and is home to Bank of Manhattan. Construction of Sven was originally scheduled for completion in October 2021, but the completion date was moved out to March 2022.
601 West 29th Street
New York-based Douglaston Development is building a mixed-use residential tower in New York's Midtown West submarket. The project at 601 West 29th Street is in the West Chelsea neighborhood, adjacent to the Hudson Yards development. The site is bound by Eleventh Avenue to the east, West 29th Street to the south, and West 30th Street to the north. The 60-story project will contain a total of 938 units, including 235 affordable housing units. The development will also contain 15,000 square feet of Class A retail space. Construction on the development began in mid-2019 and is scheduled for completion in October 2022. Amenities include multiple tenant lounges, a gym with fitness studios, an outdoor swimming pool, multiple outdoor terraces, indoor and outdoor pet spaces and bike storage.
Lincoln at Bankside
In New York, locally based Brookfield Properties is building a $950 million, seven-tower complex on 4.3 acres in the Bronx. It is the most expensive private development in that borough's history. Dubbed Bankside, the project will include seven interconnected towers with nearly 1,380 apartments across 4.3 acres along the Harlem River in the Mott Haven neighborhood. The first phase of Bankside, Third at Bankside with a total of 458 units in two 25-story towers and one 17-story tower, broke ground in May 2019. That project is scheduled for completion in February 2022. The second phase and largest portion in the development is Lincoln at Bankside at 101 Lincoln Avenue. The four 25-story towers will include 921 units, of which 30% will be rent restricted through the city's Affordable New York program. Construction on Lincoln at Bankside began in October 2020 and is scheduled for completion in December 2022. The Bankside mixed-used development will also contain 34,000 square feet of public waterfront space and 15,000 square feet of retail space, including a tech-based community center run by a local nonprofit.
VOX
VOX is the second and largest component of San Francisco-based Carmel Partners' Cumulous District, an 11-acre mixed-use complex in the Culver City-West Adams corridor of South Los Angeles. The development is next to the La Cienega/Jefferson Station on the Expo light rail line. The VOX apartment community at 3321 South La Cienega Boulevard will contain 910 units in a series of interconnected seven-story buildings. Also in the Cumulous District is ARQ, a 31-story tower that features 300 residential units. That building was completed in 2020. A one-acre park called Zocalo will connect ARQ with VOX. The Cumulous District will also feature a 50,000-square-foot flagship Whole Foods Market which will anchor 100,000 total square feet of retail space for restaurants, bars, boutiques and fitness studios. Construction on VOX began in mid-2018 and was originally scheduled for completion in November 2021. The project was delayed due to the pandemic and is now on pace to complete in January 2022.
Brooklyn Crossing
At 18th 6th Avenue in Brooklyn's Prospect Heights neighborhood, a joint venture between master developer Greenland Forest City Partners and The Brodsky Organization, both based in New York, are constructing Brooklyn Crossing. The building will contain 858 units, of which 258 will be dedicated to affordable housing. At 51-stories, it is the tallest building in the 22-acre Pacific Park master plan. Pacific Park is on an eight-acre lot and will bring a total of 15 new buildings to the Prospect Heights neighborhood, with a total of 6,430 residential units, including 2,250 affordable housing units, plus new offices and retail space. Construction on Brooklyn Crossing began in 2019 and is scheduled for completion in October 2022. Amenities include a fitness center, screening room and an open-air rooftop with sky lounge and outdoor pool.
Los Olivos III
Newport Beach, CA-based Irvine Company has built one of the largest apartment communities in the nation. The Los Olivos apartment community is in South Irvine near the Irvine Spectrum Center, within the Anaheim market. The first phase of the project, with 1,750 units, was completed in 2014, while the second phase, with 1,950 units, opened in 2020. And now construction is well underway on the third phase which includes four-story buildings that will bring another 845 units to the massive development. Construction on the third phase of Los Olivos began in mid-2019 and is scheduled for completion in May 2022. Amenities at the Los Olivos currently include six saltwater pools, two fitness centers, basketball courts, tennis courts, sand volleyball courts, electric car charging stations, a children's play area and two dog parks.
755 Figueroa
New York-based Brookfield Properties has another large community in the works. The developer is building a 64-story tower on a 1.3-acre site at 960 West 7th Street next to the FIGat7th shopping mall in Downtown Los Angeles. The site was the last undeveloped parcel in a master-planned superblock with over 2.3 million square feet of existing office and retail space. In the early 1980's the site was master planned as a cluster of three towers with a retail base. The first two high-rises went up in the late 80's to early 90's but the third parcel, which was originally intended to contain office space, remained empty for decades. Now that parcel will be home to a residential community dubbed 755 Figueroa. The 56 stories of livable space with 785 units sits atop an 831-car parking garage. Construction on the property began in mid-2019 and is scheduled for completion in September 2022.