Apartment Transactions Surge in 4th Quarter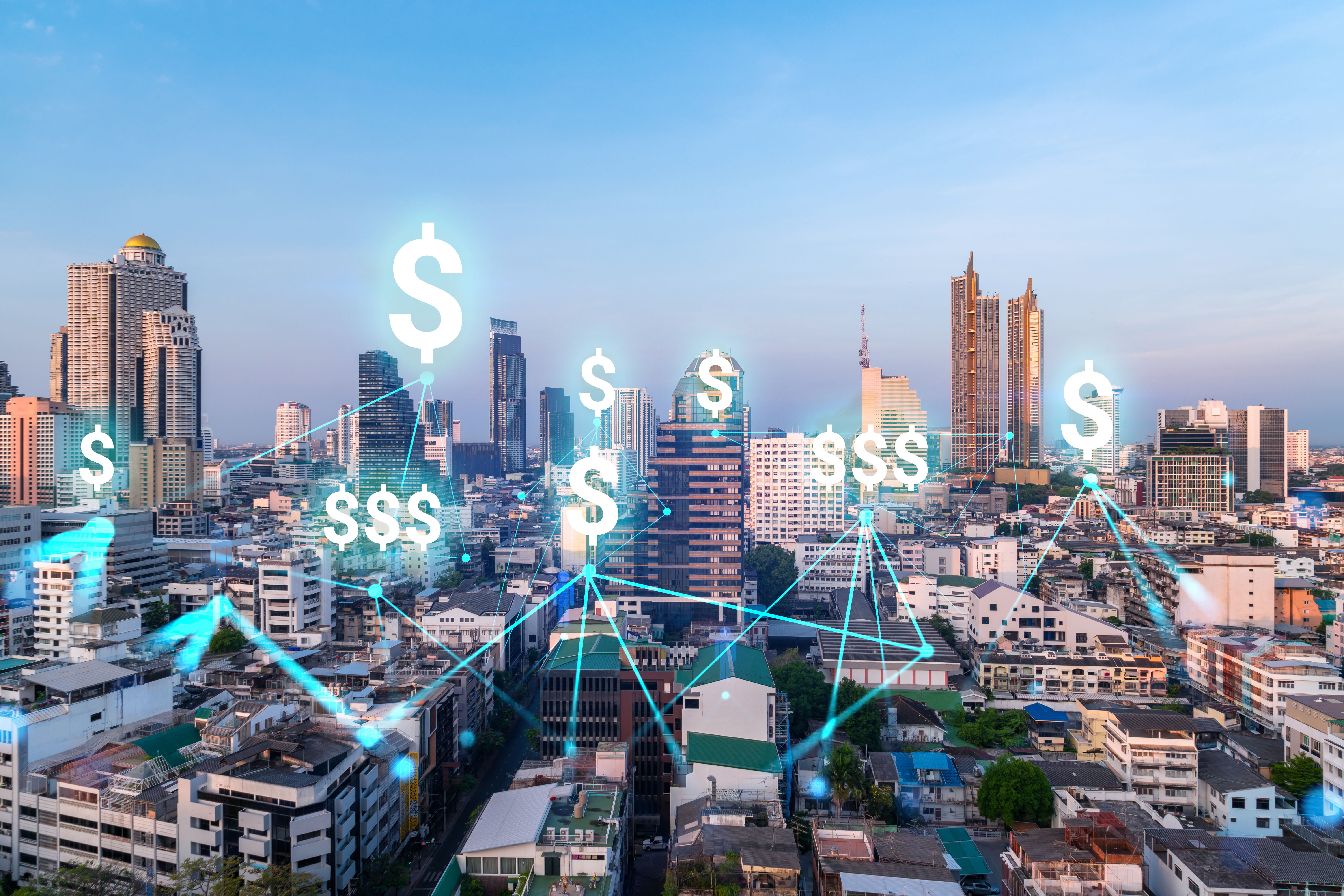 Apartment transaction volumes surged in 4th quarter, with the dollar value of trades – and the number of properties trading hands – hitting the highest level in more than 20 years, and possibly ever.
Roughly 4,300 apartment properties changed hands at a value of nearly $148.9 billion during 4th quarter 2021, according to Real Capital Analytics (RCA). That dollar volume was the highest on record in at least 20 years and was 73% higher than the previous peak which was recorded in 3rd quarter 2021. The number of properties changing hands was also at a record high, after hitting a recent peak of over 3,100 units the previous quarter.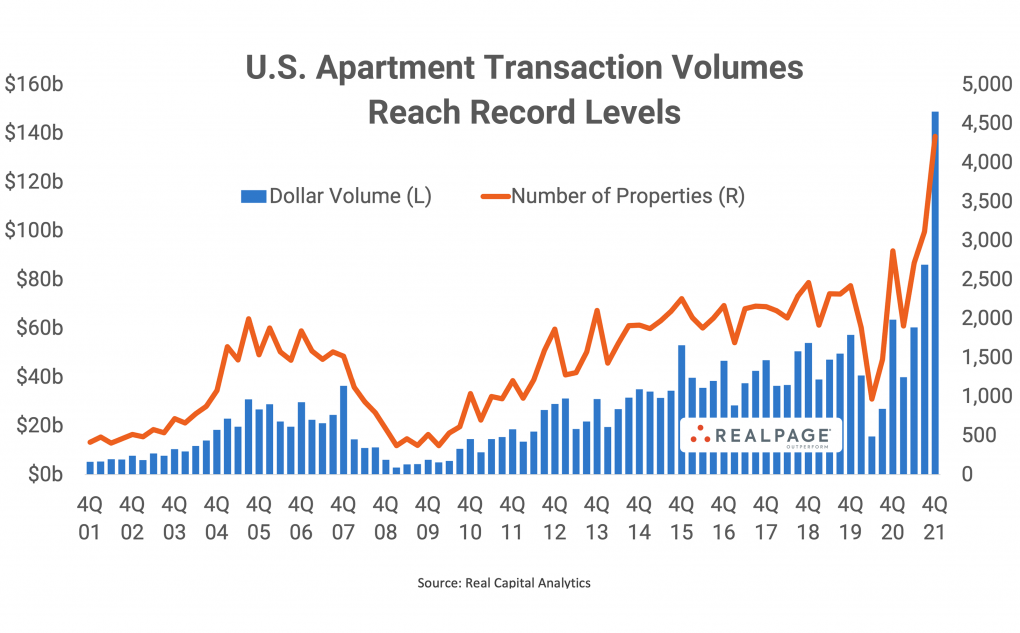 The recent low was in 2nd quarter 2020, following the onset of the pandemic, when only 967 properties were sold at a value of $15.7 billion. Just a few months later, in the last three months of 2020, about 2,900 apartments transacted for roughly $63.6 billion, which at the time was a 20-plus year quarterly high on both accounts. For 2020 overall, about 7,200 apartment communities were sold for $146.9 billion. That was well below 2019 volumes, when nearly 9,000 properties traded hands for $193.1 billion. Last year's transactions far surpassed 2020 levels, with a total of 12,070 properties trading hands at a value of $336.3 billion, roughly double the 2000 level on both accounts.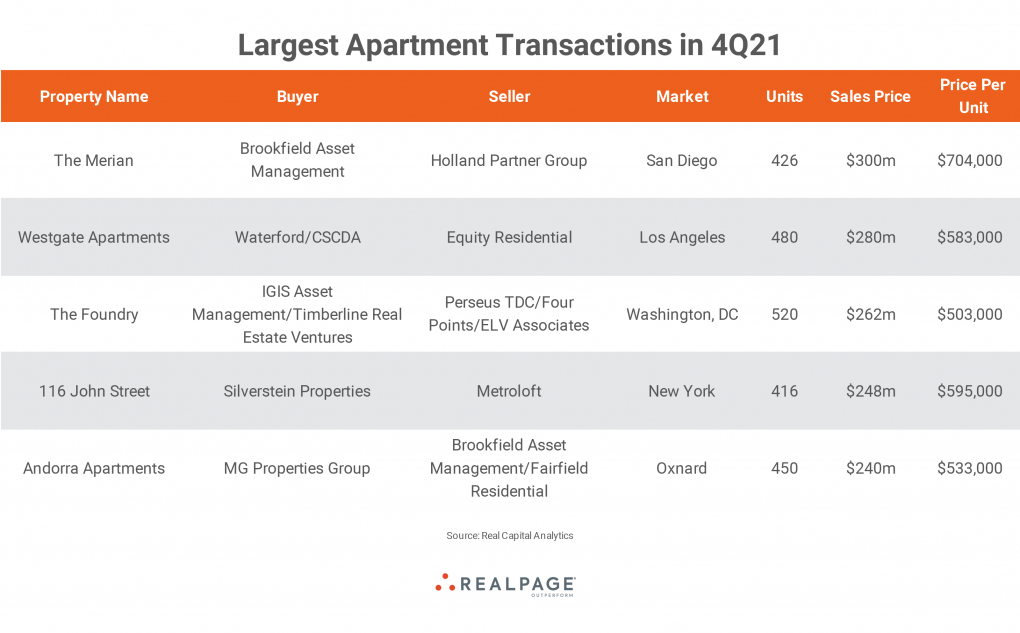 Here are the five largest individual apartment transactions from October through December.
The Merian
The largest apartment transaction to take place nationally in 2021's 4th quarter was a newly built development in the San Diego market. In late December, Toronto-based Brookfield Asset Management bought The Merian, a 426-unit apartment community at 601 11th Avenue in the Downtown San Diego/Coronado submarket. Brookfield paid Vancouver, WA-based Holland Partner Group (the developer) $300 million or roughly $704,000 per unit for the 34-story project which was completed in 2020. Community amenities at The Merian include concierge service, a two-level fitness center with yoga studio, sky lounge, pet exercise area, bicycle storage room with tune-up station and a rooftop pool, spa and barbeque area.
Westgate Apartments
Newport Beach, CA-based Waterford partnered with the California Statewide Communities Development Authority (CSCDA) to acquire Westgate Apartments in the Los Angeles market with plans to convert the property to middle-income housing. Ranking as the second-largest transaction in the nation during 4th quarter, the 480-unit development traded in early December for approximately $280 million or around $583,000 per door. The seller was Chicago-based Equity Residential. The nearly six-acre property is along South De Lacey Avenue in Pasadena, within the Burbank/Glendale/Pasadena submarket. The four-story community, which was built in 2010, features a fitness center, swimming pool and theater. Following the acquisition, rents were immediately decreased for qualifying residents with incomes of 60% to 120% of the area's median income. CSCDA created a workforce housing finance program in 2020 which uses tax exempt bond financing to acquire multifamily projects.
The Foundry
The third-largest transaction to take place in the nation during 2021's 4th quarter was the sale of an adaptive reuse project in the Washington, DC market. In early December, Perseus TDC along with its partners, Four Points and ELV Associates, sold The Foundry to South Korea-based IGIS Asset Management in partnership with Rye, NY-based Timberline Real Estate Ventures. The property, located about 10 miles south of downtown DC, sits on six acres off Mandeville Lane in Alexandria's Carlyle District, within the East Alexandria submarket. The 16-story, 520-unit community traded for nearly $261.8 million or roughly $503,000 per unit. The building, which was rehabbed in 2020, was originally constructed in the 1960s as an office building for the U.S. General Services Administration. The community features a clubhouse, gaming loft, spin and yoga studio, rooftop pool and entertainment area, bike storage, community library with co-working spaces, sports bar and a three-level fitness center.
116 John Street
In mid-December, New York-based Silverstein Properties closed on the acquisition of 116 John Street, another adaptive reuse project. Silverstein purchased the 416-unit building in New York's Financial District from New York-based Metroloft for approximately $247.7 million or roughly $595,000 per unit, the nation's fourth largest transaction in 4th quarter. The 35-story building was originally constructed as an Art Deco office tower in 1931 and converted to residential use by Metroloft in 2013. The second to 14th floors are leased to Sonder, a short-term rental provider. Silverstein plans to renovate the apartments, upgrade common areas and rebrand the development Inspire. Amenities include a fitness center, concierge services, a doorman, landscaped roof-top deck and a resident lounge.
Andorra Apartments
San Diego-based MG Properties Group bought the Andorra Apartments in the Oxnard-Thousand Oaks-Ventura market through a joint venture between Toronto-based Brookfield Asset Management and San Diego-based Fairfield Residential. Ranking as the fifth-largest transaction in the nation during 4th quarter, the 450-unit development traded in mid-December for $240 million or around $533,000 per door. The three-story community on Mike Loza Drive in Camarillo was built in 2018. The property features three pools, two fitness centers, two dog parks and a dog wash area, two playgrounds, an outdoor terrace, co-working lounge, barbeque and picnic areas and a yoga studio.