Smart Waste
Multifamily's first camera and AI-based waste management tool helps you stop throwing away money.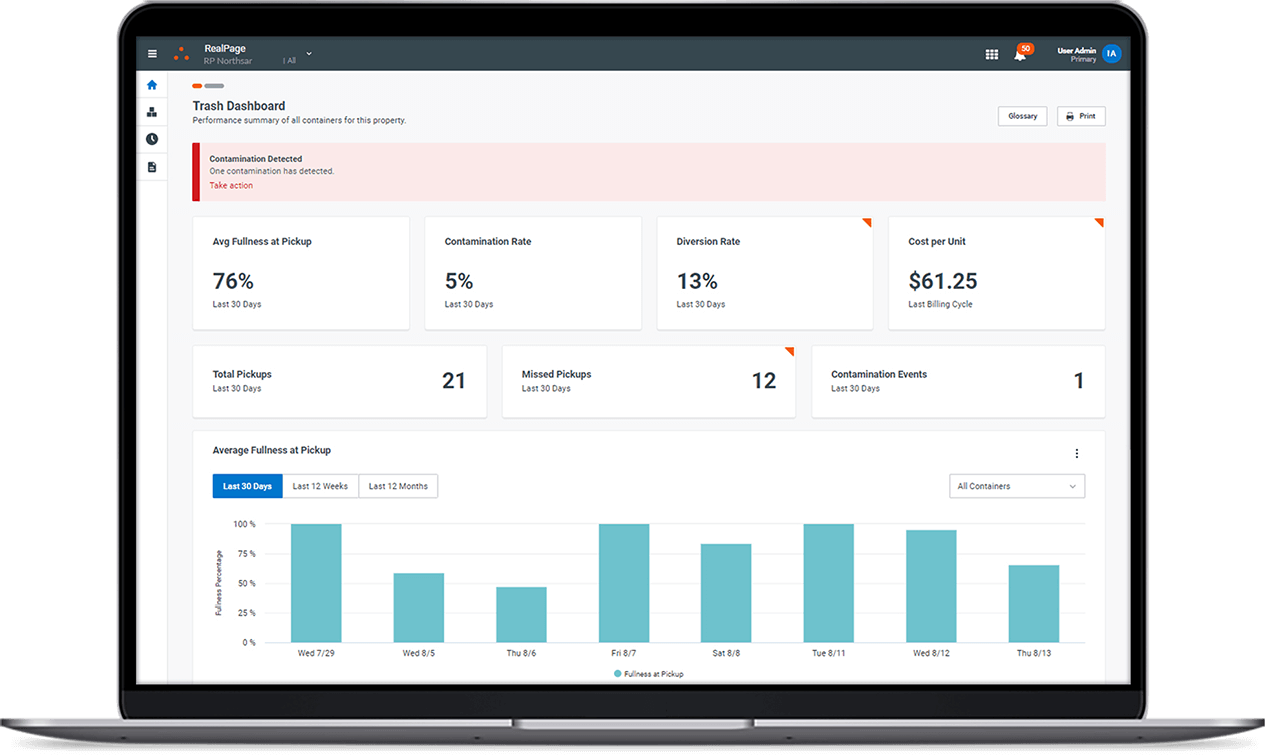 The Future of Waste Management for Multifamily
The escalating costs of waste management are negatively impacting your net operating income (NOI). The average apartment property is wasting thousands of dollars per year on hauling fees for dumpsters that are only 46% full. This means you're most likely paying full price for a service that hauls half the amount contracted for. And that's just the beginning of cost inefficiencies associated with trash and recycling disposal.
The Smart Waste Management Solution is the latest addition to our portfolio of eco-driven sustainability products. As multifamily's first cloud-based platform capable of assessing the location of each dumpster on a property, it can accurately optimize pickups, locations, fullness, capacity, content and contamination levels—cutting costs for managing waste by an average of 40%.
The Smart Waste Management Solution with Rugged Cameras and AI
By pairing the industry-leading RealPage Utility Management platform with rugged, in-dumpster cameras and AI in partnership with Compology®, this revolutionary waste metering technology provides clients with a cost-effective solution that prevents costly fines for contaminated recycling and makes it possible to:
Monitor every container's activities
Measure for multiple KPIs
Create compliance reports
Benchmark against peers
Make actionable recommendations in real-time
Advise on sustainability best practices
Lower Your Property's Waste Management Service Fees
Reduce trash contamination fees by up to 80%
Save up to $1800 per dumpster per year
Reduce property owner costs by more than $100 per unit
The 6 Ways We Improve Waste Management Services
Contamination Alerts – Site teams receive updates multiple times a day on contamination, obstruction and other issues prior to container collection, giving them time to resolve and avoid penalties

Fullness Optimization – Reduce trash pick-up costs by knowing exactly when containers are at capacity and not artificially full due to non-collapsed cardboard

Built-In Compliance – Easily meet diversion garbage tonnage reporting requirements for the ESG, CSR, GRESB and ENERGY STAR Portfolio Manager

Performance Analytics – Get additional insights on the performance of your waste management programs and see how you compare with the rest of the industry

Vendor Verification – Easily confirm you're working with waste management-related vendors who meet your compliance criteria

Sustainability Impact – Improve the efficiency of your waste management program and divert as many clean materials as possible away from landfills and back into recycling or composting streams
More Smart Sustainability and Energy Management Solutions that Help Your Communities—and the Environment
In need of integrated energy management and conservation-related tools that produce substantial results? There is one leading solution that handles mandatory benchmarking, energy procurement, advanced energy reporting, energy and water conservation, and rate and tax assurance.
Discover the RealPage Sustainability Suite here.
Cut costs and increase the efficiency of your invoice processing and resident billing operations with remote-management tools that make it easy to approve and pay your bills online while also helping you optimize your billing programs, recover vacant costs, manage your submetering, and control your expenses to uplift the value of your portfolio.
Read about our comprehensive RealPage Utility Management Suite here.