Learning Management System
EasyLMS® learning management system motivates your employees to learn and gives you the tools to support them — in an easy-to-use, quick-to-implement portal.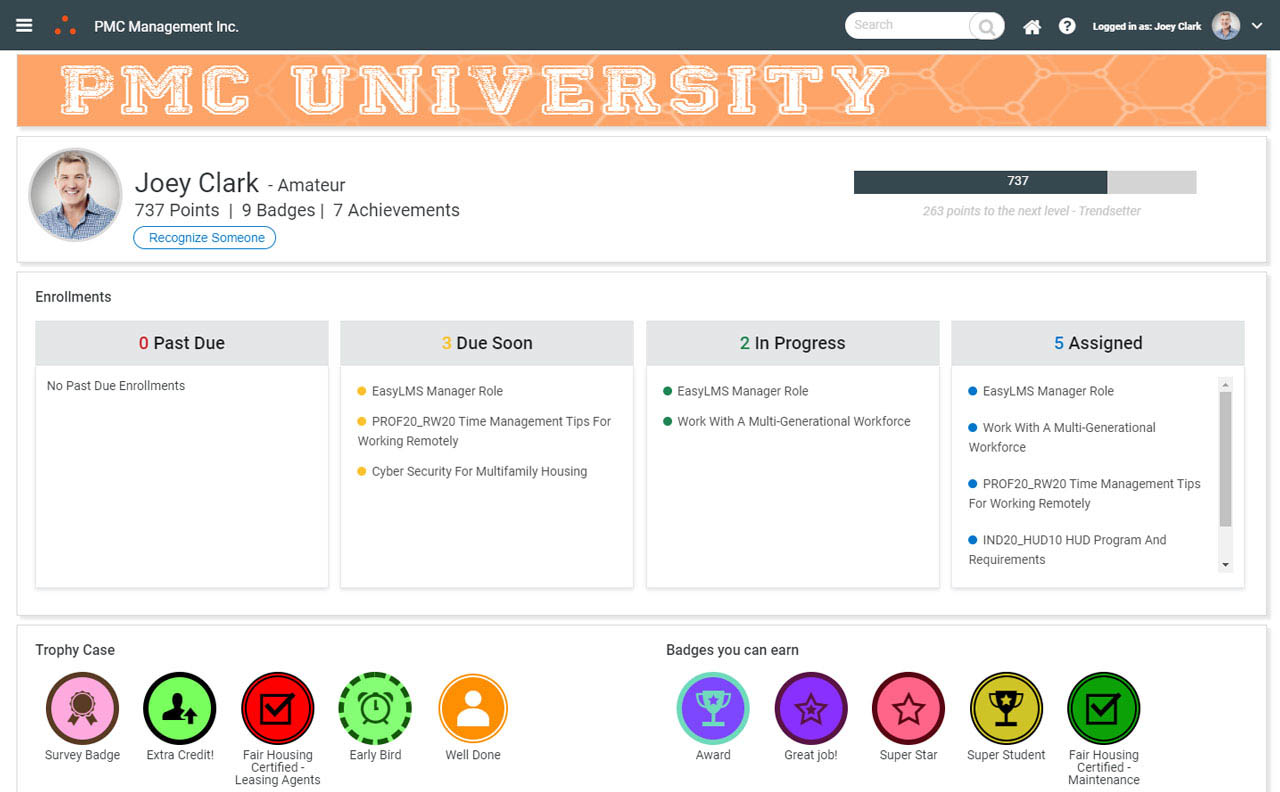 Our Newest Innovation — RealPage ® Recognitions
Increase employee engagement and reduce turnover with multifamily's first customizable employee rewards and recognition platform that makes it easier to make their day—and boost your bottom line.
Learn more about Realpage Recognitions
EasyLMS: Next Generation Learning Management Platform
With EasyLMS, RealPage® has completely reimagined how employees learn. Using a new approach we've termed "active engagement," EasyLMS motivates your staff through the use of game mechanics to engage and motivate employees. We call it motivational mechanics. Your employees will call it a refreshing change.
EasyLMS removes barriers to learning, enhances the learning experience and establishes learning as a culture to activate your staff's potential. Keep track of qualified internal candidates by creating learning paths by career function or individual, incorporating your talent management with your learning management. EasyLMS helps you manage the entire employee performance review process: from goal setting to self-assessment, to the delivery of the performance review. And with custom reports and easy-to-understand dashboards, you'll bring clarity, visibility and consistency to your entire learning program.
The business benefits are equally energizing. With EasyLMS, you'll cut costs, boost efficiency and drive business results. The 360-degree content coverage virtually eliminates the need for expensive in-person training, and the short engaging training segments (we call them "learning snacks") of 10-15 minutes each put your employees back to work faster. While they learn, you can easily track their progress to make sure they're heading in the right direction. It's a comprehensive training package that will excite your entire company.
Ready to launch your own learning management system?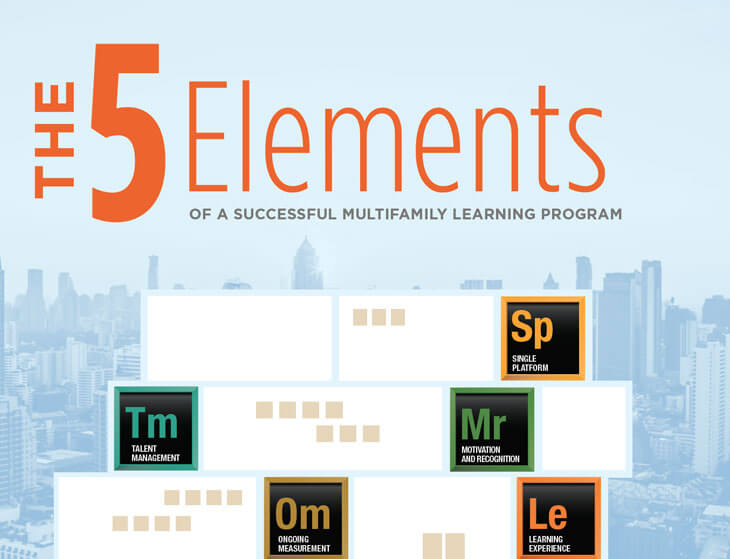 Learn the Secrets of Training Success
Training employees is a tough business. There are so many hurdles to overcome. RealPage's learning management team shares 5 tools for not only overcoming these hurdles, but also transforming your entire employee development process. This must-read ebook will put your multifamily learning program in a new light.
Activate Your Staff's Potential with EasyLMS
360° Content Coverage
Host, create and deliver interactive multi-family-specific soft skills training, RealPage product training and any of your own custom – created training.
Motivational Mechanics
By focusing on active engagement, you create long-term motivation and recognition centered around learning. EasyLMS keeps everyone engaged and ready to learn.
Social Engagement
Deliver a personalized learning experience for your employees through an interactive Activity Feed and personalized Learning Circles to connect teams across the organization.
Customizable Language Experience
Whether it's English or Spanish provide your learners with a fully translated interface. This helps ensure that every member of your staff learn in the language they are most comfortable in for better results.
Intuitive Dashboards For All
Easy-to-use dashboards highlight courses requiring action, in-progress courses and failed courses, with no complicated charts or graphs to decipher.
The Reporting You Need
Easily track the metrics you need, with the ability to run and save any number of custom reports and schedule delivery right to your inbox.
Autopilot-Enabled
We can sync with your HR System's Data to update user information, manage organizational updates, and assign courseware overnight while you sleep.
Learning Paths
Specific learning tracks provide employees with a path to certification, professional development and even career growth, helping you stay updated on employees who are ready for the next step.
Performance Reviews
Administrators and managers can manage the entire employee performance review process right within the LMS and easily align the employee's performance results to the appropriate courseware.