Looking for ways to give back to your community? Use Community Rewards!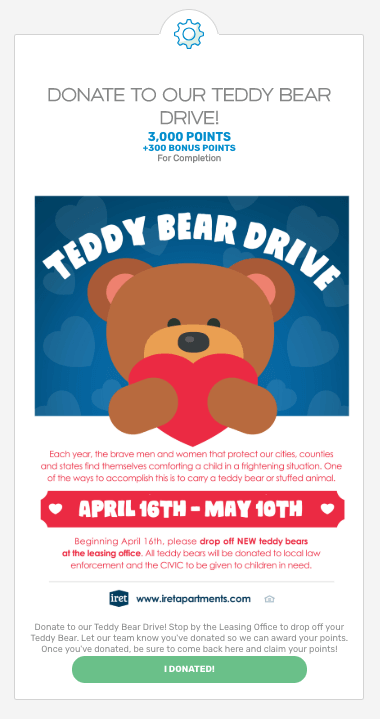 Have you ever wondered, "How can my apartment community make an impact in the world?"
As your partner, we are always looking for ways that we can support your community's initiatives. Modern Message is excited to highlight this opportunity for you to engage your residents!
As we enter this Thanksgiving season, we love that our platform creates the chance for you to promote a spirit of giving back. While our Custom Actions are great for awarding points to residents who attend events, post on social media, give feedback, etc., they are also an excellent tool to incentivize your residents to donate to a charity of your choice.
If you have a specific foundation or nonprofit that your company or apartment community supports, consider requesting a Custom Action to be on your property's Community Rewards program! That way, every resident at your property has the chance to earn points for donating.
Here are a few examples of Donation based Custom Actions that are currently being supported on Community Rewards.
"Donate to Shelter to Shutters!", Trinity Property Consultants (portfolio-wide Custom Action):

"Donate to our Teddy Bear Drive", IRET (portfolio-wide Custom Action):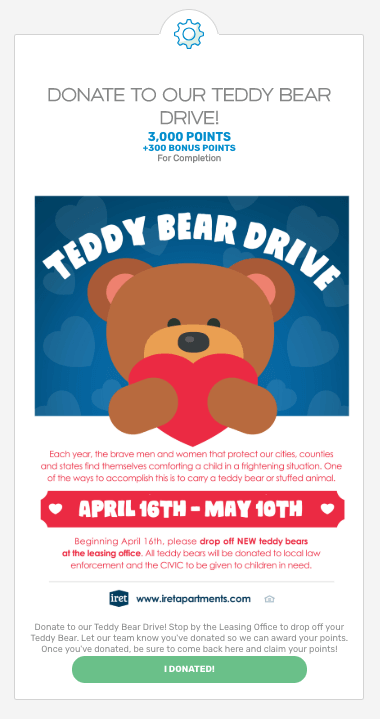 "Virtual Food Donation Drive STL Food Bank", Renew Creve Coeur, Trinity Property Consultants:

"Can Food Drive Donation Code", ON50, University Student Living:

"Donate to the 2018 Second Harvest Food Drive", Papermill Square, Freeman Webb:

"Donate to our Local Food Bank and Earn Points!", Chesapeake Bay Apartments, Drucker & Falk:

"Get Rewarded For Donations", Bentley Green Apartments, Milestone:

This type of Custom Action is truly one of the most impactful aspects of our program. We have the ability to encourage almost any charity based initiative that your onsite team is promoting. We hope that our platform will help you facilitate one of these campaigns at your community.
Here is how to create a "Giving Back" Custom Action on your program:
You can request this by going to the upper right-hand side of the Dashboard and hitting "Add Custom Action Item". See below of what this looks like:

After you fill out the request, it will be sent to our team to create. We recommend adding an image to bring more attention to the Action.
If you'd like to facilitate a "Giving Back" Custom Action across your portfolio, feel free to reach out to your Client Service Executive. We would be more than happy to help you with this!
Happy Thanksgiving!
Have a question about our products or services?