Self-Guided Tours: The New Frontier of Apartment Property Management?
Some companies are offering tours without the assistance of a leasing representative to meet growing consumer interest in viewing a property on your own time and at your own pace.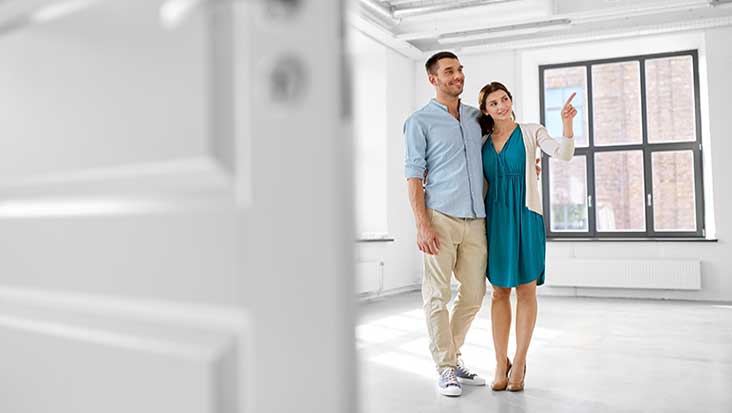 Imagine a world where a prospective renter finds an apartment online, hops into a car and drives to the community to take a look around. But this home hunter detours the leasing office and walks, unaccompanied, into a vacant apartment to see what's inside. Nobody is there, just the curious prospect and empty space.
After opening closet doors and kitchen cabinets, the visitor imagines how the couch may look here or over there. A short time later, the prospect leaves and closes the door behind, and maybe heads to the leasing office. Then again, maybe not.
This future resident may come back two or three more times to see the unit. Each time the leasing agent is nowhere around. Touring the property with the property manager or other staff who paint a rose-y picture of life at the community isn't the way to go.
That's so, well, 2018.
Welcome to the self-guided tour, the next frontier of apartment leasing.
Some property management companies are offering tours without the assistance of a leasing representative to meet growing consumer interest in viewing a property on your own time and at your own pace.
Prospects can sign up for a self-guided tour on a property's website or app, receive a code for the smart lock on an apartment and check out the wares with little or no in-person engagement with the leasing staff. The concept has been around for a few years but technology is advancing it, and multifamily operators are cautiously wondering if it's the next greatest thing to self-service package lockers and online payments.
"It's becoming a hot topic," said Carlisle Properties Chief Marketing Officer Kevin Thompson, but "we need to go in with eyes wide open."
At last fall's National Multifamily Housing Council OpTech Conference and Exposition, Thompson hosted a brief round-table discussion for what renters are warming to. The 2020 NMHC/Kingsley Associates Apartment Resident Preferences Report notes that 16 percent of 375,000 apartment residents across the country said they prefer to tour an apartment by themselves.
The idea raises questions about security and resident privacy but also conforms to the do-it-yourself mentality that is driving commerce across the globe. Self-guided tours have been around for a few years but apps that arrived early in 2019 jumpstarted the concept. A handful of vendors were on hand at OpTech making pitches, drawing skepticism from some and curiosity from others.
Based on some of the results, self-guided tours just may have legs.
Gaining traction across the country
The technology, which compares to travel apps that have been around for a few years, but got a boost when a handful of companies released software that enables a prospect to connect with a property and tour without assistance using a personal device.
Until then, self-guided tours have mostly been limited to Matterport or 3D Virtual Tour technology via a property's website or just handing the keys to a prospect to tour on their own.
A Matterport Tour is a high-definition photography tour, that includes multiple locations within an apartment's interior based on floor plan, amenity, or unit and are combined into one realistic, interactive 3D and virtual reality photography tour. Computer animated virtual tours are created from 2D and 3D floor plans and usually offers views of the kitchen, living room and bedroom. Viewers can control the tour as if they are walking around inside the apartment.
Self-guided tours using app or proprietary technology are gaining traction and are already in use at apartment communities in Austin, Texas, Albuquerque, N.M., and Washington, D.C. They are also being used at student housing and single-family properties.
Data suggests lease conversions increase
According to data from NMHC's OpTech Conference & Exposition, lease conversions increase by 86 percent versus when staff is escorting a prospect. Also, 65 percent of attendees polled at one session said they are either planning to adopt self-guided tours in the next two years or have already done so.
For the past five years, Anyone Home, Inc., a California-based CRM and contact center company for the rental housing market, has offered proprietary self-guided tours for its single-family properties, which have converted to leases by as high as 50 percent.
Using smart lock access control, prospects are allowed to tour a vacant unit once they've filled out an online form, provided credit card information and passed a quick screening check. Once approved, the prospect receives a code that enables them to tour on the date and time as selected from the property website. The leasing staff is notified that a tour has been confirmed and knows when the prospect enters and leaves the property.
Once the prospect tours the property and leaves, the door automatically locks behind them and cannot be accessed outside of their appointment time. If for some reason the door doesn't lock, the staff can see the door's status and remotely lock it via Anyone Home CRM.
CEO Todd Katler, who hosted a session at OpTech on the subject, said the company started self-guided tours at a time when the idea was just starting to surface in multifamily. Anyone Home created a widget for clients' websites that prospects click on to register for a tour and have the option to click on guided or self-guided tours.
"What we've found is that they convert to tour much higher and people are much more engaged," he said. "It's been a home run for our single-family client."
Katler expects similar results in multifamily.
In November, Anyone Home began offering self-guided tours on one of the multifamily properties it manages. Prospects can tour the apartment at their pace and potentially get a greater appreciation of its amenities and determine if it's a good fit without someone else steering them.
"Just the idea of touring alone got more people onto properties for Anyone Home's single-family division," Katler said. "Knowing they can sign up online is more appealing than having to contact the leasing office to arrange a tour."
Validation offers minimal downside
NMHC, panelists were concerned about the operational and legal challenges of self-guided tours, as well as how residents would perceive strangers walking the property alone and the potential for crime or damage.
According to NMHC, 20 percent of self-tours happen after hours, even though the property typically knows when and where they are happening. Some operators acknowledge that unfamiliar faces are already walking around a multifamily property after hours as it is, but that it could be an added risk.
All agreed that residents should at least be made aware that the property is issuing unaccompanied tours.
"What about the training of our residents?" Thompson asked. "Right now, they live in a garden community and they see someone walking around at 8 o'clock at night and they don't know who that is, they're going to call 911. They think someone's car is about to be broken into."
Laurel Zacher, vice president of marketing and talent at Security Properties Residential was concerned about how newly introduced apps from commercial vendors will handle a prospect's personal information once they've left the property.
"How do you wipe that out of the system afterwards?" she asked.
Katler said the true downside is minimal because credit card verification and screening deter malicious activity.
Capitalizing on missed traffic
Self-guided tours are an opportunity to serve prospects when and how they want to be served, says Director of Digital Marketing Mia Wentworth, who is exploring the option at CWS Apartment Homes. Since last fall, the Austin-based company has been reviewing systems and is considering doing a pilot in 2020 with a third-party provider.
She doesn't necessarily view after-hours tours as a big risk so much as it is a chance to bring prospects onsite when it's convenient for them.
"After hours is a huge opportunity because that's traffic that we're just missing," she said. "For example, CWS is closed on Sundays. For somebody who works a nine-to-five job, that only gives them one day to get in and tour with us. To have the opportunity to tour at 6 or 7 o'clock at night or on a Sunday when we're closed, I think that's a huge opportunity."
She expects some to tour by themselves during business hours so they aren't distracted by onsite staff.
"I think there are some people who may even consider self-guided tours during office hours because they don't like to talk to people sometimes," Wentworth said. "I've seen people come in and say they'd like to tour but don't want to the whole dog and pony show, don't want to sit there for an hour listening to you talk about the pool. I just want to go see the apartment."
Getting a jump on the competition
Wentworth said security is paramount and that it's important that CWS feels confident that prospects are fully vetted before stepping foot on the grounds. Also, she is curious to see how self-guided tours overcome the hurdle of restricted access to buildings and amenities that might not give prospects the full tour experience they may have while walking the property with staff.
Like with all technology, evolution is a process that typically includes a few twists and tours. But eventually, a workable solution emerges.
And those who get in on the ground floor could find themselves a step ahead of the pack.
"At some point in the future it will become the norm," Wentworth said. "I think those companies that are willing to try it out and deal with the little bumps along the way, I think they have an advantage over those who are not willing to give it a try."
Have a question about our products or services?