RealWorld 2022 Customer Conference Recap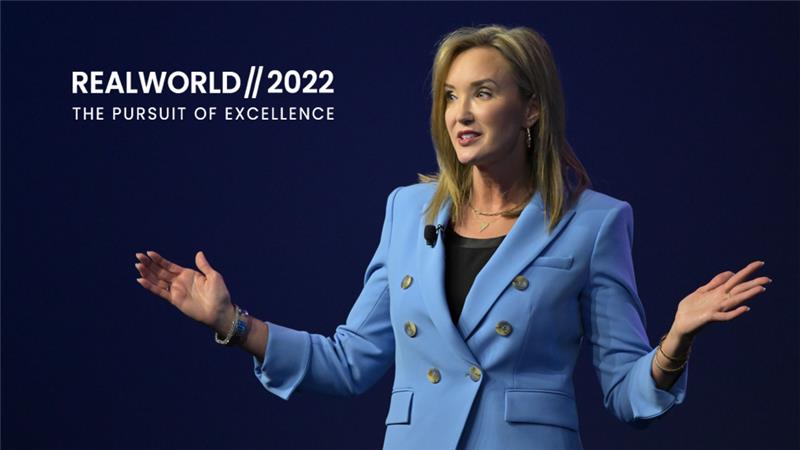 The excitement in the air leading up to RealWorld 2022: The Pursuit of Excellence was transformed into energy, fervor and zeal from the moment RealPage CEO Dana Jones took the stage to deliver her keynote address on July 18. Jones, who has served as CEO and President of RealPage since August 2021 and has been a member of the Board of Directors since 2019, talked about her passion for the multifamily industry and how she's championing customer success through innovation at RealPage. She emphasized that always listening to customers and having frank and open discussions was essential to her leadership role and making RealPage a truly elite partner. She also stressed that amid market uncertainty, it's more important than ever to be dedicated to the pursuit of excellence and to be relentless in the pursuit of it.

Accelerating Innovation
Jones reaffirmed for the 1,500 RealWorld attendees RealPage's commitment to accelerating innovations that drive revenue, asset value and efficiency while reducing risk for the multifamily industry. One of those innovations, AI (artificial intelligence), developed in response to customer feedback, is critical because it provides solutions that are "predictive and prescriptive" not just "reactive and reflective."
Jones emphasized that RealPage will continue to be relentless in helping customers achieve peak performance, regardless of the market cycle, by building connected intelligence and using AI to optimize not just rent but the entire prospect-to-resident journey, and to dynamically link marketing, leasing and pricing so they'll working cohesively to deliver optimized outcomes.
RealPage is innovating tools to help multifamily properties optimize operations, both in terms of prospect acquisition and back-office operations and the transition to more centralized or virtualized models. Jones says that centralizing and optimizing parts of multifamily operations (e.g. – applications and leasing) can make on-site teams more productive and happier and will empower them to do what they do best and enjoy most—helping people find homes and taking care of residents. This, she says, can help multifamily portfolios save on expenses, improve NOI and optimize employee satisfaction.
Market-Driven Solutions That Offset Market Uncertainties
At the same time, Jones acknowledged customer-shared anxieties over inflation and economic uncertainty, even though renters' incomes are rising at pretty much the same rate as rent is increasing. She pointed to rising payroll expenses, insurance costs, property taxes, tighter margins, the struggle to find workers and the ever-rising level of customer expectations as additional sources of anxiety. But Jones also emphasized that RealPage is focused on providing market-driven solutions, mostly through advancements and innovation in property management software that increase efficiencies and automate many mundane daily tasks.
This, she said, will put more focus on centralized operations, pointing out that centralized operations are enabling companies to take two lower-paying onsite positions and combine them into one higher-level, career position that pays more. In turn, communities improve their 100:1 staffing ratio to about 150:1 and add a person with more experience.
Sustainability Innovations and Smart Automation Retrofits
Sustainability and smart automation were also top of mind for Jones, who noted that sustainability tech has advanced to sustainability solutions that reduce expense and improve NOI. One such solution is Smart Waste, an industry first that combines in-dumpster cameras and AI. She illustrated the value of Smart Waste technology with a great customer story about a client who was seeing very high recycling costs due to their containers being constantly riddled with contaminants. After implementing RealPage's Smart Waste solution, the property was able to save over $11,000 annually and reduced overages by 80%. That, says Jones, is what RealPage is focused on—solutions that deliver real ROI.
On the subject of smart automation, Jones revealed that RealPage is expanding its sidewalk-to-sofa technology to cover retrofits—another innovation driven by customer feedback. RealPage will be able to provide a cost-effective way of retrofitting older communities to help them achieve operational efficiencies and give their residents an experience that has too often been limited to new properties. She touted the retrofits as a win-win for everyone.
Fraudsters are Innovators Too
Jones concluded her keynote by affirming that RealPage is committed to innovations that help multifamily owners and investors protect their assets (without slowing down the leasing process) to ensure that they realize NOI. She noted that fraudsters are innovators too and one bad lease from a renter with a fake ID can cost property owners $10,000 or more and has the potential to jeopardize the safety of property staff and residents. It's the reason why RealPage released Identify Verification earlier this year and will be releasing another innovation—Income Verification—in early 2023. And RealPage continues to invest in solutions that prevent payment fraud.
Understanding Gen Z
A second keynote, delivered by Jason Dorsey, president of The Center for Generational Kinetics (CGK) and author of the bestselling book, Zconomy: How Gen Z Will Change the Future of Business and What to Do About It, revealed insights into Gen Z and stressed that today's multifamily leaders must optimize their workforce so as to attract and retain Gen Z residents and employees. His stunning revelation that Gen Z is a throwback to the Baby Boomer generation presented some interesting implications in terms of multifamily marketing and resident satisfaction.

Executive Conversations: Honest Insights from Our Customer Panel
The Day 2 Keynote was a two-part executive conversation with industry and RealPage leaders, led by Jay Parsons, Chief Economist for RealPage and RealPage Chief Operating Officer, Vinit Doshi. Part 1, led by Parsons, focused on multifamily industry insights from Lynne Ann Chase, Chief Accounting Officer for Winn Residential (the ninth largest apartment manager in the country with more than 103,000 units under management across affordable housing, military housing and conventional), Yetta Tropper, Head of Multifamily Asset Manager for PGIM (the real estate investment arm of Prudential)and Scott Pechersky, Chief Technology Officer for RPM Living (#7 on the NMHC manager list with more than 112,000 units).

Topics discussed included multifamily staffing challenges and mitigating those issues with a more modern model, and sustainability tech that enables multifamily owners and operators to reduce costs and generate ancillary revenue. In addition, the panel highlighted the importance of real-time portfolio data with relevant, timely external benchmarks to guide operational strategy, execution and oversight.

Executive Conversations: RealPage Leaders Discuss Driving Innovation
Part 2, led by Doshi, focused on multifamily insights from RealPage leaders. Amy Dreyfuss, SVP Revenue Management, Dale Smith, Chief Delivery Officer, Hari Subramanian, SVP Renter Engagement, John Hinckley, SVP Leasing & Living and Lance French, Chief Information Officer discussed key priorities for driving continued innovations to help multifamily owners and investors stay ahead of the market, delivering clear ROI, improving the prospect-to-resident journey, centralizing operations, driving operational efficiency without sacrificing performance and safeguarding against persistent risks.

The executive panels also highlighted some good news for multifamily:
The multifamily industry is in strong shape with record revenue growth.
Trade Outs are at all-time highs. Vacancy and turnover are at all-time lows, and rent payments are at near-normal levels, despite the higher price points.
Renter incomes are keeping up with rent increases. And RealPage has the studies that prove it. In fact, on the final day of RealWorld 2022, RealPage released a study (the first of its kind) that reveals a current rent-to-income ratio of 23% among market-rate renters—a number that's notably under the affordability standard.
RealPage is leveraging its massive footprint in real estate data and analytics to serve their customers and trade associations with facts to push back against false narratives.
Download the free 2022 Affordability Market-Rate Apartment Affordability Report referenced above. It is the first study to capture incomes and rents for the same households on a large scale, with nearly 7 million individual leases included. Past studies have mixed-matched different datasets on rents and wages, creating a misleading view on affordability.

Bookmark this page for upcoming information on RealWorld 2023!
Have a question about our products or services?